Larry Page must have had a very bad weekend. In a San Jose courthouse, Apple (NASDAQ:AAPL) proved many of Samsung's (OTC:SSNLF) Android phones were shameless knock-offs. Of all the players in the smartphone wars, Google (NASDAQ:GOOG) has the most to lose.
Background
Google launched the Android back in 2009. This year it doubled down, acquiring Motorola Mobility, a handset manufacturer, for $12.5 billion.
Mr. Page may be experiencing buyer's remorse when it comes to Motorola. He should. He made a $12.5 billion mistake, one that will get him into deeper trouble.
Five reasons Motorola is a chain around his neck.
1. Weak patent protection.
Google bought Motorola for its rich patent portfolio. However, Motorola's patent trove hasn't slowed Apple down. Three of its five patent infringements so far have been tossed. It added another 7 probably weaker patents to its claim. Motorola hasn't gotten anywhere with their lawsuits against Apple because the alleged infringement involves standard essential patents which must be licensed under "Fair, Reasonable and Non-Discriminatory" terms (FRAND).
2. The Motorola acquisition closed the door on charging the handset makers for the operating system.
Google gives away its Android software in exchange for being the smartphone search engine. However, Google's revenue from mobile search has been underwhelming. Google can't change its model and sell licenses. The Motorola takeover was only allowed if Google guaranteed to offer the Android software free of charge for at least 5 years. Google's stuck with a not very profitable strategy.
3. Motorola Mobility bleeds money.
Motorola hasn't made money for years. These folks lost $5 billion over the last 5 years on $75 billion in sales. Will they do the same for Google?
Get a gander at Motorola's last 5 years:

(Source 10k Motorola)
Google can't afford to drop a billion a year on Motorola.
Google didn't just acquire Motorola. It got 20,000 unprofitable workers to feed. Its first step: 4,000 are being axed at a predicted cost of $275 million.
4. Vertical integration is driving its partners away.
The Motorola purchase upset Google's OEM partners Samsung and HTC who rightly fear going head-to-head with their software supplier. The OEMs are launching Windows 8 OS smartphones, perhaps in part in reaction to the Motorola takeover.
If Motorola launches a successful phone, Google's handset partners will go "thermonuclear."
5. Google's move toward selling Motorola smartphones just got less appealing. Motorola hasn't been the leader in smartphone innovation for a long time. With Apple's San Jose victory, mimicking the iPhone no longer going to cut it.
Google is ripe for a fall. Its foray into smartphones doesn't look smart now. The Motorola acquisition has antagonized its partners and will prove costly both in money and goodwill. Apple has gained the upper hand over Google. The stock has risen 100 points in less than two months and is overbought with an RSI (14 day period) of 65. Every time Google has hit that RSI in the last year the stock has sold off. The Apple verdict against Samsung just might be the catalyst for some serious selling.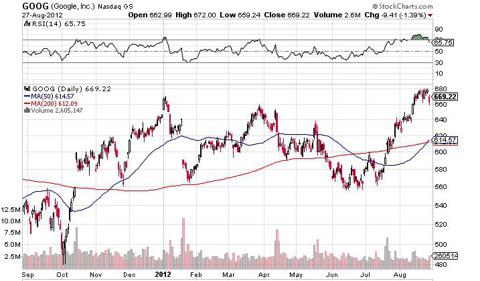 Disclosure: I am long AAPL. I wrote this article myself, and it expresses my own opinions. I am not receiving compensation for it (other than from Seeking Alpha). I have no business relationship with any company whose stock is mentioned in this article.
Additional disclosure: Disclaimer: The opinions in this document are for informational and educational purposes only and should not be construed as a recommendation to buy or sell the stocks mentioned. Past performance of the companies discussed may not continue and the companies may not achieve the earnings growth as predicted. The information in this document is believed to be accurate, but under no circumstances should a person act upon the information contained within. We do not recommend that anyone act upon any investment information without first consulting an investment advisor as to the suitability of such investments for his specific situation.