The Gist
When I start feeling like there is no good reason to be in the market and I should roll up the tent and sell out, I know this is a signal to buy not sell. Conversely, when I feel the euphoria of being up big, I know this is a signal to take profits or at least manage the position, not buy. This is how I've been feeling as of late.
I get a lot of inquires as to how I actually perform regarding stock picking. This gave me the idea for this article. We will take a look at my top five best performing picks for this year. Reviewing my top picks is a part of my usual modus operandi. By going back and seeing why you were right regarding a stock can better prepare you to recognize the next opportunity. We can look back and identify what catalyst really produced results, take this information, look for similar scenarios, and attempt to replicate the results. The following is an analysis of my top five picks then and now.
The Goods
In the following sections we will perform a review of the fundamental and technical state of each company to determine if this is the right time to stay with the position or sell out. The following table depicts summary statistics and Monday's performance for the stocks. The following charts are provided by Finviz.com.

Click to enlarge
Sprint Nextel Corp. (S)
Sprint was trading for $2.53 the day of my initial recommendation in May. The company is now trading up 91% at $4.82.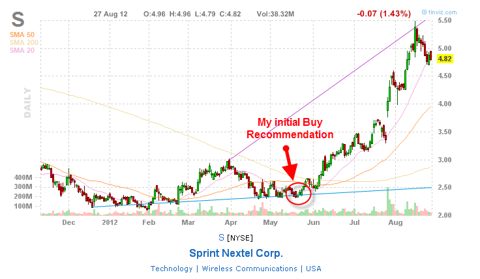 Click to enlarge
Currently, the company is trading 12% below its 52 week high and 2% potential upside based on the analysts' mean target price of $4.90 for the company. Sprint closed Monday up nearly 3% for the day.
Sprint still has some fundamental positives and its growth catalysts are still intact. EPS growth rate for next year is expected to be over 39%. Sprint's name is still being bandied about by the street's merger rumor mill.
Finally, insider ownership over the past six months was up over 45%. There's an old adage on the Street regarding insider buying. There are many reasons insiders sell stocks, but only one reason they buy… they know it's going up. Sprint's stock has definitely been going up. I believe it will continue to rise, but will go through a period of back and forth for the next few months.
The fundamentals and catalysts are still in place; nevertheless, the stock has doubled in the last couple of months. It is only prudent to at least manage the position at this point. I was aggressive and took profits. I am looking for a pullback to the 50 day SMA at $4 to get back in.
Bank of America Corporation (BAC) & Regions Financial Corp. (RF)
Bank of America was trading for $5.26 the day of my initial recommendation in December. The company is now trading up 53% at $8.07.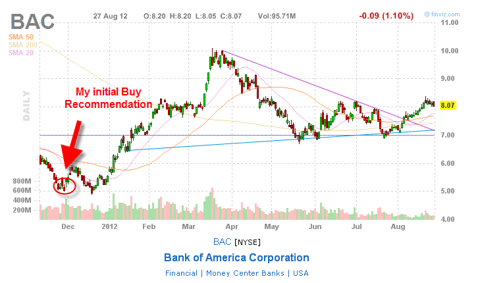 Click to enlarge
Regions was trading for $3.96 the day of my initial recommendation in May. The company is now trading up 79% at $7.10.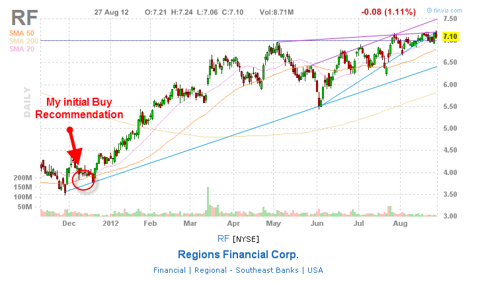 Click to enlarge
In December of last year, the constant negative headlines out of the Eurozone had devastated fundamentally sound U.S. bank shares and many were down by 50% or more. Most were trading for vastly less than their tangible book values.
Ironically, U.S. economic indicators were actually fairly good at that time and many banks had projected EPS rates of 20% or better for 2012. I have been around long enough to know macro headline risk provides great opportunities to buy sound companies at discount prices. Market sentiment can and will turn on a dime - and it did. As we all know, in life, timing is everything, and an ideal time to buy the bank stocks was at their lows in December of 2011. There were five major reasons I was bullish on the banks which I feel are still substantially intact.
Banks were over sold and under owned on top of strong fundamentals which inevitably attracted value investors and led to a reversion to the mean. The mean reversion strategy is based on the mathematical premise that all prices will eventually move back toward the mean or average return.
Although the U.S. banks had been severely hammered, it was mostly due to Eurozone headline risk regarding sovereign debt defaults. U.S. banks actually had minimal exposure to the risk. BAC's estimated Eurozone exposure at the time was $100 million dollars while BAC had a $40 billion market cap, $30 billion in cash and was trading at half of tangible book value.
U.S. banks were well ahead of their European peers in regards to capital requirements. Many had excess capital and excess reserves. The sector was flush with liquidity, capital and reserves.
U.S. banks had improving fundamentals and EPS growth projections. U.S. bank earnings were up 40% for the year and EPS growth rates were expected to come in at 20% next year.
U.S. banks were trading at low price to earnings multiples even taking in to account lower earnings expectations and were trading at approximately five multiples below normal.
I took profits on Regions and am still long BAC. The coveted golden cross was just achieved by BAC. This is when the 50-day SMA crosses above the 200-day SMA and is considered extremely bullish.
The stock has continued to rise in the face of macro headwinds. This tells me the bad news has been priced in and the stock still has positive catalysts. The stock recently breached the $8.20 high mark set in June confirming the uptrend and completing the double bottom reversal pattern.
I was shaken out of Regions at the $6.50 mark after a significant gain. I tend to sell my winners too soon and my losers too late. This is a case of jumping ship too early. Rather than sell out of the entire position, I should have simply cut it back to its original percentage of my portfolio and started playing with the house's money as they say. Regions' positive catalysts are still in place and its technical and fundamental states are positive. I still like the stock, yet would wait for a pullback to the 200 day SMA at $6 prior to starting a position. 79% is a big run, but looking at the chart, it has been a well-ordered rise.
Tesoro Corporation (TSO)
Tesoro was trading for $23 the day of my initial recommendation in June. The company is now trading up 70% at $39.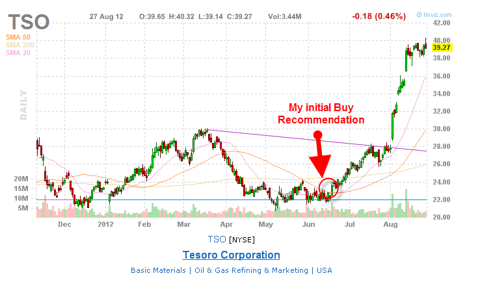 Click to enlarge
In June, the company was trading 34% below the analysts' mean target price of $31.36 for the company. Tesoro's price target has been raised to $50 at this time. Tesoro was trading down slightly Monday.
Tesoro's West Coast Empire was further cemented by the recent deal to buy out BP Inc. (NYSE:BP). Tesoro has contracted to buy BP's Carson plant for $2.5 billion, forming the largest U.S. oil-refining empire in the Pacific Basin. They now are responsible for approximately one quarter of California's processing capacity.
Combine this development with other catalysts and potential asset monetization in the second half of 2012 to early 2013, and you have a recipe for further gains. Tesoro's free cash flow yield could improve drastically spurring a reinstatement of a dividend and share buybacks in 2013.
Fundamentally, Tesoro still has many positives. These catalysts coupled with the fundamental positives looks very positive for a move higher. Nonetheless, the stock seems to have had a recent parabolic move over the past month. I would split the difference and wait for a pullback to at least $34 prior to starting a position. I did not start a position in this stock. If I had, I would definitely take some money off the table.
Frontier Communications Corporation (FTR)
Frontier was trading for $3.37 the day of my initial recommendation in May. The company is now trading up 38% at $4.78.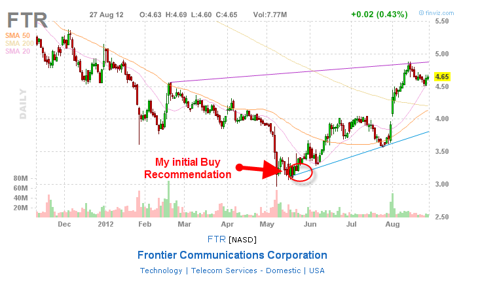 Click to enlarge
The company was trading 58% below its 52 week high and had 80% upside potential based on the analysts' mean target price of $6.08 for the company.
Frontier had dipped to multi-decade lows after announcing it would refinance $500M worth of debt by swapping $500M worth of senior notes due in 2014 and 2015 at respective yields of 8.25% and 7.875% with senior notes due in 2021.
Strong insider buying has recently occurred. Six different insiders made open market purchases within a short period of one another. Six insiders purchased 137,200 shares at an average price of $3.28/share, for a total of $450,367. When multiple insiders make purchases in the open market it could be a strong indication that the stock is undervalued.
Frontier has still has some fundamental positives and several recent catalysts. Technically, Frontier has been on a roll since May. The stock is up an amazing 26.43% over the last month. The golden cross appears destined to be achieved in the near future. The stock is a buy at this level. I see the recent pullback as an opportunity to start a position.
The Bottom Line
When the market is down I try to take advantage of the value created by the macroeconomic turmoil and start a position in unjustly beaten down stock prior to the market rebounding. With all the ETFs and index funds being created stocks are more correlated than ever before. Often stocks will get hammered for no reason whatsoever. The colloquialism, "What does that have to do with the price of tea in China?" seems apropos.
On the other hand, it is just as hard to take profits after a huge gain as it is to buy when things look bleak. One thing I have learned through the years, though, you must take profits to make profits. Insider buying seems to be a valuable indicator regarding future profits.
This is not an endorsement to buy or sell securities. Investing in securities carries with it very high risks. The information contained within this article for informational purposes only and is subject to change at any time. Do your own due diligence and consult with a licensed professional before making any investment decisions.
Disclosure: I am long BAC. I wrote this article myself, and it expresses my own opinions. I am not receiving compensation for it (other than from Seeking Alpha). I have no business relationship with any company whose stock is mentioned in this article.