United Microelectronics Corporation (NYSE:UMC) is a pure-play semiconductor manufacturing company, third in sales next to Taiwan Semiconductor Corporation (NYSE:TSM) and Global Foundries. Fabless semiconductor companies such as Qualcomm (NASDAQ:QCOM) and Nvidia (NASDAQ:NVDA) have been struggling to meet demand for 28nm products due to capacity constraints at the firms' primary foundry partner, TSMC. This has led some to seek out alternative foundry partners, primarily Global Foundries and UMC.
As the semiconductor sector sees secular demand increases due to the explosive expansion of the compute devices from the smallest handheld phone to the largest data-center, fabrication capacity will be at a premium. The major players will look to expand capacity, and fabless design houses will want to secure capacity. This leads me to believe that UMC could be a valuable acquisition target for TSMC or Global Foundries, or a prime candidate for strategic investments from the larger fabless semiconductor designers to secure capacity allocation.
The Equity Stake Offering
UMC is already seeking "strategic partners" by offering a private equity stake of up to 10% of the company in exchange for fab capacity. This move mirrors ASML Holdings' (NASDAQ:ASML) offering in order to fund R&D efforts into next generation technologies such as 450mm wafers and EUV lithography. Now, I think there is a fundamental difference here: ASML is by far and away the lithography technology leader and is critical to the development of newer, more advanced process nodes going forward. While UMC offers compelling technologies, the real advantage to such an equity stake would be guaranteed capacity. In an environment in which shortages in the latest process nodes could mean lost sales and lack of competitive advantage, having guaranteed capacity is absolutely vital.
Some speculate that Qualcomm will take UMC up on its offer, especially since the mobile chip giant has already signed with UMC to build its 28nm chip. Qualcomm has about $13.4B in cash and only $1.35B in debt, so a 10% stake in UMC at current levels would run the company only about $500M. However, Qualcomm has also made a deal with Samsung for 28nm fabrication, so it seems that Qualcomm would likely not be interested in such a deal in the near term.
Consolidation In Fabrication
R&D expenses for future process nodes will continue to skyrocket, and capital expenditures will also continue to grow to eventually become unsustainable for the smaller, less-capitalized companies. Consolidation moves have already happened, most notably Global Foundries' acquisition of Chartered Semiconductor. This slide from an Intel (NASDAQ:INTC) presentation depicts this harsh reality: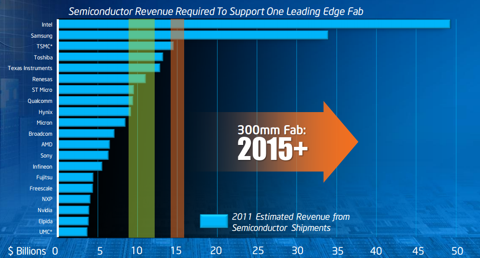 So the multi-billion dollar question is what firm could be interested in an acquisition? I suspect that the major foundries such as Taiwan Semiconductor and Global Foundries would be the obvious candidates, especially as the supply shortages of 28nm chips negatively affected the industry as a whole. Building new fabs from scratch is expensive, as evidenced by the fact that UMC is investing $8B in new fabs, which represents almost twice the company's current market capitalization. UMC's existing fabrication infrastructure could be very attractive to the foundries as a cheap way to expand.
One More Possibility
Apple (NASDAQ:AAPL) has money. Lots and lots of money. Interestingly enough, the firm acquired PA Semiconductor in 2008 so that it could bring SoC design in-house for its iPad and iPhone products.
Apple currently relies on Samsung to fabricate their chips. However, given the acrimonious relationship between the companies, it seems unlikely that Apple will want to rely on Samsung in the long term. Apple will likely either seek alternate foundry partners such as TSMC or Global Foundries (and make the proper investments to ensure capacity), or it could attempt to become even more vertically integrated.
So, what if Apple just went ahead and spent a small fraction of its cash hoard to buy a foundry? It could build all of its iPhone and iPad chips directly in-house, in addition to building chips for its MacBook and iMac lines if Apple migrates its lineup to in-house ARM (NASDAQ:ARMH) based solutions.
There are a lot of risks here. For example, the capital expenditure and R&D investments required to sustain a leading edge fabrication plant are quite high. In addition, UMC has a good deal of plants, and making sure that the capacity is fully utilized could be a challenge given Apple's fairly small (but highly profitable) market share in the PC and handset spaces. In light of the risks, I wouldn't be surprised if Apple took UMC up on its 10% equity stake offering in exchange for guaranteed manufacturing space at some point in the future.
Conclusion
In short, fabrication technology and capacity is valuable. Despite whatever electronic devices may be in vogue this year, there will, for the foreseeable future, be a need for the technology to actually build these chips. UMC is cheap and it's not unreasonable to expect that, in a world where semiconductor manufacturing prowess is becoming more valuable an asset, someone could either take an equity stake or buy the whole company outright.
Disclosure: I am long INTC, NVDA. I wrote this article myself, and it expresses my own opinions. I am not receiving compensation for it (other than from Seeking Alpha). I have no business relationship with any company whose stock is mentioned in this article.
Additional disclosure: I may initiate a long position in UMC over the next 72 hours.