The last time we addressed a potential QE3 announcement was here on July 22nd. We provided returns on various asset classes and how they were performing year to date up to the last fed meeting and announcement. The whole point was to determine if there would be a QE3 announcement based on the year to date asset class returns of the following, SPY - S&P 500, $WTIC - oil, JJC - copper, JJG - soft commodities, and GLD - gold.
As expected there was no QE3 announcement made, as returns have been strong. The Federal Reserve meets again on September 12-13 and will provide us with more QE3 information, if not earlier during the Jackson Hole meeting on August 31st. This article will not focus on whether or not the Fed will initiate a QE3 program ever, but rather if a program will be initiated at the September meeting or even hinted at during the end of August Jackson Hole meeting.
Below are returns prior to the last 7-31 fed meeting, current year to date returns, and the difference from 7-31 to present. This is to determine if market returns have deteriorated since the fed meeting on July 31st. Four out of five asset classes followed below have all increased in value from the last Fed meeting up to present in just a months time frame, only JJG (soft commodity index) had an overdue pullback. The returns below (difference) have the look of front running a QE3 announcement.
| | | | |
| --- | --- | --- | --- |
| Symbols | YTD Ret. on 7-31 | YTD Current | Difference |
| SPY | +9.78% | +14.10% | +4.32% |
| $WTIC | -7.38% @91 | - 3.10% | +4.28% |
| JJC | -.70% | + .07% | + .63% |
| JJG | +43.97% | +39.35% | -4.62% |
| GLD | +1.11% | + 6.51% | +5.40% |
In our Front Running QE3 part 1 article we posted a chart of five asset classes and their year to date returns. Below is a current chart of the same five asset classes and their year to date returns. The JJG index ETN tracks soybeans, corn and wheat and is higher by +39.35% year to date.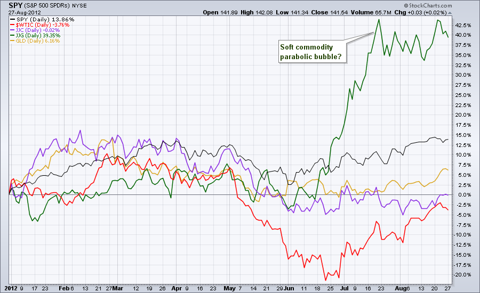 Oil has traded over 95.00 a barrel for the past few weeks, an area that is not conducive to more stimulus. By judging QE announcements, 95.00 is about +12% higher than the price of oil prior to the QE2 announcement, and 100% higher than QE1. Below is a history of oil and QE announcements.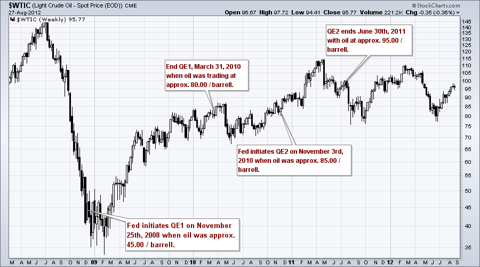 We mentioned in our previous article, that for the fed to initiate a QE3 program we would first have to see a healthy market correction in the area of 10-15% minimum. We have not seen that correction, and have seen assets actually add to the gains from the last fed meeting on July 31st to current.
QE3 announcement: potential dates and odds:
Jackson Hole August 31st: 20%
Fed Meet September 12-13: 20%
Fed Meet October 23-24: 20%, if a market correction occurs before, then 50%. Too close to the presidential election.
Fed Meeting December 11-12: 50%, if a market correction occurs before, then 70%. The prior two QE implementations were in the month of November.
Fed Meeting January 29-30: 50%, if a market correction occurs before, then 70% chance.
The odds above are not based on any mathematical formula, rather on year to date market returns heading into a specific fed meeting, and the time remaining that the market has to have a healthy correction leading into the meeting. Time is running out on the September meeting, and the October meeting occurs just before the election. The odds do not improve until the December 11-12 meeting.
Market Reaction: Very hard to judge the market reaction to a no QE3 announcement during the September 12-13 meeting, so trading the reaction can be as risky as front running a potential QE3 announcement.
Bottom Line: By examining past QE announcements and the returns of different asset classes leading up to the current fed meeting we can examine the potential for a QE3 announcement. Based on asset class performance, there will not be a QE3 announcement until at least the December 11-12 meeting, and then only, if the market has had a healthy correction of at least 10-15%.
Disclosure: I have no positions in any stocks mentioned, and no plans to initiate any positions within the next 72 hours. I wrote this article myself, and it expresses my own opinions. I am not receiving compensation for it (other than from Seeking Alpha). I have no business relationship with any company whose stock is mentioned in this article.