We are bullish on Frontier Communications Corporation (NYSE:FTR), based on its impressive revenue growth, high dividend yield and ability to generate operating cash flows. Despite deteriorating customer count, the company has consistently improved its revenues on an annual basis, due to an increase in both residential and business revenue per customer. Moreover, its gross as well as operating margins remain higher than most of its peers, like AT&T (NYSE:T), Verizon Communications (NYSE:VZ) and CenturyLink (NYSE:CTL), which signals strength in its operations. Despite a dividend cut in 2010, the stock currently offers a high dividend yield of 8.6%, which even though has declined recently due to share price appreciation, remains among the highest in the industry. After analyzing its cash flow position, we believe its payout is sustainable and within the company's reach.
Frontier Communications Corporation, a telecommunication company headquartered in the United States, provides internet, data, voice and video services to its customers in approximately 30 states, catering largely to rural areas of the country, as well as medium-sized towns. The company deals with both residential and business clients, and has a market capitalization of $4.6 billion, while its shares are currently trading at $4.63, down 37% from their 52-week high.
As mentioned previously, the company provides voice services, including both local and long distance, data and internet, access and video services to its business and residential clients, both contributing equally to FTR's revenue generation. In the quarter ended June 30, 2012, the company derived almost 52% of its revenues from its business customers. In addition, the company also derives revenues from selling third-party telecom equipment to its customers. In its recently announced quarterly results on August 3, 2012, FTR reported revenues of $1.26 billion, which meant a drop of almost 5% from the second quarter of the previous year. Total revenues also declined slightly on a sequential basis. The major reason for this drop in revenues is that the company lost both its residential and business customers.
Q2 2012

Q2 2011

% change

Residential

Customers

2.98mn

3.25mn

-8

Revenues

$535mn

$576mn

-7

Business

Customers

0.29mn

0.33mn

-9

Revenues

$577mn

$588mn

-2
Source: 10 Q
From the table above, it is clear that the key business metrics for the company deteriorated in the recent quarter and the downward trend has continued in the recent past.
Key Business Metrics
Perhaps, another key metric against which the company's performance can be judged is the number of access lines, which is extremely crucial to its revenue generation ability. The company reported total access line of 5.07 million, which means that it has lost approximately half a million access lines (an 8% decrease) since the end of last year's second quarter. Obviously, a tough economic condition is a major contributor to these line losses, however, changing customer preferences and the resultant wireless substitution has also played a part in these losses.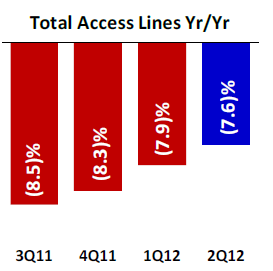 However, there are some positives to be seen in the company's results as well, as access line losses shouldn't be the only benchmark against which its performance is to be judged. One thing to note here despite the persistent line loss trend is that FTR has consistently cooled down the decline. In fact, the company reported the lowest access line losses of 7.6% in the second quarter to date.
Improving Broadband Subscriptions
Another positive can be seen in the company's broadband subscription figure, which is following an upward trend. In the recent ended quarter, FTR reported total broadband subscribers of 1.78 million, an improvement of 2% from last year. Moreover, the company's broadband customer base grew by 5,400 during the second quarter of 2012. In addition, despite the drop in revenues in the second quarter, the company was able to increase its revenues per residential as well as business customers. An improvement in churn is also visible in the table below.
Q2 2012

Q2 2011

% change

Average monthly residential

$58.19

$57.71

1%

revenue per customer

Customer monthly churn

1.63%

1.66%

-2%

Average monthly business

$642.38

$593.9

8%

revenue per customer
Source: 10 Q
Despite the slight decrease in revenues on a quarterly basis, the company has been able to consistently grow its revenue base over a number of years. Since 2007, FTR's revenues have improved by almost 25%, which is impressive considering AT&T has grown its revenues by a mere 2% and Verizon by 4% over the same period. Moreover, FTR posted a revenue growth of 38% in the financial year ended 2011 as compared to the previous year.
The company has historically posted high gross margins and even though it hasn't expanded over the last few years, it is still very high compared to its peers. In the year ended 2011, FTR posted gross margins of 90%, substantially higher than Verizon's 58% and CTL's 53%. Operating margins are also higher than its peers. Moreover, through FTR's acquisition of the local exchange business and the landline activities of Verizon Communications, the company expects to achieve cost savings of almost $650 million by the end of FY2012, which are further going to enhance its operating margins.
The company's second quarter savings were approximately $10 million and, combined with the savings achieved in 2010, as well as 2011, equates to an annual savings run rate of almost $640 million. This synergy has also reflected favorably in the company's financials, with the company reporting a 2% drop in its operating expenses largely due to synergy realization.
Dividends
The stock currently offers an attractive dividend yield of 8.6%, which has declined recently due to the strength in share price. The 8.6% yield is still one of the highest in the Telecom Industry, despite the cut in dividends by the company after its acquisition of Verizon's assets in FY2010. The company is currently paying an annualized dividend per share of $0.4. In the current low yield environment, the high yield offered by FTR is an opportunity for investors who seek a stable source of income.
Moreover, the company's ability to sustain its high dividend payout ratio is well supported by its operating cash flows as well as free cash flows. In the quarter ended June 2012, FTR generated free cash flows of $285 million, improving by approximately 20% from the previous year's quarter.
Furthermore, the current dividend yield of 8.6% is well supported by the company's operating cash flows, which are utilized to make its quarterly dividend payments. For the six month ended June 2012, the company paid $199.7 million in dividends, while generating $757.8 million in operating cash flows. As of the year ended 2011, the company had an operating cash flow yield of 34%, more than sufficient to cover its dividend yield. With a growth of almost 18% in operating cash flows since FY2007, the company is capable of financing its current dividend payments and a further cut is improbable.
Valuation and Recommendation
The stock currently trades at $4.63 and has done well on a YTD basis, gaining almost 12%. FTR is currently trading at 17x times its forward earnings, which is at par with CTL's forward P/E of 17x. We believe the stock has further upside potential based on its strong financials, attractive dividend yield, as well as an improvement in its business metrics. However, the deterioration in both residential and business customers is a cause for concern and remains a risk for the company going forward.
Disclosure: I have no positions in any stocks mentioned, and no plans to initiate any positions within the next 72 hours.
Business relationship disclosure: The article has been written by Qineqt's Telecom Analyst. Qineqt is not receiving compensation for it (other than from Seeking Alpha). Qineqt has no business relationship with any company whose stock is mentioned in this article.