Despite its relative lack of popularity with readers, one of my favorite pieces of research was the work behind my late January 2012 article on "The January Effect in High-Yield Bonds." The article demonstrated that the fabled "January Effect" that presages outsized returns for stocks, and especially small caps, early in the calendar year is even more prominent in the lower quality segment of the corporate bond universe. High-yield corporate bonds have returned an annualized 28% in the month of January dating back to 1984.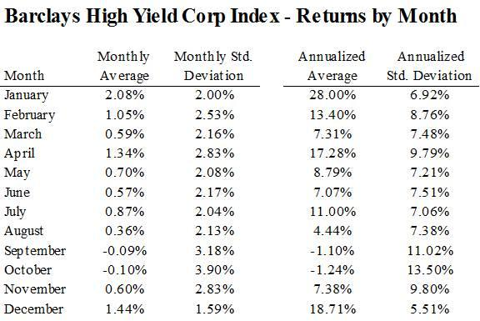 In 2012, the returns for the domestic high-yield bond market have followed this historical pattern as January 2012 has posted the best monthly performance year-to-date. Both my theories on the January Effect in high-yield bonds, and the signaling effect of January returns on the performance of the high-yield bond market for the remainder of the year, have been supported by this year's performance.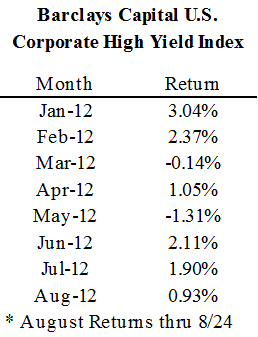 My past research focused on the domestic high-yield market, but the January Effect is also present in the smaller European high-yield market. While there is a shorter track record given the later development of the junk bond market abroad and that continent's traditional reliance on bank lending, the results follow a similar and remarkable pattern.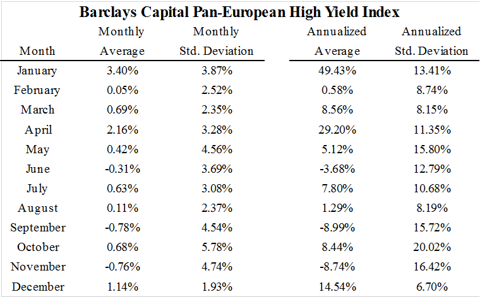 Why am I writing an article about outsized January returns for high-yield bonds in August? If bond markets are influenced by a calendar effect, then part of the return must be given back at other times of the year. September has historically been the weakest month for this market both in the United States and Europe, and it may serve investors well to lighten up their high-yield bond allocation or move up in quality as yields approach their historic low. As seen below, September returns are even weaker in lower quality credits with single-B and CCC-rated bonds producing negative returns historically in this month. Not only have September returns been the lowest, but returns in this month have historically been among the most variable.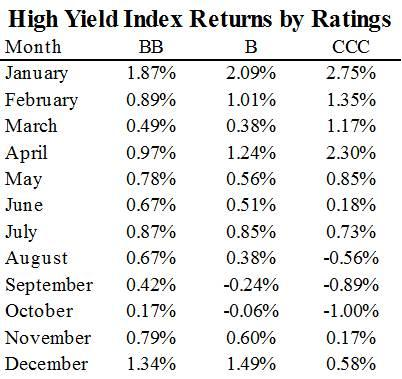 Source: Barclays Capital U.S. Corporate High Yield (thru 2011)
With high-yield corporate bond yields bouncing along their historic lows, investors might be well served to lower their allocation to high-yield bonds and bond funds like the SPDR Barclays Capital High Yield Bond ETF (NYSEARCA:JNK), which seeks to replicate the index used in the domestic high-yield bond data in this article. If history is a guide, high-yield bond returns will underperform in September and investors can look to re-invest at higher yields later in the calendar year.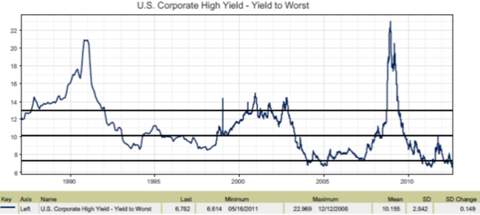 Source: Barclays Capital
Disclosure: I have no positions in any stocks mentioned, and no plans to initiate any positions within the next 72 hours. I wrote this article myself, and it expresses my own opinions. I am not receiving compensation for it (other than from Seeking Alpha). I have no business relationship with any company whose stock is mentioned in this article.