As many readers know, I have written a couple of articles on Nokia's (NYSE:NOK) bonds as they have been an overlooked way to position the troubled telecom. Just to recap some of my opinions:
June 6, 2012: "If you really like the company and think everyone has gotten it wrong -- buy the bonds and let the coupon pay for longer dated call options, or hedge with bonds and puts."
June 28, 2012: "Ultimately, I continue to believe that investors who want exposure to Nokia might consider the bonds and possibly a call option."
July 20, 2012: "The company continues to be focused on managing for cash and NSN has continued to add value to cash and to overall results, both of which are a positive and should help support bond prices. I continue to believe that the best way to position this company is through the 2019 debt (unfortunately, I don't have pricing for the EUR issues), as the yield is 10% and there is significant upside should the company get through their transition sooner than later."
If we look at a graph of the NOK 5.375% 2019 (CUSIP: 654902AB1), we see the following price action (Source: FINRA Trace):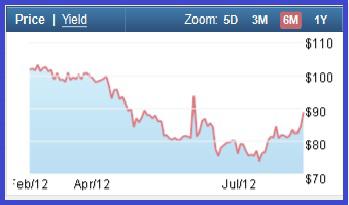 Here is a trade summary for August 27, 2012 (Source: FINRA Trace):

Click to enlarge
This bond is up approximately 16% from its low (since I have been covering it) of $77, as it is now trading at $89.
Is this a "wow, what a good recommendation by me" article? No, absolutely not. Have the Nokia bonds risen substantially based on cash conservation or significant in-roads of the Lumia phone? No. The bonds are up over 8 points in the last five days, with the majority of the strength coming after the Apple (NASDAQ:AAPL)/Samsung (OTC:SSNLF) verdict and the resultant euphoria for all other players.
I have read numerous articles stating that as a result of the infringement verdict, everyone will be looking for alternatives to Android (NASDAQ:GOOG) - haven't seen where the OS was faulted, but okay - and Microsoft's (NASDAQ:MSFT) Windows 8 will be the sound alternative. If Windows 8 is a chosen alternative (or Android hedge), then it stands to reason that the Lumia for Windows 8 will gain traction as the OS becomes better known by retail and consumers. Following this logic, sales increase, margins increase and cash flows increase - all resulting in a more stable cash position.
Bottom Line: This logic (while feasible) has driven up the price of the bonds. I used to work with an incredibly smart equity portfolio manager who would say "buy the rumor, sell the fact". To him I say today "Sorry, sell the hype, buy the fundamentals". These bonds have run up pretty decent (and could have a point or so left in them) and it is time to consider exiting the position after a decent return. If you put on a bond plus call position, you have made a rather handsome return and exiting the bond and keeping the call keeps you exposed to the company, but reduces the capital involved.
Disclosure: I have no positions in any stocks mentioned, and no plans to initiate any positions within the next 72 hours. I wrote this article myself, and it expresses my own opinions. I am not receiving compensation for it (other than from Seeking Alpha). I have no business relationship with any company whose stock is mentioned in this article.
Additional disclosure: This article is for informational purposes only, it is not a recommendation to buy or sell any security and is strictly the opinion of Rubicon Associates LLC. Every investor is strongly encouraged to do their own research prior to investing.