There has been a lot of buzz in Hong Kong recently with Abercrombie & Fitch (NYSE:ANF) The Gap (NYSE:GPS) and American Eagle Outfitters (NYSE:AEO), all opening flagship stores within the past 18 months. With European growth halted to a standstill and U.S. consumers still reeling, Hong Kong makes for the perfect gateway into the lucrative Chinese market.
According to a report released by the Boston Consulting Group:
China's fashion industry is set to become the world's second fashion market by 2020, and will account for about 30 percent of the global fashion market's growth over the next five years, the report said.

In 2020, total fashion sales in China are expected to be triple their current level, rising to more than RMB 1.3 trillion ($200 billion) from RMB 398 billion ($60 billion) in 2010.
The entry into China via Hong Kong certainly doesn't come cheap as CNN reports:
Abercrombie & Fitch Hong Kong needs the popularity of the hunks to translate into sales so they can make their rent of HK$7 million (US$902,000) per month.
The ANF 25,000-square foot store will cost $10.8 million per year in rent alone. The rent costs for the GPS and AEO flagship stores were unavailable, but we imagine the costs are similar on a cost per square foot basis.
Being a deep undervalued investor, we were curious if there were any U.S.-listed Chinese clothing companies. Our theory was that if there were, the valuations were probably very cheap relative to ANF, GPS, and AEO.
We decided to research what the trailing and forward P/E ratios were for the group. For clarification, the trailing P/E ratio of a company is the overall market capitalization of the company divided by the last calendar year's net income. The forward P/E is the current market capitalization of the entire company divided by the estimate for the current year's entire net income. For example:
Abercrombie & Fitch has a trailing P/E of 29.76 and a forward P/E of 11.35.
Gap has a trailing P/E of 21.27 and forward P/E of 14.84.
American Eagle Outfitters has a trailing P/E of 25.41 and forward P/E of 14.25.
After our extensive research, we discovered three Chinese clothing companies listed in the U.S. One of them we did not like because the company was in the process of spending $84 million on a new factory. Some of the China scams that have occurred in the past were involved in major capital expenditures that defied logic. We are not saying this particular company is a scam, but we are risk adverse and not looking for trouble.
The other two Chinese fashion companies, we feel, are deeply undervalued, and we have decided to become shareholders.
Zuoan Fashion Limited (ZA) conducted its initial public offering on February 15, 2011, selling 6,000,000 shares at $7.00 and listing on the NYSE. The bankers were Cowen and Company, RBC Capital Markets, LLC, Samsung Securities and Janney Montgomery Scott.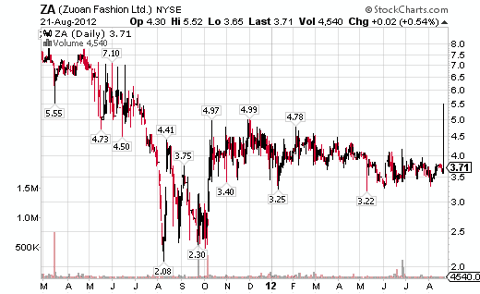 Shares of ZA are trading at $3.71 per share. This means investors that purchased ZA shares at $7.00 from the IPO are down 51.3%.
ZA has 27.825 million shares outstanding which translates into a market capitalization of $103.23 million.
2011 revenue was $195.5 million with net income of $39.8 million. This makes ZA's trailing P/E ratio 2.59 times 2011 earnings.
ZA reported Q1 2012 numbers on June 4 (source) with revenues of $44.5 million and net income of $10.7 million.
ZA provided Q2 guidance of $46.1-$47.6 million for revenue and net income of $9.8 -$10.2 million.
If we annualize those numbers, 2012 revenue should be approximately $181 million with net income of $41 million. That equates to a forward P/E ratio of 2.51.
The balance sheet contains $148.7 million in cash and equivalents, which is $5.34 per share.
In reading the company's annual report (source), we like the fact that the majority of production is outsourced. In the company's own words:
We believe that our outsourcing arrangements optimize our production flow, allow us to leverage the expertise and resources of these contract manufacturers, and enable us to focus on the products design and brand management which we believe to be our core competitive strength. We also believe that these arrangements are helpful in responding to tight schedules, especially during peak production seasons.
We are believers in the company because the strategy of conserving cash and not building manufacturing facilities makes sense to us.
The second company we like is VLOV Inc. (VLOV.OB), which had a much less prestigious introduction to the U.S. capital markets. VLOV became a public company via a reverse merger on March 20, 2009. VLOV subsequently raised $8 million at $7.15 per share on October 27, 2009. This is accounting for a 1-for-2.5 reverse stock split, which occurred on December 12, 2011 (source). Looking at the chart below, shares of VLOV were trading well into the teens two years ago, but now hover near all-time lows.
Shares currently trade at $2.90, and with a total of 7.85 million shares outstanding, the value of the entire company is $22.8 million.
We never buy OTCBB stocks and consider most to be of low quality. Despite being on the OTCBB, we decided to make an exception for VLOV. Here are the bullet points of why we like the company:
2011 revenue was $88.8 million with net income of $13.9 million. The trailing P/E ratio is 1.64.
VLOV reported six months 2012 revenue of $40.4 million with net income of $6.8 million. If we annualize those numbers, 2012 revenue should be approximately $80.8 million with net income of $13.6 million. That equates to a forward P/E of 1.67. (source)
Balance sheet contains $28 million in cash and equivalents, which is $3.56 per share in cash.
VLOV outsources its manufacturing like ZA, so there should be no major capital expenditures.
Chairman/CEO of the company owns 3,838,599 shares or 49% of the entire company.
On Dec. 12, 2011, VLOV announced a 1-for-2.5 reverse split of its issued and outstanding common shares (source). It appears VLOV is trying to uplist their shares to NASDAQ or the NYSE-AMEX.
VLOV has the unique distinction of being the first Chinese company invited to showcase its clothing at the Mercedes Benz Fashion Week New York last year.
Compared to U.S. apparel companies, both ZA and VLOV offer tremendous value for investors willing to be patient. There has been a lot of fraud in the China space and it will be a long uphill battle to win back investors' confidence. We've decided to step cautiously into the sector with ZA and VLOV.
Disclosure: I am long ZA and VLOV. I wrote this article myself, and it expresses my own opinions. I am not receiving compensation for it (other than from Seeking Alpha). I have no business relationship with any company whose stock is mentioned in this article.