The E-Mini S&P traded in a fairly tight range with extreme light volume. The global debt crisis conundrum has been the dominant theme in the marketplace. The market, of course, is running on high expectations of a QE3 here in the US and further easing with the European Central Bank as well. The Federal Open Market Committee has given us a "fairly soon" on potential easing, but is it the last bullet for the Fed?
The reality of the situation is that US Federal Reserve Chairman Ben Bernanke may want to look over the next US Unemployment report on September 7th before taking any decisive action! Wednesday, the Federal Reserve said that "there is scope for further action by the Federal Reserve to ease financial conditions and strengthen the recovery" and they may deliver another round of stimulus "fairly soon" unless the US economy improves considerably.
Any potential QE3 would pressure the US Dollar further and create a "risk on" trading environment. It is thought that should the Fed initiate another stimulus plan that it may engage in buying mortgage-backed securities. Other potential moves may be to extend the eventual interest rate hike beyond 2014 and/or they could possibly lower the rate that the Fed pays banks to park their excess reserves at the central bank. The Fed faces the "fiscal cliff" at the year's end. It may be best to address what the Fed may come up with for the "fiscal cliff" which may be left for the next administration and then work backwards from there.
The fiscal cliff represents about $500 billion in expiring tax credits and automatic spending reductions. Thoughts are that if not dealt with, the US could spiral into a recession with potentially 2 million jobs at risk. The Unemployment rate at 8.3 % is not satisfactory, but would it be regarded as a crisis level?
Apple Inc. was up 2% to $676.50 after winning a lawsuit against Samsung Electronics with an award of $1.05 billion in damages. Hertz Global Holdings was up 16.3 % to $14.64 and Dollar Thrifty Automotive Group was up 7.4 % to $87.01 on news that Hertz may tender about $2.3 billion for the smaller firm.
The Euro Zone debt crisis seems to go full circle always ending up where it began with Greece. The troika made up of the European Commission with the European Central Bank and the International Monetary Fund are expected to analyze the Greek debt situation to give commentary on whether the nation is able to come up with spending cuts to return to a sustainable path, if it just needs a longer time frame to reduce spending and resume over a long-term sustainable path or if it needs a total restructuring and whether it should remain in the Euro Zone?
The underlying sentiment is that an exit of Greece from the Euro Zone may not be out of the question. German economic growth has slowed to 0.3% in the second quarter perhaps indicating that the stronger country cannot shoulder the Euro debt crisis for very long. German unemployment is expected to remain at 6.8 %. It is believed that if the Euro Zone goes into a heavy recession that Germany may not escape it. The International Monetary Fund expects Spain to contract 1.7% this year. Spain has received a bank rescue package worth about a $100 billion euros. The Spanish banks were hardest hit by poor real estate loans.
Key Global Economic events in brief:
August 29th US GDP and US Beige Book release.
August 31st - September 1st Ben Bernanke, IMF Chief Lagarde and ECB President Draghe speak at Jackson Hole.
September 6th ECB Interest Rate Decision.
September 7th US Unemployment Rate.
September 12th German Constitutional Court's ruling on the Euro Zone permanent bailout fund.
September 12th FOMC Minutes.
September 13th - 14th G20 Meeting.
September 14th European Council Meeting.
On the stock side: JP Morgan Chase and Co. (NYSE:JPM) was up 0.47 % to $37.34. Citigroup Inc. (NYSE:C) was down 0.16 % to $29.78. Bank of America (NYSE:BAC) was down 0.49 % to $8.12. Alcoa Inc. (NYSE:AA) was down 0.75 % to $8.56. Boeing Co. (NYSE:BA) was up 0.68 % to $71.58. Caterpillar Inc. (NYSE:CAT) was down 0.58 % to $86.96. General Electric Co. (NYSE:GE) was up 0.36 % to $20.88. Halliburton Co. (NYSE:HAL) was up 1.37 % to $34.74. Hewlett Packard Co. (NYSE:HPQ) was down 0.40 % to $17.51. SPDR Select Sector Fund - Financial (NYSEARCA:XLF) was up 0.23 % to $15.16.
S&P 500 Chart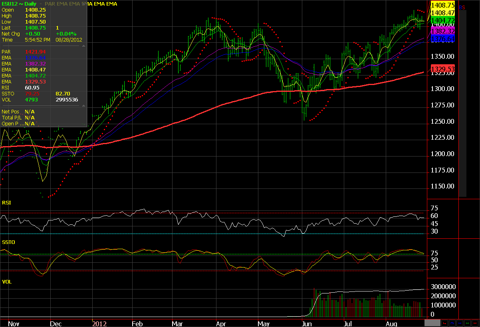 Click to enlarge
We maintain a bearish bias unless the (September) E-Mini S&P 500 penetrates $1423.00. Tuesday, we anticipate an inside to lower day. Monday's range was $1416.00 - $1407.00. The market settled at $1408.25. Our comfort zone or point of control for this market is $1411.00. Our anticipated potential range for Tuesday's trading is $1415.50 - $1392.50.
Disclosure: I have no positions in any stocks mentioned, and no plans to initiate any positions within the next 72 hours. I wrote this article myself, and it expresses my own opinions. I am not receiving compensation for it. I have no business relationship with any company whose stock is mentioned in this article.