H. J. Heinz (HNZ) recently reported that it is making changes to its retail strategy for three main business divisions, Ketchup's and Sauces, Infant and Nutrition, and Meals and Snacks. With people spending money less frivolously than in pre-recession times, the consumer food sector has become much more competitive. People want cheaper prices, and don't want to be wasting money to stay loyal to a certain brand anymore. ConAgra Foods (NYSE:CAG), Kraft Foods (KFT), Tyson Foods (NYSE:TSN), General Mills (NYSE:GIS), Coca-Cola (NYSE:KO), and PepsiCo (NYSE:PEP) are all very qualified food producers that have to constantly adapt their plan of attack to appeal to the consumer. Heinz must be willing to do the same to remain relevant in this market.
Heinz apparently isn't making too many changes to its Ketchup and Sauces division because it is by far the company's strongest division. Heinz ketchup is known for being the best, and Heinz knows it. Heinz announced that it wants to try to expand the Ketchup and Sauces division by aggressively pursuing expansion into untapped emerging markets such as China, Central America, and South America. Heinz's global market share for Ketchup and Sauces is only about 11% right now, so there is plenty of room for growth.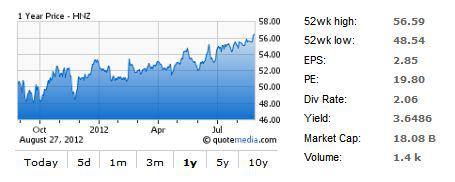 Heinz is currently priced at about $56.50 per share with a price target of $57.24 currently. If Heinz is able to raise its global market share for the Ketchup and Sauces division to even 12%, according to Trefis' model it would raise the entire price target of the company over $58.33, barring the rest of the divisions remaining the same. I believe we can expect much greater growth from this division than just 1%.
Heinz is looking to treat its Infant and Nutrition division similar to the Ketchup and Sauces division. The company has quality products, but it wants to try to capitalize and push for further marketing of its baby foods in China. The market size for the Infant and Nutrition division is currently $32 billion but Heinz thinks with a new marketing strategy, it can grow that division to at least $53.3 billion by 2018.
The Meals and Snacks division for Heinz is where the most change is taking place. This division has been getting hammered by a decline in consumer buying. Heinz understands that it must make changes to this division, so the company announced that it will begin aggressively cutting costs through divestitures and downsizing. Heinz will also revamp its marketing strategies to try to regain consumer confidence.
Heinz has been one of the best and most reliable companies out there. There is no doubt in my mind that Heinz will continue to reign as a top dog in the consumer food sector. Any investor looking for a consistent and worry free investment for a long-term play should consider Heinz on a pullback.
Disclosure: I am long PEP. I wrote this article myself, and it expresses my own opinions. I am not receiving compensation for it (other than from Seeking Alpha). I have no business relationship with any company whose stock is mentioned in this article.