Barron's online posted this headline story about Brinker International (NYSE:EAT) on Thursday, August 9, 2012. EAT was quoted at $34.76 at that moment in time. Its conclusion? The article took a bearish tone noting that EAT was "priced for perfection."
Sixteen days later Barron's print edition ran this story with the stock little changed at $34.51.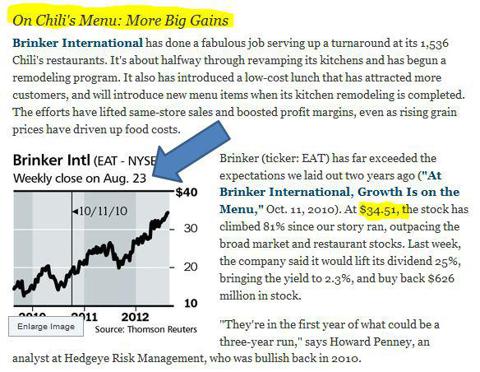 If you read both articles you'd have no idea about what to do with your Brinker shares. If you're going to have a long-term investment plan you'll need a foundation of knowledge to formulate buy and sell decisions. Listening to conflicting research reports just won't cut it.
Here's a chart of EAT's price and fundamentals going back three full years. The very best buying opportunity came in July 2010, at 11.9x trailing earnings (FY end June 30) and with a 4% dividend yield. The second-best chance to enter came during August 2011, at 12.7x earnings and a 2.9% yield.
The July 2010 bargain valuation meant purchasing after a down year-over-year comparison. EPS dropped by 19.44% from FY 2009 to FY 2010. The good price in summer 2011 was available only because of the general market sell-off.
Those great times to buy were defined by actual future price action - not theory. Last week's closing quote of $34.51 represented 17.6x the already reported FY 2012 EPS of $1.96. The yield was down to 1.85% due to share price appreciation.
Buying on temporarily bad, company-specific, news was a great strategy. Establishing a position when most people were selling in 2011 worked out well also.
Those who bought lately paid higher than typical P/Es and will receive lower than normal (for EAT) yields. They are getting much worse value for their investment dollars for the privilege of buying when all the news is good - company and market.
That usually works out badly. Why is that? Brinker has a spotty history of sustained earnings growth. Eight straight years of year-over-year increases ended in FY 2005. EPS in FY 2008 were lower than those posted in FY 2004.
EAT shareholders were paying 18.7x - 21.6x multiples in those good economic times while receiving little to no dividends. EAT shares plunged from $35.70 at their 2007 peak to $3.90 at the fleeting bottom in 2008.
Ironically, buyers at those high-end valuations were piling in on what were then all-time record results. Buyers at the 2008 low were investing after the worst FY earnings in four years.
What is Brinker International worth today? EAT's P/E over the most recent five years averaged 13.7x. Assuming that current consensus estimates of $2.35 for FY 2013 can be met. Applying that average 13.7 multiple leads to a 12-month target price of $32.20. EAT closed Monday at $34.53. Standard and Poor's is more pessimistic than that. It sees $29.00 one year from today.
Implementation of the ACA (Obamacare) could be very harmful to restaurant profit margins. That prospect does not seem to be reflecting into the rosy estimates.
EAT is a SELL in my book.
Disclosure: I have no positions in any stocks mentioned, and no plans to initiate any positions within the next 72 hours. I wrote this article myself, and it expresses my own opinions. I am not receiving compensation for it (other than from Seeking Alpha). I have no business relationship with any company whose stock is mentioned in this article.