In our previous article on J. C. Penney (NYSE:JCP) dated July 11, we had recommended a short position on the stock, owing to plummeting sales, reduced traffic, a dividend cut, inventory write downs affecting margins, and an unpopular move from discount coupons to "Fair and Square Every Day" low pricing. Things are not much different after the announcement of 2Q2012 results. The transformation of stores has not had the desired effect on customers. In this tough economic and competitive environment, it is difficult to regain lost customers. Retailers like Gap (NYSE:GPS) and Macy's (NYSE:M) have and will continue to benefit from the customers that JCP lost. We retain our short recommendation for the stock.
The following are the details for the latest quarterly results:
The company gave another negative earnings surprise. JCP reported non-GAAP EPS of -$0.37/share as compared to analyst estimates of -0.139/share.
The company reported revenues of $3.02 billion compared to analyst estimates of $3.22 billion. This was a 22% drop from last year's Q2 revenue of $3.91 billion.
Comparable same store sales dropped more than Q12012. Same store sales dropped 21.7% as compared to 18.9% in Q12012. This shows that restructuring of new stores is not working.
Traffic dropped 12% in 2Q2012 on top of the 10% decline in 1Q2012.
Although selling margins improved by 90 basis points, gross margins dropped from 38.3% in Q22011 to 36.6% in the last quarter, mainly because of inventory markdowns and freight costs.
Last quarter, the company spent $159 million ($56 million home office restructuring) on top of $76 million in the first quarter for restructuring. SG&A savings were $193 million and $121 million respectively. JCP is looking to improve inventory management and simplify processes to increase savings. The inventory turnover has reduced to 3.13 in the last quarter from 3.6 and 3.28 in the 4Q2011 and 1Q2012 respectively. Inventory turnover for Kohl's (NYSE:KSS) is 3.6 and 5.5 for Nordstrom (NYSE:JWN).
The company is also converting non-core assets e.g. real estate, to cash in order to improve liquidity. We think that making the organization leaner would only work in the long run if the top line improves as well. So far, the restructuring has yet to bear fruit in that respect.
The total debt-to-equity ratio is 85%, which could be tough to deal with if the financial condition does not improve.
Since we wrote our last article about a month ago, the short ratio has increased from 4.4 to 4.9 days, reflecting the continued negative sentiment of investors towards JCP.
The graph below shows the dwindling profit margins for JCP as compared to its peers over the last 2 years.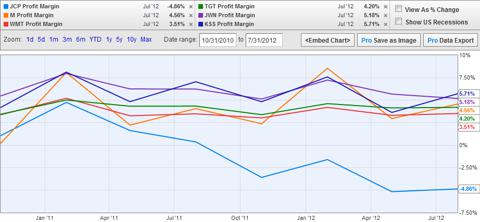 Analyst Estimates:
Analysts are expecting sales to fall by 16% to $3.32 billion for the third quarter. The four week change in this estimate from Bloomberg is -6%, as analysts continue to be pessimistic about the revenue outlook for JCP. For the current year, sales are expected to drop by 17% to $14.31 billion; continuing their previous downward trend.
EPS for the next quarter is expected to be -$0.06/share. For the current year, the EPS is expected to be $0.19 per share as compared to $0.7 per share last year. The company has missed analyst estimates in recent reported results. JCP itself has stated that it no longer expects to achieve its previous non-GAAP EPS guidance.
Valuation
J. C. Penney is trading at forward P/E of 16x and is down almost 30% YTD. The 52-week value is $19.06, which is 22% below Monday's closing price of $24.65.
The P/E compares with Macy's 10x, Wal-Mart (NYSE:WMT)'s 14x, Nordstrom 's 15x, Gap's 15x and Kohl's 10x
EV/EBITDA multiple for JCP is 14.8x as compared to Macy's 6x, Wal-Mart 's 8x, Nordstrom 's 8x , Gap's 8x and KSS' 5.8x.
JCP is overvalued with no signs of a turnaround yet. It would be hard for the company to woo back its lost customers, despite its back to school shopping promotions. Companies like Target (NYSE:TGT), Nordstrom and Macy are better options for buying, owing to their ability to rake in profits consistently. With the recent rise in the stock price (11%) following the disappointing Q2, there is a good opportunity to take a short position on JCP.
Disclosure: I have no positions in any stocks mentioned, and no plans to initiate any positions within the next 72 hours.
Business relationship disclosure: The article has been written by Qineqt's Retail Analyst. Qineqt is not receiving compensation for it (other than from Seeking Alpha). Qineqt has no business relationship with any company whose stock is mentioned in this article.