Below we highlight stocks in the S&P 500 that are currently trading the furthest above and below their 50-day moving averages.  As shown, Massey Energy (NYSE:MEE) is the furthest above its 50-day in the index at 39.47%.  MEE is also the best performing stock in the S&P 500 year to date (164%). 
MEE is trailed by JBL, BTU, NBR and CNX.  Non-Energy related names on the list include BUD, NEM, KG, VAR, EDS, BIG and AMGN.  And surprisingly, Spring (NYSE:S) has made its way onto the list of winners.  While it's still down more than 28% year to date, it is currently 9.67% above its 50-day moving average.
click to enlarge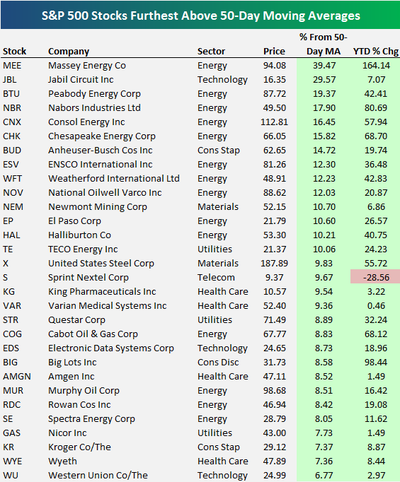 It's not surprising that 11 out of the 12 stocks on the oversold list are in the Financial sector.  MBI and MTG are both more than 50% below their 50-days, and Washington Mutual (NYSE:WM) (which is now trading at $5!) is 44.67% below.  General Motors (NYSE:GM) is the one non-Financial stock mixed in with the top 12 losers.  Other non-Financial related names on the list include AN, SNDK, F, CVH and MU.