iShares High Dividend Equity Fund (NYSEARCA:HDV) is an exchange traded fund (ETF) with the objective of generating returns, before fees and expenses, of the Morningstar Dividend Yield Focus Fund. This is a relatively new product that was created in March 2011. This Morningstar fund consists of high quality, high yield US stocks screened for their consistent dividends and the ability to continue paying far into the future. The Dow Jones Industrial Average has historically generated more than one third of returns from dividends and this ETF attempts to capture the dividend performance without sacrificing capital gains. I will briefly analyze the top holdings of the fund to give you additional insight into the ETF but first I want to provide some background into the overall fund so you have a better idea of what you are investing in.
HDV invests in approximately 75 United States publicly traded corporations that are screened using two eligibility criteria: (1) qualified income and (2) Morningstar Economic Moat rating of 'narrow' or 'wide' and with a Morningstar Distance to Default score in the top 50% of eligible dividend-paying companies. Economic Moat is defined as "sustainability of a company's future economic profits" while distance to default is measured using "option pricing theory to evaluate the risk that the value of a company's assets will turn out to be less than the sum of its liabilities." Essentially Morningstar is looking for affordably valued dividend paying companies that have sustainable, defensible business models. The yield of 2.93% is relatively low but the fund is affordably priced at a P/E of 14.
As the chart below indicates, the most heavily weighted sector is health care (29%) followed by consumer goods (21%) and telecommunications (18%). The majority of the telecom concentration is AT&T and Verizon. Surprisingly this index has low concentrations in typical high-yield industries such as financials, utilities, and oil & gas. More than one-third of the portfolio is concentrated in its five largest holdings but many of the smaller holdings seem to do nothing but drag down the yield for the sake of diversification.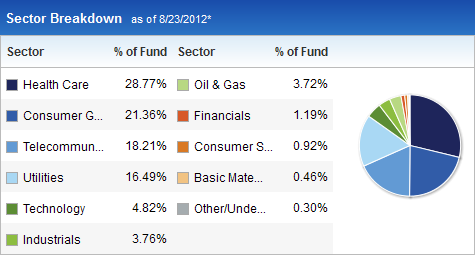 Below I will provide some insight into the top six holdings as of August 23, 2012 which constitutes 43.81% of the overall portfolio. While you might decide that HDV is not right for your investment objectives, the underlying investments may be appropriate for you.
AT&T Inc (NYSE:T): 4.7% Yield; 49.3 P/E
Verizon Communications (NYSE:VZ): 4.5% Yield; 42.8 P/E
AT&T is the largest telecommunications company in the United States and is most famously known for being the first carrier to offer the Apple (NASDAQ:AAPL) iPhone. Despite having lost iPhone exclusivity to Verizon and other carriers, AT&T still continues to benefit from having the most iPhone subscribers who pay major more per month than users of "dumbphones". Verizon is not far behind AT&T as many consumers were felt their mobile service was subpar quickly switched the Verizon. Telecommunications do have large capital expenditures but AT&T has such economies of scale that it can easily support the long-term development. Both AT&T and Verizon should continue to be solid investments in terms of both capital gains and dividends due to the rapid adoption of smartphones by consumers. Carriers have taken steps to be less reliant on Apple which could further improve profitability (lower subsidies, more advertising for rivals, etc.) but the investment hypothesis is compelling enough without such changes.
Do not be alarmed by the P/Es in the 40s as the forward P/Es are both around 15 and are more inline with what investors would expect out of this industry.
Pfizer Inc. (NYSE:PFE): 3.7% Yield; 18.0 P/E
Johnson & Johnson (NYSE:JNJ): 3.6% Yield; 21.5 P/E
Merck & Co., Inc. (NYSE:MRK): 3.8% Yield; 19.7 P/E
Pfizer in 2012 is a dramatically different company than it was in 2006. Pfizer has initiated a fundamental change in its business plan in which it is focusing less on certain research and development in favor of returning money to shareholders. While this was viewed by some as Pfizer waiving the white flag with the loss of its Lipitor patent, the stock has risen nearly 34% in the past year. Focusing on the right type of R&D (read: profitable) should benefit shareholders going forward and free up cash for more aggressive share repurchases and further dividend increases.
Merck is one of the largest pharmaceutical/biotechnology companies and is also one of the largest companies in the world with a market capitalization greater than $100B. Merck's core products include Cozaar (reduce risk of strokes), Fosamax (osteoporosis), Hyzaar (hypertension), Singulair (asthma), and Zocor (cholesterol). Both Vatalyst and Investment Underground highlighted Merck for its high quality dividends and overall financial strength. I have been long Merck for over one year as it has one of the better drug pipelines and highly respectable dividend while I wait. It is very difficult to independently analyze healthcare companies because their pipeline prospects are so sophisticated that PhDs even struggle to understand new drugs. Merck is compelling for its yield and low payout ratio thus seems more attractive than Pfizer due to its stronger growth prospects. Both companies can be successful but if you are looking for traditional pharma exposure, Merck may be more appropriate for your portfolio.
Johnson & Johnson ("J&J") is also a healthcare company but it is far less reliant on the development of new drugs than the traditional firms like Pfizer and Merck. J&J is famous for its consumer products such as Band-Aid, Listerine, Pepcid, and Tylenol. These stable businesses can support the necessary research and development for riskier products such as Sirukumab, which treats rheumatoid arthritis. J&J has faced an increasing amount of lawsuits and recalls in recent years which tempers my enthusiasm for this stock but it continues to be a stable blue chip that largely tracks the market with an above average yield.
The Procter & Gamble Company (NYSE:PG): 3.4% Yield; 18.3 P/E
Procter & Gamble is very similar to J&J in that both companies make consumer staples that can be found in virtually every household in the United States. The similarities diverge between the two companies as J&J has interests in pharmaceuticals while PG focuses on a more diverse set of consumer products with an emphasis on beauty and grooming. The company has 26 "leadership brands" with more than one billion dollars in net annual sales, quite an impressive feat. These brands include Gillette, Old Spice, Puffs, Tampax, and countless others (many of which compete directly with J&J). PG is essentially flat on the year and just like J&J there are no real catalysts on the horizon to cause the stock outperform the S&P 500.
A full list of the holdings is available on the iShares website.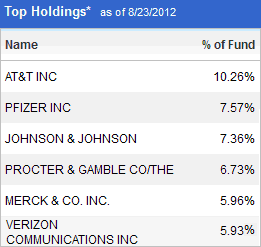 HDV is currently less than three percent away from its 52-week high of $61.912 and I consider the fund fairly priced given its P/E of 14 and yield around 3%. I recently covered another iShares high yield dividend product, iShares Dow Jones Select Dividend Index (NYSEARCA:DVY), and I believe it is a better choice for investors. DVY focuses on utilities rather than healthcare and offers a significantly higher yield with essentially the same P/E ratio. Utilities were the best performing sector in 2011 so the contrarian play might be to look towards healthcare but I prefer to stay with utilities until they show weakness. I own and recommend many of the stocks in HDV's fund but if I had to pick one of the two I certainly would prefer DVY. Overall this fund offers above below-average yield with additional growth prospects at moderate risk; investors can do better elsewhere.
Disclosure: I am long AAPL, T, VZ. I wrote this article myself, and it expresses my own opinions. I am not receiving compensation for it (other than from Seeking Alpha). I have no business relationship with any company whose stock is mentioned in this article.
Additional disclosure: Short AAPL Aug 31 $690 Calls.