Nokia (NOK) was defeated by Apple and Google in the first battle of smart phones, but there is light on the horizon.
A quote from an article on Business Insider on Saturday August 25:
When Nokia decided to go with Microsoft instead of Android, many considered the move foolish. With Android now dealt a major legal blow by Apple, the move looks like genius. The company does not have to worry about Apple coming after it with as many patent claims and can clearly show that its products are radically different. With uncertainty over the evolution (or even support) of Samsung products in the marketplace (while the case will surely go to appeal, further wins for Apple could force Samsung to pull its products from the American market), carriers will pay more attention to products that are not running on the Android platform and the biggest player in that market is now Nokia.
With two new Windows Phone 8 phones expected in the U.S. on September 5, the Nokia's Lumia range of phones will get a boost. As mentioned in my article about Nokia: Nokia's Windows Phone Lumia Will Conquer The World Bit By Bit, the Windows Phone platform needs to boost its anemic share of the U.S. mobile operating system market.
What's is more important is that more and more people around the world will become Lumia user.
As we all know, Nokia's future is the Windows Phone, that is pretty much confirmed and the numbers above show that the company dominates the WP market.
Globally Nokia accounts for 50% of all WP sales but the company's latest financial reports detail a total of 6.2 million sales in the first half of 2012. The figures clearly show that although Nokia has dominated the Windows Phone market, Microsoft's overall market share is significantly lower than the competition.
A strategy that could lead to conversion to the Lumia phones (WP market) is offering a great basic phone. Last year October Nokia launched the Asha phone. Asha phones have reached more than 100 countries - and the Nokia Browser gets an astounding four new users every second. The Asha budget phones address the needs of millions of people worldwide who want a reliable smartphone which connects onto the Internet, social networks and instant messaging.
Nokia strengthened its market share in the basic-phone market to 35 percent in the most recent quarter, which is the best penetration for the company in two years. The Asha phone outsold its smartphone brothers by a 7-to-1 margin last quarter (70 million to about 10 million).
Nokia's Asha models are selling quite well and that is good news for them since it gives the company a bit more time to get its smartphone business on track," said Teemu Peraelae of Alfred Berg Asset Management in Helsinki.
Conversion is the word and emerging markets such as India and Indonesia could become the key for Lumia's success. The Asha phone is so popular in these countries, that "back to basic" could lead to great results in 2013.
Nokia's Q1 and Q2 earnings were not impressive, but the company is making good progress on its Windows Phone plans so far. The transition from Symbian to Windows Phone has not been easy, and the shift in focus will continue to put pressure on financials as Symbian phones perform poorly. But the Lumia has been the subject of some of the most glowing reviews so far and if Nokia's Windows Phones continue to see steady growth and reach a tipping point eventually, they can help make up for most of Symbian's losses in due course of time.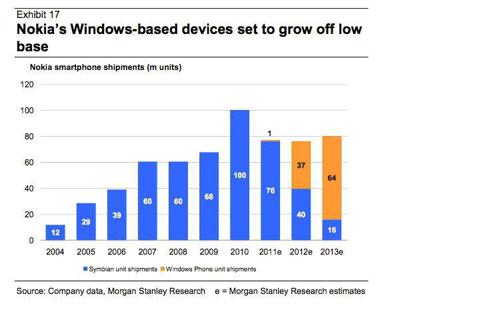 I don't think Nokia's Windows Phone shipments will reach 37 million units this year as Morgan Stanley expects, but I agree with Morgan Stanley that it will double to 64 million next year, which means that in two years Nokia Windows Phone devices will cross over Nokia Symbian sales.
The stock price doesn't reflect the growth prospects and revival story of this beautiful company yet.
Disclosure: I am long NOK. I wrote this article myself, and it expresses my own opinions. I am not receiving compensation for it (other than from Seeking Alpha). I have no business relationship with any company whose stock is mentioned in this article. (More...)