Major Drilling Group International Inc. (OTCPK:MJDLF) has underperformed its rivals in the metals services space since early in June, having fallen nearly 30% from its January high of C$66.55. The stock is trading well off its long-term average 12-month forward price-earnings ratio of 14.9 times, and as a result, has been upgraded to "outperform" from "sector perform" at RBC Capital Markets.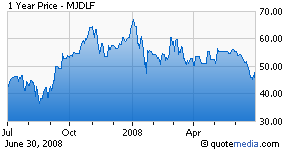 Analyst Angela Guo, who has a C$64 price target on Major Drilling, told clients that she expects demand for mineral drilling services to remain robust for several years. RBC forecasts "relatively tight" global supply and demand for most precious and base metals during the next couple of years, which will support continued strong prices when compared to historical levels.
Ms. Guo told clients:
Despite recent cost increases, the margins between metal prices and cash costs of development remain exceptionally high and should continue to motivate high level of spending to explore and develop new mines.
The analyst also noted the strong prospects for Major Drilling's growth potential given additional rigs, the price and margins of those rigs, greater efficiency, and the upside acquisitions can provide given the company's growing levels of cash.
Major Drilling's customers, 70% of which are well-funded majors and intermediate miners, provide a solid customer base and commodity exposure, she noted.