What could be termed as a shocking revelation to say the least, involved the recent discovery that Citigroup (NYSE:C) was also implicated in the Libor scandal. A subpoena relating to this was issued to Citigroup, requiring its representatives to appear in New York to give testimonies regarding the scandal which has rocked the entire banking industry. It doesn't, however, seem that Citigroup was the only culprit in the matter since JPMorgan Chase (NYSE:JPM) was also served its subpoena shortly afterwards.
The Libor scandal has given people a murky view of just how banks operate and has led to an increase in the public distrust of the banking sector. Citigroup's implication in the scandal will without a doubt have dire consequences for shareholders as reports indicate that it may book a charge to the tune of $6 billion in its third quarter. Despite these reports, it seems that Citigroup is still standing strong in the markets as its shares have continued to gain.
Although things may seem to be going well for this multi-billion conglomerate, shareholders should not be opening up the bubbly prematurely. If found guilty, Citigroup will have to pay a steep fine, similar to the case involving Barclays, which was forced to pay a fine amounting to about $450 million by U.S and U.K regulators. Bearing this in mind Citigroup has decided to stay quiet on the matter as it waits for the findings of the inquiry.
The diversification into China
Citigroup, which is the United States' third largest bank in terms of assets has become the first Western bank to issue credit cards in China. What came as a surprise is that it would not be combining with any of the financial institutions in China, which would result in co-branding of the cards. This has been facilitated by the fact that the government has become somewhat relaxed in the restrictions that had been placed in the country prior to the move. This is certainly a cause for celebration among shareholders since Citigroup has expanded both its reach on a global scale, along with the fact that the prospects for a greater number of clients are quite high.
This expansion into China is perhaps just what is needed in order to increase competitiveness with other lenders such as HSBC Holdings Plc. (HBC). In terms of overseas reach, Citigroup is dwarfed by HSBC Holdings which has its presence in 130 locations. Citigroup has therefore just begun spreading its wings and it may take some time before it catches up to HSBC Holdings. Catching up, however, may not take too long since China is expected to overtake the U.S as the largest market for cards by the year 2020.
The gradual gain in share
Compared to its longtime rival Bank of America (NYSE:BAC), Citigroup proves to be faring quite well. This comes in the wake of a number of Bank of America's branch closings that have raised eyebrows. The branches in low to moderate income areas have contributed to the largest percentage of the closed branches. Since Bank of America has enacted this in the name of chasing profits in order to catch up to competitors such as Citigroup and Wells Fargo (NYSE:WFC), a great deal of people are opposed to the move.
Whereas the branches in these neighborhoods comprised about 27% of Bank of America's total network as compared to 24% and 23% of Wells Fargo's and JPMorgan Chase's total branch network respectively, I believe that such firm action should not be taken. This is due to the fact that by closing these branches, the communities that really need the services are robbed of a chance to access them.
Although the state of the current economy is largely to blame for the move, I don't believe it was necessary since Citigroup's shares have been gaining lately, thereby avoiding the need for such action. Citigroup has always demonstrated its ability to pull through any tough situation making it a darling to many including myself.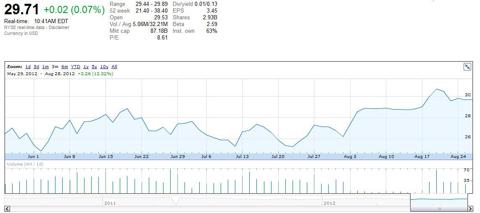 The chart above shows the performance of Citigroup for the last three months, and as you can see for yourself, this is a fighter. If you are looking to invest in Citigroup, patience is a virtue that you must have in order to reap the benefits.
Disclosure: I have no positions in any stocks mentioned, and no plans to initiate any positions within the next 72 hours. I wrote this article myself, and it expresses my own opinions. I am not receiving compensation for it (other than from Seeking Alpha). I have no business relationship with any company whose stock is mentioned in this article.