With 97.4 million cards-in-force worldwide, $822 billion in worldwide billed business, and 162 operating years under its belt, American Express (NYSE:AXP) is an icon of the modern world. Warren Buffett himself has 151,610,700 shares of American Express, a holding whose market value is approximately $8.7 billion (Berkshire Hathaway 13F). Only IBM, Coca Cola (NYSE:KO), and Wells Fargo (NYSE:WFC) represent larger positions in the Berkshire fold. They are the third largest general-purpose charge and credit card provider by charge volume, behind Visa (NYSE:V) and MasterCard (NYSE:MA). They are the 20th most admired company, according to CNN Money. And some might even like their aesthetic taste, seeing as their mascot is a centurion: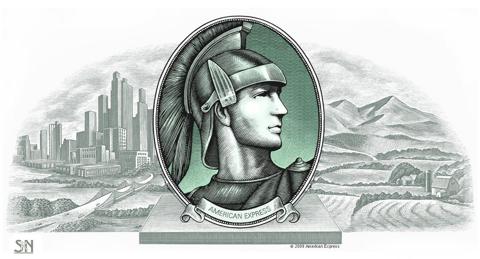 American Express and Those Other Guys
American Express is different than its competitors in numerous ways. First of all, they have more revenue than Visa and MasterCard but less market share. This is due to what they call the "closed-loop," of which we will speak about shortly. Visa and MasterCard are giants when measured in payment volume (See page 17 of Visa's 2011 10-K):

But when compared by Revenue, American Express comes out on top: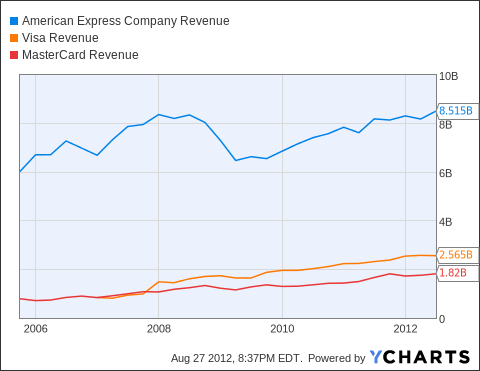 AXP Revenue data by YCharts
So too in operating cash flow: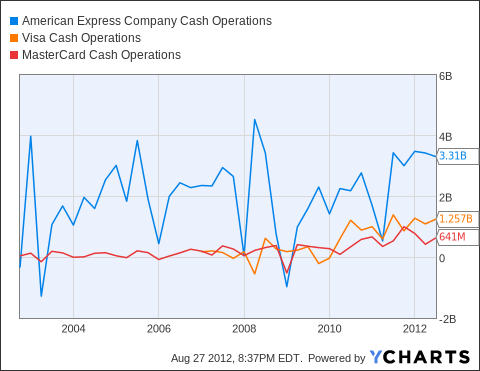 AXP Cash Operations data by YCharts
American Express has an advantage by focusing on "premium products." Their strategy seeks to increase "billed business" by focusing on average spending per card, rather than, say, overall in cards-in-force. This gives them the advantage of serving higher credit-quality customers who, in turn, spend more per card on average than their competitors. The focus on average spending per card contrasts sharply with Visa's strategy: volume through their approximately 1,900 million cards in use. Incidentally, J.D. Power and Associates has also ranked American Express #1 in overall customer satisfaction.
The "closed-loop" network enables American Express to make money on both sides of the transaction. They can first charge venders a discount rate (essentially a fee) which was an average of 2.54% in 2011; and afterwards they can make additional money on outstanding credit card balances and other fees. This is stated in their 2011 10-K:
"Wherever we manage both the acquiring relationship with merchants and the Card-issuing side of the business, there is a "closed-loop," which distinguishes our network from the bankcard networks, in that we have access to information at both ends of the Card transaction…This allows us to analyze information on Cardmember spending and build algorithms and other analytical tools that enable us to provide targeted marketing and other information services for merchants and special offers and services to Cardmembers through a variety of channels."
This "closed-loop" relationship is being imitated by Visa, with their Visa Incentive Network, and by MasterCard, with its MasterCard Advisors. I suppose, "Imitation is the sincerest of flattery."
Intangibles
Like many long-lived companies, American Express has a tremendously valuable brand name: worth $20.2 billion as estimated by Millward Brown and $14.6 billion as estimated by Interbrand (source: Wall Street Journal).
Europe
With Europe remaining a large and looming question mark above the world of finance, it is happy to note that European billed business only accounted for only 12% of total billed business in 2011.
Defenses Against Alternative Payments
American Express has also created operating units endowed with the mission to figure out the future of online and mobile payments. For instance, they launched Serve.com in 2011 in a step to create more online payment options. Serve.com is a person-to-person online payment service. In 2011, they also started the program "Link, Like, LoveSM" which is a couponless deals product on Facebook (NASDAQ:FB). They've also created Foursquare for location based deals on a mobile platform (See page 8 of 2011 10-K, or watch a clip about these initiatives).
Financials 2010 to 2011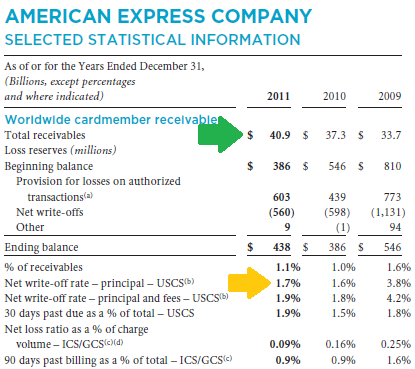 Notice that the total receivables are growing and the net write-off rate is falling. That is what we want to see, since the opposite (specifically a increasing net write-off rate) would be a big negative.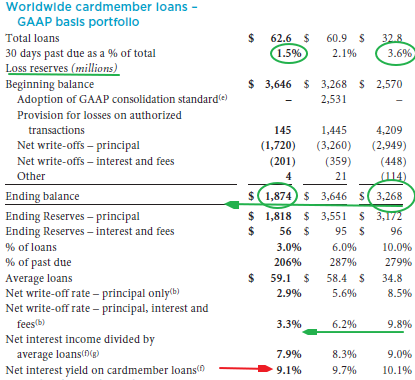 All the green parts above are good indicators and the red is a bad indicator. Loans 30 days past due is falling--which is a good thing--but the interest yield on those is also falling, which is not. Nothing above is unexpected.
Year-over-year growth rates: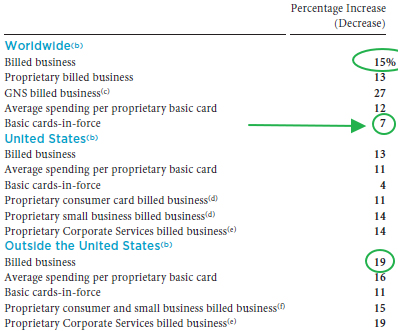 Billed business across the whole company increased year-over-year and increased faster outside the United States (that's the circled 19%). The arrow above points out that cards-in-force increased by 7% year-over-year.
And American Express also notes that cards-in-force (those issued through their partners in Global Network and Merchant Services) have increased at a compound rate of 23% since 1999.
Financials Most Recent Quarters
The most recent quarters are really a continuation of the trend from 2010 to 2011: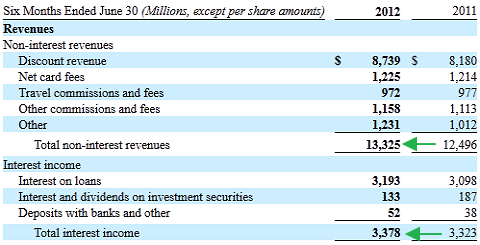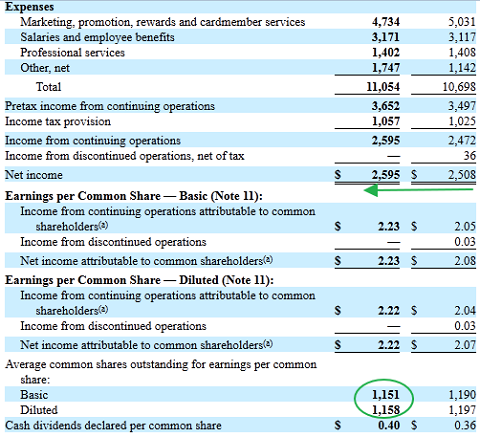 GAAP net income increased 3.4% year-over-year, with non-interest revenue increasing 6.6% year-over-year. Further, American Express has been buying back shares, as I have circled just above.
For the six month period ended June 30th, 2012 and 2011:

We see a decline in customer deposits, a net pay down of debt, and a large share repurchase. Further on page 51 of their 10-Q, we find the useful statement: "The Company repurchased 34 million shares at an average price of $58.18 during the six months ended June 30, 2012."
Conclusion
American Express is extremely cash flow positive. If one adds the (large) share repurchases and the dividends together, one sees that they still only make up about 35.5% of operating cash flow. At the current dividend rate, American Express pays out about 18.7% of net income, or at about 6.6% of operating cash flow. And according to American Express:
"Since the inception of the [buyback] program in December 1994, the Company has distributed 64 percent of capital generated through share repurchases and dividends on a cumulative basis."
We can anticipate that this will continue. With share repurchases moving forward, there become fewer tickets to share earnings with. And conversely, if they choose to pay out their capital in dividends, the dividend rate will increase substantially over time.
With American Express' share price trading below their average buy back price, and with a moderate P/E of 13.45, an investor can pick up this first class long-term holding at an attractive price. It has been around for 162 years, and it will still be great in five, ten, fifteen years, twenty years, etc.. When those years come, we may look longingly on today prices.
Disclosure: I have no positions in any stocks mentioned, and no plans to initiate any positions within the next 72 hours. I wrote this article myself, and it expresses my own opinions. I am not receiving compensation for it (other than from Seeking Alpha). I have no business relationship with any company whose stock is mentioned in this article.