Commodity Chart Of The Day
Daily RBOB
(click image to enlarge)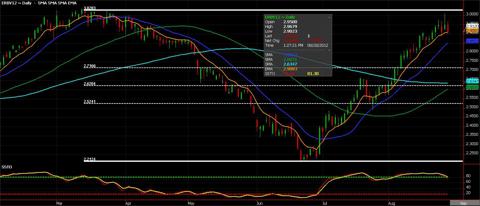 We've all felt the pain at the pump as gasoline prices have been rising for the last couple of months with little relief. I'm not expecting an abrupt end to that, but if wholesale prices back off as expected, we should see a drop in the coming weeks.
After a 75 cent appreciation in the last 2½ months, I don't see much more upside in RBOB. In fact, even as tropical storm Isaac makes its way through the Gulf of Mexico, there has been little impact outside of the temporary price spike yesterday and longer lines at the gas station in preparation.
If prices can penetrate the 8 day MA -- in October above at $2.91 -- this would set the groundwork for more selling to come. Use the Fibonacci levels as your targets on the way down. My stance is that crude oil near $90/barrel should put RBOB near $2.65/gallon.
Risk Disclaimer: The opinions contained herein are for general information only and not tailored to any specific investor's needs or investment goals. Any opinions expressed in this article are as of the date indicated. Trading futures, options, and Forex involves substantial risk of loss and is not suitable for all investors. Past performance is not necessarily indicative of future results.
Disclosure: I have no positions in any stocks mentioned, and no plans to initiate any positions within the next 72 hours. I wrote this article myself, and it expresses my own opinions. I am not receiving compensation for it. I have no business relationship with any company whose stock is mentioned in this article.