With back to school season here, Staples' (NASDAQ:SPLS) share price is falling before the main test of its mantel. Staples traditionally makes the majority of its money in their third, the upcoming, quarter. You can see all the third quarter peaks in the chart below: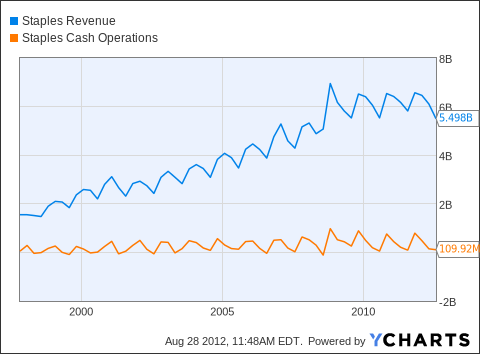 SPLS Revenue data by YCharts
Given the declines in share price -- and today with Staples hitting a 52-week low -- Staples might be worth a quick look. If nothing in the company's fundamentals has changed, then the market might be mispricing Staples on the low end. First, here is a quick glance at their falling share price:
Staples free-cash-flow has grown in the trailing-twelve-month ("TTM") period and its net income has fallen slightly in the trailing-twelve-month period:
With the falling share price, and with the relatively stable FCF and net income, we see the yields growing in proportion to the share price decline. And, of course, growing yields means growing opportunity:
Anyways, that is the essence of value investing: as the price of the security falls -- all else being equal -- its yield increases. Or simply put, the return of an investment depends on the price of that investment. In our case, Staples is getting even more attractive.
Properties of Staples
Staples, as a company, has a some perks. First, it makes the most of its money by selling goods online to businesses; it then delivers the goods to those their desired location (those figures are represented below in the green circles).
This is quite a bit different than the normal consumer perception we have of the company. While we are accustomed to Staples' stores (recorded under "North American Retail"), Staples makes less than half its money in that segment (and by the way, its retail stores dominate the competition).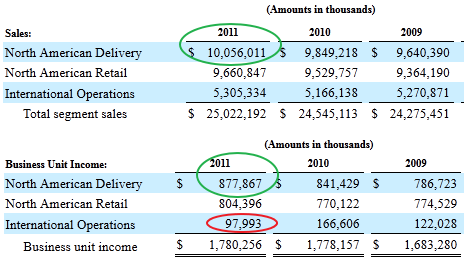 Staples, because of its "North American Delivery" segment, is the second largest online retailer. It is second only to Amazon (NASDAQ:AMZN).
Staples is attractive because it is best in class. It best serves the small and medium business market with office supplies. And that is a market which I'd bet will still exist in 10 or 15 years.
Further, Staples has grown sales and gross profit over the past three recessionary years. Indeed, they also have been giving money back to shareholders through dividends and share repurchases:
Valuation
With a 2011 FCF [1] of $1,192 million, a TTM FCF of $1,185 million -- and with a current market capitalization of $7,370 million -- the free-cash-flow yields are:
2011 FCF Yield: 16.1%
TTM FCF Yield: 16.07%
Given that the average FCF yield of the S&P 500 is 7.95%, Staple's FCF yield is twice that figure. That puts it in the top 7% of the S&P 500 in terms of FCF Yield.
That means that only 41 companies of the S&P500 offer a better TTM FCF yield -- many of those do not have the stable characteristics as Staples and some of them are financial company's to which the FCF number is inapplicable.
Also, Staples has been paying off debt:
Conclusion
Staples has created a moat around its business by servicing its commercial accounts well. Overall, it dominates the office supply industry -- whether it is direct delivery or consumer retail. Further, its free-cash-flow yields are quite good.
All in all, for a stock making 52-week lows, Staples does not have much against it -- except perhaps the shadow cast by Amazon. But such a fear would be misplaced since Staples already makes its way successfully online; and further, Amazon cannot compete in customer service which is required for their "North American Delivery" segment (see page 1, Staples 2011 10-K).
When a company doesn't need equity financing (as Staples does not), a lower share price means that more shares can be repurchased for the same amount. But more importantly, it means a higher FCF, earnings, and dividend yield.
1. Free-Cash-Flow ("FCF") = Operating Cash Flow - Capital Expenditures
Disclosure: I have no positions in any stocks mentioned, but may initiate a long position in SPLS over the next 72 hours. I wrote this article myself, and it expresses my own opinions. I am not receiving compensation for it (other than from Seeking Alpha). I have no business relationship with any company whose stock is mentioned in this article.