The stories that Qhioo 360 (NYSE:QIHU) could derail Baidu, Inc. (NASDAQ:BIDU) or prove to be a serious threat in the near future are simply wishful thinking. Baidu Inc is the leading Chinese language internet search provider and controls over 78% of the market in China. If a massive player like Google (NASDAQ:GOOG) was unable to dethrone Baidu, it is going to be next to impossible for a player like Qhioo 360 to dethrone this giant. In the end Google still trails at a distant second with only 15.7% of the market share in computer-based searches. Baidu could simply launch its own browser and knock Qhioo out much the same way Google toppled Microsoft's (NASDAQ:MSFT) Internet Explorer. Chrome is the world's most popular browser today.
In our view, the current weakens in Baidu share price presents a long term buying opportunity. One great method of securing a great entry price is to sell puts on a stock, especially if it's in a corrective phase.
Selling puts enables you to purchase shares in companies you like at a predetermined price. In essence, you are getting paid to put in a "limit order."
Benefits associated with selling puts
In essence, you get paid for entering a "limit order" for a stock or stocks you would not mind owning.
It allows one to generate income in a neutral or rising market.
Acquiring stocks via short puts is a widely used strategy by many retail traders and is considered to be one of the most conservative option strategies. This strategy is very similar to the covered call strategy.
The safest option is to make sure the put is "cash secured." This simply means that you have enough cash in the account to purchase that specific stock if it trades below the strike price. Your final price would be a tad bit lower when you add the premium you were paid up front into the equation. For example, if you sold the Priceline (NASDAQ:PCLN) Oct 3012, 590 puts at $25.60 with roughly six months of time in it, $2560, would be deposited into your account. However, you need to back this sale with $59,000 in order to secure the puts.
Time is on your side. Every day you profit via time decay as long as the stock price does not drop significantly. In the event it does drop below the strike you sold the put at, you get to buy a stock you like at the price you wanted. Time decay is the greatest in the front month.
Reasons to be bullish on Baidu:
Net income rose from $218 million in 2009 to $1.02 billion in 201
Annual EPS before NRI increased from $0.25 in 2007 to $3.02 in 2011
Sales increased from $652 billion in 2009 to $2.35 billion in 2011
It has a 5 year average growth income rate of 86% compared to the industry standard of 26.6%
Net income for the 2nd quarter came in at $436 million and if Baidu maintains this rate, it could exceed the $1.2 billion mark for the year.
It sports strong quarterly revenue growth rate of 59%
A 5 year sales growth rate of 64%
A low long term debt to equity ratio of 0.11
An impressive 5 year EPS growth rate of 73%
Sales vs 1 year ago of 91%
A projected 3-5 year EPS growth rate of 45%
A splendid current and quick ratio of 4.7 and 4.5 respectively
Some highlights from the second quarter
Total revenues surged to $858 million up 59% year over year
Operating profits came in at $414 million an increase of 51.5% year over year
Net income jumped to $436 million an increase of 69.6% from the corresponding period in 2011
Management expects total revenues for the 3rd quarter to come in between $983 million to $1.009 billion, an increase of 49.6% to 53.5% year over year.
Areas of concern
Qhioo 360's new search engine is gaining traction. It diverted more traffic to websites than Sohu Com Inc (NASDAQ:SOHU), the third largest search engine in China. The fact that Qhioo's browser is the most-used browser in China does not help the situation. It can embed its new search engine into its browser to further leverage its position even more.
According to the average estimate of eight analysts compiled by Bloomberg the Qhioo third quarter sales may rise 64% to $77.8 million from the same period one year ago.
Tian X. Hou, the founder of T.H. Capital LLC in China, noted that.
"QIHU can easily convert its browser users into search engine users. The expansion into the search area could be a strong positive for the company's growth in the foreseeable future," Hou wrote.
Baidu still controls roughly 78% of the market. Baidu could also deliver a huge blow to Qhioo 360 by launching its own browser. As it controls 78% of the search engine market, launching a new browser would be the next logical move. In effect, it could follow Google's footsteps and knock the dominant player out. Google's chrome dethroned Internet Explorer much the same way it knocked-out Netscape. Chrome is now the world's most popular browser.
While in the computer based searches, Baidu does not have to worry about Google, it really needs to start paying more attention to the smart phone market. Google is the dominant player in the mobile ads segment. Application developers and corporations are turning to Google's AdMob unit to reach smart phone users.
"Since 2010, Google has been trying many things to keep its presence in China," said Steven Chang, chief executive officer of ZenithOptimedia's China division, which buys advertising from Google and Baidu. "AdMob now has quite a significant share of the market."
Technical outlook
Baidu is in a corrective phase currently, and it just broke through short term support at $120. It is currently trading above this level again. If it fails to hold above 120, then it could very easily test its recent lows in the $99-$105 ranges. Divide your money into two lots and consider waiting for a pullback to the $100-$105 ranges before committing one lot to this play. The second lot could be deployed if it by some chance it trades below $90.
Suggested strategy for Baidu (BIDU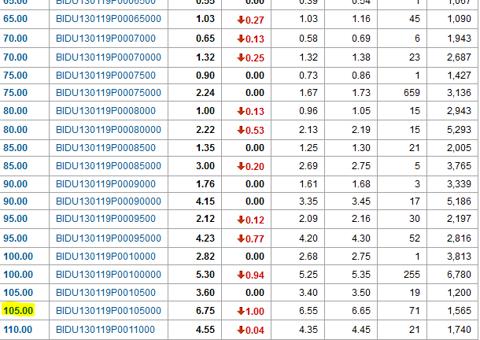 Click to enlarge
The Jan 2013, 105 puts are trading in the $6.55-$6.65 ranges. If the stock pulls back to the stated ranges the option should trade in the $12.00-$13.50 ranges. For this example, we will assume that the puts can be sold for $12.00 or better.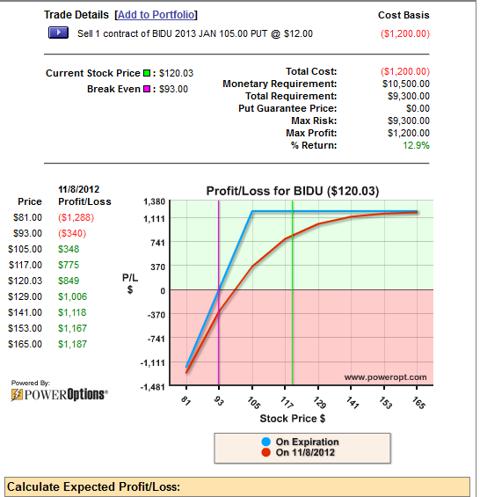 Click to enlarge
Benefits and risks of employing this strategy
The main benefit is that it provides you with the possibility of getting into the stock at a price of your choosing. If the stock does not trade below the strike price, then you at least get paid for your efforts via the premium you collected. In this case, your total gains would be 12.9% in less than six months. If the shares are assigned to your account, your final price will be $93.00.
As long as you are bullish on the stock and are open to the possibility that the shares could be assigned to your account, your risk is limited. You are basically taking on the same level of risk as you would if you purchased the shares outright, but with the added benefit of getting in at a lower price (via the premium you received). When you put in a limit order, it is either filled or not. If it's not filled you do not get paid for trying.
If you have a change of heart after selling the puts because you now feel that the stock could trade significantly below the strike price, then you can roll the puts. Buy back the old puts and sell new slightly out of the money puts with more time on them. Your breakeven point in this trade is $93.00.
A suggestion to boost your potential gains
Take some of the premium you received from the puts you sold to purchase some out of the money calls when and if the stock trades to the suggested ranges. If the stock should subsequently take off, you could walk away with some rather handsome gains.
Conclusion
Only put this strategy to use if your outlook on the stock is bullish. If the shares are put to your account, you will have the chance of getting in at a great price. If they are not put to your account you at least get compensated for your time and effort.
Options tables sourced from yahoofinance.com. Option Profit loss graph sourced from poweropt.com. Earnings vs expectations data sourced from smartmoney.com.
Disclaimer
It is imperative that you do your due diligence and then determine if the above strategy meets with your risk tolerance levels. The Latin maxim caveat emptor applies - let the buyer beware.
Disclosure: I have no positions in any stocks mentioned, and no plans to initiate any positions within the next 72 hours.
Business relationship disclosure: This article was prepared for Tactical Investor by one of our analysts. We have not received any compensation for expressing the recommendations in this article. We have no business relationships with any of the companies mentioned in this article.