The historical Apple (NASDAQ:AAPL) vs. Samsung (OTC:SSNLF) verdict came out on Friday. The outcome was what the market had expected; however, the swiftness and severity of the decision was quite unexpected. The San Jones jury found Samsung guilty of willful infringement of Apple's designs. The iPhone manufacturer was seeking a settlement of $2.75 billion, claiming that Samsung's profit margins on devices infringed to be 35%. The jury found these claims to be incorrect and awarded a $1.05 billion settlement; which is much closer to the profit margin claims of 12% by Samsung. These damages could triple considering that "willful" infringement was involved. The decision came out after only three days of deliberation. In another trial in another part of the world, a South Korean court ruled that both Samsung and Apple had infringed and ordered a ban on 4 Apple and 10 Samsung products. There is little doubt about the fact that these decisions are going to have long term effects on the entire technology sector. Contrary to common belief, the smartphone wars are just starting. Apple will soon be facing more litigation from Google (NASDAQ:GOOG), and its hefty Standard Essential Patent Portfolio in overseas courts; and vice versa. The most well placed stakeholder in this entire fiasco is Microsoft (NASDAQ:MSFT). The launching dates for Windows 8 and Surface Tablet are approaching, and MSFT will be ideally placed in an Android light market. The verdict has also provided breathing room for Research in Motion (RIMM) and Nokia (NYSE:NOK) investors. The prospect of the Blackberry 10 and Nokia Windows 8 products seems brighter in the post-verdict market. Some major events that can further affect the sector are as follow:
Apple has announced it plans to call for a ban on Samsung products. The proposed hearing date for the injunction is September 20.
With this precedent, Apple will most likely make a move against Android.
European developments on Motorola Mobility's Standard Essential Patent injunctions.
Market Share Distribution
The Friday verdict will have far reaching international repercussions and will change many market norms; however, for the time being, it mostly affects American consumers and carriers. Therefore, to analyze the overall affect on manufacturers, we should look at international smartphone demand. China and India are currently the largest mobile markets. According to March 2012 figures, approximately 1 billion mobile users are in China, while India is in second place with 0.92 billion users. America has 331 million users, which make 105.8% of the total American population.
Pie Chart: International smartphone distribution Gartner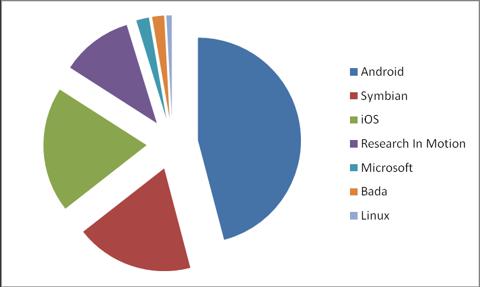 Click to enlarge
(Click to enlarge)
Source: Gartner
If we look at the chart above, we can see that Android is the clear winner with an international market share of 45%, followed by iOS and Nokia. Research in Motion and Windows are fourth and fifth consecutively.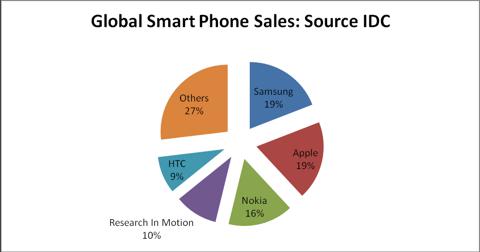 Click to enlarge
(Click to enlarge)
If we look at international distribution of smartphone manufacturers, Samsung has the first place with 19.1%, followed very closely by 19% for Apple. Nokia is in third place with a 16% international market share. We can expect Apple to become the leader in international smartphone sales if they are successful in their September Samsung sales ban injunction.
A quick look at Apple's company disclosures reveals that the two biggest consumers of Apple products are China and the U.S. The price estimates for upcoming models can only be made once a decision on the Samsung product ban comes through. However, it can be assumed that both units sold and profit margins will increase for Apple products in the U.S. Samsung will increase its focus on Asian markets if its products are banned in the U.S.
Apple's Geographical Revenue Breakdown
| | | |
| --- | --- | --- |
| | % | $ (millions) |
| U.S. | 39% | 41,812 |
| China | 12% | 12,472 |
| Rest of the World | 50% | 53,965 |
Source: 2011 10k
If we further break down Apple's revenues for the first three quarters of 2012, we can see that the iPhone and iPad are the largest contributors to company revenues. The verdict directly affects the sales of both these products.
Apple's Revenue Breakdown (Product Wise)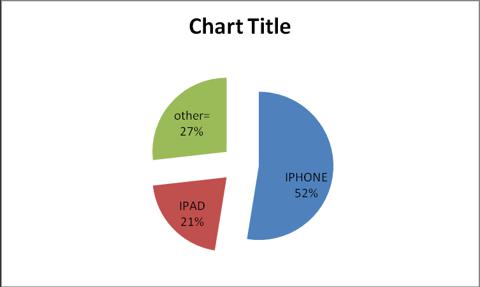 Click to enlarge
(Click to enlarge)
Google's Android
As statistics show, Google's Android is currently the market leader in smartphone operating systems. This decision has come as a major blow to Google. During his lifetime, Apple co-founder Steve Jobs had promised "thermo nuclear warfare" against Google. Now that the precedent is set, Apple will soon move against the Android. Google has already acted against Apple on accusations of using its Standard Essential Patents. The search engine giant had previously bought Motorola Mobility for a whopping $12.5 billion; primarily for its hefty patent portfolio. The advertisement giant's strategy is to counter sue Apple using essential patents. The future success of this strategy cannot be ascertained at this point. Last week, the U.S. Trade agency gave an Essential Patent decision against Google. Apple had been sued on claims that it infringed on the Motorola Mobility patent regarding a sensor that determines a person's proximity so the phone doesn't accidently hang up. The success of these law suits in other international courts of the world remains important to future dynamics of the international smartphone market. Google has already shown its aspiration for the Hardware Industry with its release of the Nexus 7 Tablet.
Windows 8 and BB10
The release of the Windows 8 phone could not have been planned any better. The hyped product will hit the market just as the biggest market player seems to be in trouble. The second biggest market player, the iOS, is limited to a single manufacturer; therefore Windows might be able to penetrate the Smartphone Industry on fears of future infringement claims against the Android by Apple. Microsoft has already signed a cross licensing agreement with Apple, which gives the software giant access to most features under review in the Samsung-Apple litigation. Manufacturers such as HTC (OTC:HTCXF) and Samsung, which wouldn't have even considered any platform other than Android, will now potentially shop for a new platform in case Apple sees more success in courts. Nokia has already signed up for the Windows 8 and will benefit a lot from the verdict against its primary competitor, Samsung. RIMM's BB10 platform might also see a market opening. The Canadian manufacturer plans to release its BB10 in the first quarter of 2013. If Android sees more setbacks this fall, the release might be much more successful than initially anticipated.
Conclusion
The biggest winners in this case are Apple and Microsoft. The biggest loser is Samsung and the American consumer. Samsung products were much better devices and were available at more cost effective rates. In the long run, this decision will increase the focus of companies on R&D and innovation. However, for the time being, it will increase Apple's profit margins. On the other hand, it will also increase R&D expenses for smaller manufacturers under fears of not "copying" any Apple product. At the end of the day, reduced competition in the market will not be beneficial to consumers. Profit margins in the smartphone sector are already sky high, with the iPhone's margins being as high as 58%. The decision if not "harsh," was at least "strong." We expect the September hearing to be more lenient in retrospect. According to a research by Kanzatec IP group, Apple has more than 60% of the total lawsuits on file. The percentage might increase if and when Apple decides to go after the Android.
We reiterate our buy position on Apple. The stock has a historical (5-year average) P/E of 25x, and using NASDAQ P/E of 16x, we estimate a 2013 price of $840. This decision will strengthen AAPL's position and will help investors regain confidence in AAPL's long term and sustainable competitive advantage. This will result in AAPL's stock to trade at a higher P/E. AAPL is currently trading at 12.5x its 2013 earnings.
Disclosure: I have no positions in any stocks mentioned, and no plans to initiate any positions within the next 72 hours. The article has been written by Qineqt's Technology Analyst. Qineqt is not receiving compensation for it (other than from Seeking Alpha). Qineqt has no business relationship with any company whose stock is mentioned in this article.