Remember the days when you could count on value investing as a solid defensive strategy? It worked that way as recently as the downturn we experienced earlier this decade. Lately, though, value has not been fulfilling this role. And there are reasons to wonder if this is more than a temporary oddity and whether the entire approach needs to be overhauled.
The good old days
I created a very simple value screen that uses the following tests:
P/E (based on trailing 12 months EPS) should be less than 25, and
P/E (based on trailing 12 months EPS) should be less than the industry average, and
PEG ratio (P/E based on estimated current-year EPS and growth based on consensus Wall Street long-term EPS growth rate projection) should be less than or equal to 2
Market capitalization must be at least $250 million (to eliminate the often-erratic price trends we can see in penny stocks)
I recognize the widespread assumption that a PEG ratio should be less than 1.00. Actually, there is no logical real basis for that and in the real world, PEGs up to 2.00 tend to be fine (I'll address this as a separate topic another time). Otherwise, this is a very plain-vanilla value screen.
A quick study I conducted using the Portfolio123.com backtester confirmed that during an earlier market downturn, 4/1/02 through 3/31/03, this screen did its job for value investors. (This study, and all others referred to here, assumes portfolio rebalancing every four weeks.)
click to enlarge
Figure 1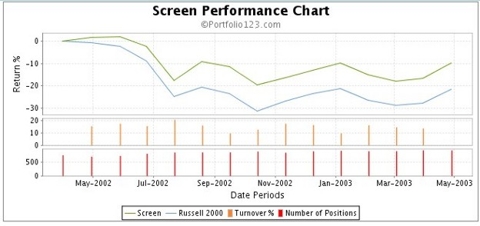 Click to enlarge
Of course we'd all like to see gains all the time. But realistically, I'll accept a model if, during bad times, it slips more gently than the market. Figure 2 shows the numbers behind the above chart.
Figure 2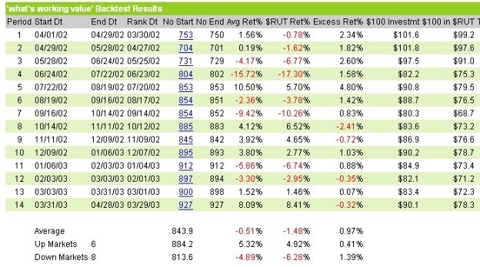 Click to enlarge
We see that the Russell 2000 fell 21.7 percent during the test period, while my value screen dipped only 9.9 percent. More interesting is the last line of the performance summary at the bottom. During months in which the Russell was down, the screen outperformed by an average of 1.39 percent, a much better degree of relative strength than was present in up months.
It's broken
Look what happened when I examined a recent 12-month period (specifically, 6/26/07 through 6/25/08). Figure 3 tracks the less-happy story.
Figure 3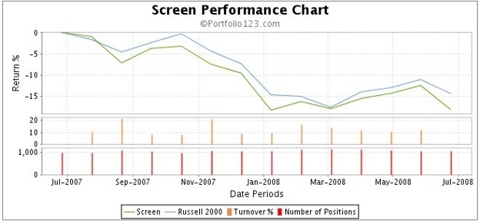 Click to enlarge
Figure 4, a numerical summary of the above backtest, shows something especially bothersome on the last line of the performance summary.
Figure 4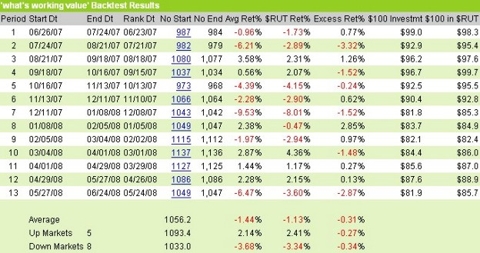 Click to enlarge
During down months, the screen underperformed the Russell 2000 by more than it did during up months. The degree of deterioration was mild, but that's not the point. We might be able to live with a lagging value model if it was lackluster in good times, but was superior, or at the very least less weak, during bad intervals. But for a value model to be worse during down months, even if only slightly, is not acceptable.
Clearly, something is wrong.
Maybe my screen is poor. It is, after all, just a quick study, not the result of a substantial research effort. And we do have the matter of PEG being allowed to rise to 2.00, instead of 1.00
Disposing first of the PEG question, I re-set the rule to bar stocks with PEG ratios above 1.00. As I expected, the backtest produced moderately worse results. Instead of dropping 18.1 percent, as it did when PEG was allowed to go as high as 2.00, the screen now falls 21.1 percent and in down months, the average decline was 0.89 percent.
We still have the question of whether the simplistic nature of the model is what proved fatal. I am doing further research on value models. But a quick visit to the IndexUniverse.com Data tool showed me that my quick study is not a disaster relative to models used currently being by others. During the latest 12 months available in their database as of this writing, the average value-oriented ETF declined 14.07 percent, versus a 12.32 percent fall for the Russell 2000. The time period does not precisely match my study (it's almost a month off), but value's degree of underperformance is almost the same. And interestingly, the iShares S&P 500 Value ETF underperformed the overall S&P 500 (the former fell 12.11 percent while the latter dropped only 8.85 percent).
I still won't claim the value screen I used here is necessarily a great one. And superior value investors may still be getting good results. But the ETF comparison suggests the screen is consistent with what is being done in the value mainstream and that the mainstream is not achieving what it had in the past.
Working toward a repair
Wikipedia may not be the most authoritative source of a value-investing definition, but the introductory text is consistent with the beliefs of many and could well reveal an important leak. With regard to value stocks, Wikipedia states:
 

As examples, such securities may be stock in public companies that trade at discounts to book value or tangible book value, have high dividend yields, have low price-to-earning multiples or have low price-to-book ratios.

 
Forget the textbooks. Look at the world. This isn't the 1970s when the best source of market data for many investors was the monthly S&P Stock Guide (I'm not even sure they still exist). Back in the day, if a stock had such characteristics, it could be because the investment community was neglectful. But in this day and age, with so much information so quickly and so widely available, it's likely that stocks have low valuationb metrics because investors believe that's all the stock deserves.
Cheap prices (even when cheap is defined relative to EPS, book value, etc.) may no longer be what value investing is about. Instead, value may mean identifying company fundamentals and prospects that are better (or less worse) than the market thinks they are.
Success can't come from identifying cheap metrics. Anyone today can do that with a few mouse clicks. Instead, success comes from doing a better job in assessing company. merit. If this view is correct, value investors should probably devote most of their effort toward the exact same analytic issues other investors examine. The difference between a value investors and, say, a growth investor may boil down to just one philosophical point. The value investor wants a great company whose stock with price metrics that reflect a lesser level of greatness (including, for example, a P/E of 30 for shares of a company that deserves a P/E of 35). A growth investor would be more willing to allow a company to grow into a P/E that, at the present time, might assume a little more greatness than has thus far been demonstrated (such as a P/E of 40 for shares of a company that deserves a P/E of 35).
Testing the idea
I modified the above screen to add one more requirement:
The company must score 90 or better (with 100 being perfect) in an estimate-revision rank I created in Portfolio123.com.
This is the same three-factor rank I used recently to identify potentially superior energy stocks. It's based on the four-week change in the consensus estimate of earnings in the current fiscal year, the four-week change in the consensus estimate of earnings in the next fiscal year, and the extent of uniformity among analysts in raising estimates.
Figure 5 reveals a much better picture of screen performance in the 6/26/07-6/25/08 period.
Figure 5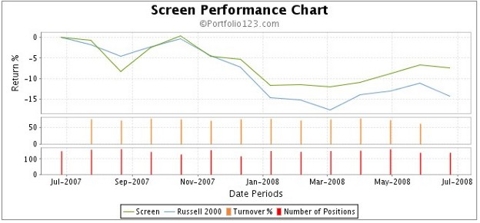 Click to enlarge
Figure 6 shows the numbers produced in this test.
Figure 6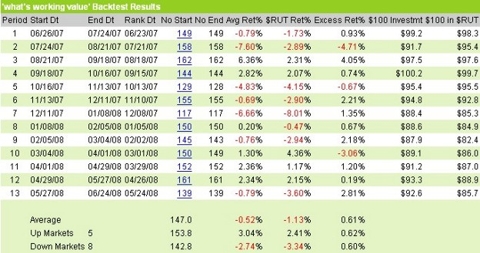 Click to enlarge
Addition of the estimate-revision rank boosted the performance of the screen; now it beats the Russell 2000 by 6.9 percentage points. And it outperforms on average in months that experienced market declines.
Let's see what happens when I use the rank to limit the number of stocks to 15, which better reflects what an investor could easily hold.
Figure 7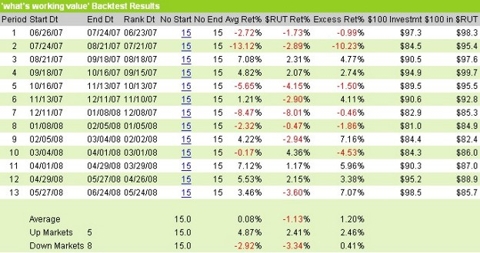 Click to enlarge
The performance is actually a bit better.
As long as we're dabbling with day-to-day reality, I decided to go full out. I inputted the model and the 15-stock limit into the Portfolio123.com simulator and added four extra conditions:
Assume we start with $50,000.00
Assume a $10.00 per share commission on each trade
Assume, for each trade, 0.25 percent price slippage (in other words, I'd always execute each purchase at 0.25% more than the database price and sell for 0.25 percent less
No sector can be more than 30 percent of the portfolio (otherwise, given present conditions we'll wind up mostly in the hot energy sector)
As we see in Figure 8, this strategy was a success, having outperformed the Russell 2000 by 13.13 percentage points net of expenses.
Figure 8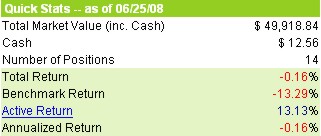 A different perspective on value
We can't over-interpret the above test. It's only one model used in one time period. We'd want to test it and other models over more time intervals.
But it does at least give us hope that we can repair value investing if we are suitably focused on other aspects of the stock selection. In fact, one might even debate whether we're doing value at all. Perhaps this is another style altogether and that we're confining our interest to a value-priced subset. But maybe that's what value investing today needs to be.
Here are the stocks (only 14 as of 6/30/08) that make the estimate revision-value strategy illustrated above.
Value Stocks with high estimate revision ranks
Company
Industry
Royal Dutch Shell plc [ADR] (NYSE:RDS.A)
Oil & Gas - Integrated
BP plc [ADR)](NYSE:BP)
Oil & Gas - Integrated
Occidental Petroleum Corporat (NYSE:OXY)
Oil & Gas - Integrated
Devon Energy Corporation (NYSE:DVN)
Oil & Gas - Integrated
Nucor Corporation (NYSE:NUE)
Iron & Steel
CF Industries Holdings, Inc. (NYSE:CF)
Chemical Manufacturing
Reliance Steel & Aluminum (NYSE:RS)
Misc. Fabricated Products
National Semiconductor Corpor (NSM)
Semiconductors
NetEase.com, Inc. [ADR] (NASDAQ:NTES)
Computer Services
Overseas Shipholding Group In (NYSE:OSG)
Water Transportation
Argo Group International Hold (NASDAQ:AGII)
Insurance (Prop. & Casualty)
Olympic Steel, Inc. (NASDAQ:ZEUS)
Misc. Fabricated Products
Telvent Git, S.A (NASDAQ:TLVT)
Computer Services
Genesco Inc. (NYSE:GCO)
Retail (Apparel)