Media General (MEG) recently underwent a transformative transaction whereby it sold most of its newspaper assets (except for the Tampa assets, which generated negative $15mm of EBITDA in 2011) to Berkshire Hathaway (NYSE:BRK.B) and refinanced its outstanding bank debt with a brand new, very expensive, Berkshire credit facility. The remaining business is a pure-play TV broadcaster, except for the Tampa newspaper assets which are classified as discontinued operations. While this transaction may have been strategically beneficial, it leaves behind an over-levered and negative cash flow company. What's more, MEG's current stock price makes it the most expensive equity in the TV broadcast space.
At MEG's current share price of $4.75 (as of 8/27/12), it trades at 11.4x average 2011-2012E EBITDA (analysts use 2-year average metrics to reflect that even years have political revenue and odd years do not) and has a negative free-cash-flow yield. This compares to larger, better managed TV broadcasters like Sinclair (NASDAQ:SBGI), Belo (NYSE:BLC), LIN TV (TVL), and Nexstar (NASDAQ:NXST) that trade at ~7x EBITDA, generate free-cash-flow yields exceeding 20%, and have rich dividend yields.
To start, let's take a look at management's financial projections that they published in an 8K on April 9th (truncated below to fit on one page). Pro Forma for the newspaper divestiture, management reports $66.5mm of EBITDA in 2011 and forecasts $97.9mm of EBITDA in 2012, for average 2-year EBITDA of $82.2mm.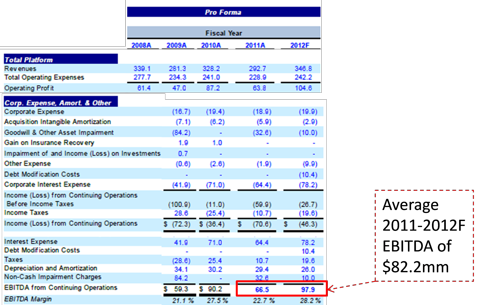 Now let's take a look at MEG's enterprise value. Based on the current trading price of the stock, MEG is being valued at 11.4x EBITDA. The underfunded pension liability must be included in calculating enterprise value, because this represents a real liability of the Company. In just 2012 alone, management estimates a $13mm contribution to the pension will be needed - this is a significant drain on cash flow. No other TV broadcaster has a large pension liability like MEG. But for the sake of conservatism, even without including the underfunded pension in MEG's enterprise value calculation, it still trades at nearly 9x EBITDA.
Pro Forma
6/25/12

Multiple of
2011-12 EBITDA

Berkshire Term Loan*

$301

Secured Notes

300

Unfunded Pension Liability

219

Total Debt and Pension

820

10.0x

Less: Cash*

(17)

Total Debt and Pension, Net

803

9.8x

Add: Common Shares Outstanding

23.3

Add: Berkshire Warrants

4.6

= Fully Diluted Shares Outstanding

27.9

Multiply: Share Price (8/27/12)

4.75

= Equity Value

$133

Enterprise Value

$935

11.4x

*Pro Forma for paydown with proceeds from newspaper sale
Comparing MEG's valuation multiple to some of its peers demonstrates the clear over-valuation of MEG's equity. At 11.4x EBITDA, MEG is valued over 4 turns higher than its better yielding peers.
Company

Enterprise
Value

Multiple of
2011-12 EBITDA

Sinclair Broadcast Group

$2,610

7.1x

Belo Corporation

1,660

7.1x

Lin TV Corp

966

6.4x

Gray Television Inc

932

7.5x

Nexstar Broadcasting Group

851

7.1x

Fisher Communications Inc

203

7.1x

Average

$1,204

7.0x

Media General
$935
11.4x
Finally, MEG generates no cash flow. TV broadcasters typically generate large amounts of cash flow, and MEG's peers have FCF yields in excess of 20%. But because of MEG's high leverage, corporate overhead burden and underfunded pension liability, the Company generates no cash flow. How will MEG pay down its over-leveraged balance sheet or return capital to shareholders through a dividend with no cash flow?
The TV broadcast space is an interesting sector that may offer real value based on today's trading levels, but there are far better ways to invest here than MEG. SBGI has a dividend yield exceeding 5%, after raising its dividend 25% last quarter. BLC's dividend yield is 4.5%, and the Company is buying back stock. NXST and TVL are prime candidates for future dividend and share repurchase programs, given their very strong FCF yields. But its hard to see how MEG can create any value for shareholders, given it has no cash flow to dividend or use for share repurchases, and MEG's huge leverage burden and overvaluation makes it too expensive to be an acquisition target.
Disclosure: I am short MEG. I wrote this article myself, and it expresses my own opinions. I am not receiving compensation for it. I have no business relationship with any company whose stock is mentioned in this article.
Disclaimer: The author, his family, and funds the author manages and/or is associated with may or may not have a position in any of the securities mentioned in this write-up. Any of the aforementioned may trade in and out and around any of the securities mentioned without notifying you. Do your own diligence. Also note this write-up does not constitute any investment advice.