The S&P 500 index, referred to as the market barometer, is above 1400 to its highest level since May 2008.
The index is closely watched and SPDR S&P 500 (NYSEARCA:SPY) is the largest ETF by assets. Some analysts make the case that the S&P 500 is still undervalued despite the rally in 2012.
"Equities are building more and more strength, but with quiet, unassuming conviction," Waverly Advisors wrote. "We believe that many analysts are probably missing the message of the market, and this sets the stage for a dramatic rally when sentiment does shift."
The recent news concerning the European Central Bank and more bond buying plus news that officials in China are ready to take aggressive action to stimulate the economy has lifted the U.S. equity market. The S&P 500 hit its highest mark since May 2008, and has since dropped off a bit as traders cashed in recent gains and technical resistance was hit, reports Rodrigo Campos for Reuters.
"At its record high, the forward earnings of the S&P 500 stood at $103.62, and the forward price-earnings ratio was 15.1," according to Ed Yardeni, president and chief investment strategist at Yardeni Research. According to Yardeni, the market is about 15% cheaper now than it was at its' record high, as earnings were 7% higher then.
The case for investing in the S&P 500 now is looking stronger. The fact that central banks around the globe have kept borrowing rates low should encourage more investors to get back into the market.
There are still lots of uncertainties that can support a bearish case. The anticipation of lower corporate earnings and the economic slowdown going on around the world still has many investors on the sidelines.
According to Thomson Reuters data, the S&P's second-quarter earnings grew 8.4% thanks to the financial sector. Trang Ho for Investor's Business Daily reports that if financials are excluded, second-quarter earnings growth is merely 1.4% and analysts expect a 0.3% decline in third quarter.
But the fact remains that the S&P 500 is still at a four-year high, which is enough to be optimistic about.
Other S&P 500 ETFs:

SPDR S&P 500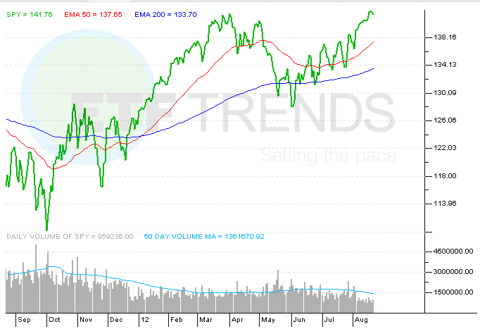 Click to enlarge
Tisha Guerrero contributed to this article.
Full disclosure: Tom Lydon's clients own SPY.
Disclosure: I am long SPY. I wrote this article myself, and it expresses my own opinions. I am not receiving compensation for it. I have no business relationship with any company whose stock is mentioned in this article.