Silver has been testing multi-month highs with investors apparently gearing up for inflation and more central bank stimulus. Some investors are favoring silver ETFs over gold prices amid the rally.
"Gold investing has long dominated the precious metals space, as investors have used this ultra-popular metal as both a trading/speculative instrument as well as an integral part of a longer term strategy. While silver still has a large presence in the financial world, it is not often that a big name steps into the limelight and touts this white metal over its gold counterpart," wrote Jared Cummings for Commodity HQ.
The silver market has seen increased interest as the U.S. dollar has weakened. Commodity funds have seen gains and the silver market has attracted much investor interest. This can be evidenced by the PowerShares DB Silver ETF (NYSEARCA:DBS), which has seen increases in trading activity, reports Eric Dutram for Zacks.
Noted commodities investor Jim Rogers has recently pointed to silver as a metal of choice over gold for the current economic climate.
"Exchange traded products are convenient for commodities. I always buy exchange traded products and it's terrific," Rogers said at the June Alts Virtual Summit co-produced by ETFtrends.
"Consider this: Silver is the only major commodity not to have reached a new all-time high in this bull market; silver is still cheaper than it was 32 years ago, prices are astonishingly depressed," Peter Cooper wrote for Resource Investor.
Cooper also supports this with the idea that investors are always looking at upside potential and downside risk when making investment decisions. So if you are optimistic about the outlook for precious metals - and with all the central banks of the world printing excess capital this is a logical conclusion - then does gold or silver have the most upside? Clearly, it's silver.
"Investment demand for precious metals will take over in any case from industrial demand. And once the gold price heads up then silver will follow. You get 50 times more silver for your money than gold," Cooper wrote.
Jim Rogers notes that silver's volatility makes it the perfect precious metal for Fall, once the widely expected Fed decision to implement a Quantitative Easing 3 is announced.
Other silver ETFs:

PowerShares DB Silver ETF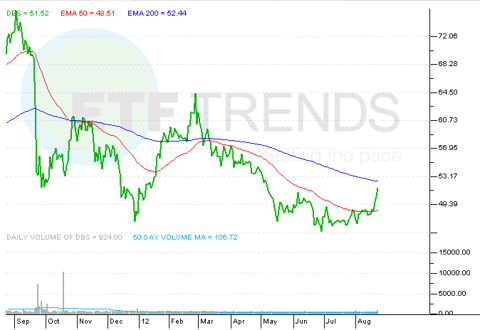 Tisha Guerrero contributed to this article.
Full disclosure: Tom Lydon's clients own SLV.
Disclosure: I am long SLV. I wrote this article myself, and it expresses my own opinions. I am not receiving compensation for it. I have no business relationship with any company whose stock is mentioned in this article.