Yesterday there was some interesting news with respect to the Haynesville Shale. Petrohawk (NYSE:HK) stated that their first horizontal drill in that area was producing 16.8 million cubic feet of natural gas per day. I stated HK was a buy on theupdown.com 6 days ago and it is already up over 14%. Last March the CEO of Chesepeake (NYSE:CHK) stated the Haynesville Shale may have 20 trillion cubic feet of natural gas. My call on CHK was 102 days ago and is up over 51% in that time frame. GMX Resources (GMXR), which I recommended 54 days ago on theupdown.com and is up 69.1%, was also up on the HK news.
The news surrounding this shale should help many of the companies drilling in the area such as Penn Virginia Corp. (PVA). They recently announced one of their horizontal wells was producing 8 million cubic feet of natural gas per day. PVA had 30% production growth last year and 18% per year for the last three. This year they estimate that growth will be between 21% and 27%. For the first quarter of this year, the growth was 21%. Reserve growth last year was 82% while reserve replacement was up 628%.
This company's expertise is in low risk, unconventional plays. Their stock grew 25% last year, while they are close to doubling that number this year. Since 2004, their proven reserves have increased at 24.3% CAGR. Over that time period their average daily production is up 18.4% CAGR.
Most important is their holdings. They are in the Haynesville Shale but also are in the Bakken Shale. This shale has estimated reserves of the equivalent BTU's of the largest find in Saudi Arabia. Although most of this is three miles deep, it can be extracted easily at today's prices. They also have holdings in Woodford, Fayetteville, Huron and Marcellus shales.
58% of their current production is hedged between $8.35 and $9.72 per MMBtu. This allows for protection to the downside, while still realizing any increase in the price going forward for the rest of 2008. Most of their hedges are through the first quarter of 2009, but they usually hedge as much as two years out to protect margins. The volatility of natural gas has taught many of these companies to take prices while they are strong.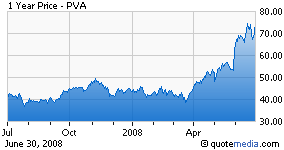 When PVA is compared to 16 of its peers, it is 7th with respect to production growth (30%) with the high being 146% and the low being 3%. They are sixth with respect to reserve growth (40%), with 112% being the high and negative 1% being the low. They were 8th with respect to reserve replacement cost ($2.04), while the lowest was $1.22 and the highest $4.29. They were eighth with respect to total operating costs ($4.83), while the lowest was $3.80 and the highest $8.22. The median of the range was $4.91 per Mcfe.
In my opinion PVA is trading at a discount. If we look at their valuation with respect to proved reserves with respect to their peers, the average is $4.77 per Mcfe reserve valuation. If PVA was to trade at this price, their stock would be worth about $95 per share. So even with yesterday's move upward, they could expect to go higher in the short term.
They also own about 818 MM tons of coal. Most of this is in high Btu areas such as Central and Northern Appalachia, which are areas around companies like Consol Energy (NYSE:CNX) (made call 82 days ago and up 46.52%) and Alpha Natural Resources (ANR) (89 days ago and up 150.4%). Look for natural gas to outperform in 2008, as production is ramped up to meet demand. I believe the prices we are seeing will be above or near this level through the end of the year.
Disclosure: Long PVA and CHK