If you are reading this article, you probably already know about the wild ride that the spot Henry Hub natural gas price has been on year-to-date.
(click images to enlarge)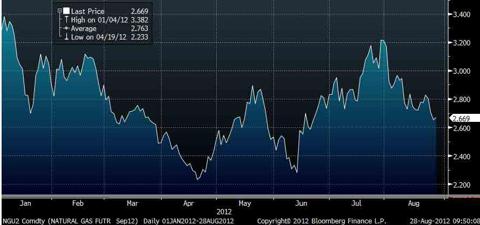 Click to enlarge
The Henry Hub spot price has been incredibly weather dependent this summer, as more and more electricity (particularly peaking plants) is generated from natural gas fired plants. The mild winter caused prices to plummet in April as the market fretted over whether or not practical storage limits would be reached prior to the start of the drawdown season in early November. Such a phenomenon would mean that all gas production that was not immediately consumed would be worthless. The extremely hot weather across the country this summer sent prices skyward -- rebounding nearly 50 percent from the intra-day low in mid-April. We have seen a return to more normal temperatures in the past few weeks, leading to a drop in prices back to the $2.80/MMBtu range. So where does the price go from here? I have no idea.
At this point, I'm only concerned with where the price goes for the next two and a half months, and that is really dependent solely on the weather (temperatures and hurricanes). Production cuts or gains won't come fast enough to meaningfully affect prices over the next two months. If temperatures are at or below normal and we have little or no lost production in the Gulf of Mexico due to hurricanes, I believe there is a good chance the spot price dips back below $2.50/MMBtu in September or October. That will be my cue to buy the heck out of natural gas, only adding to the position on further pullbacks. From here, I firmly believe prices are headed significantly higher.
Wolf Richter writes incredibly insightful articles on the U.S. natural gas industry. Here is his latest. I am a believer that the industry will swing too far with production cuts (just as they did with production expansion), and prices will skyrocket.
So how am I going to go long natural gas? First, let's talk about how I am not going to do this. I'm not going to buy the stock of any independent or integrated oil and gas exploration and production company. I cannot think of a worse way to put this trade on. I want pure natural gas exposure. I do not want management risk, balance sheet risk, execution risk, or other commodity risk. I'm looking for large profit potential (50-100% gains) in a relatively short amount of time (3-6 months). Buying an E&P company would be a mistake, and I urge anyone looking to profit from a price movement in natural gas to avoid doing this.
So what am I going to buy? I'm planning to build a position with some combination of the U.S. Natural Gas Fund (NYSEARCA:UNG) and the U.S. 12 Month Natural Gas Fund (NYSEARCA:UNL) ETFs -- most likely through the long dated call options (January 2014 expiration). So now is the part where everyone tells me I am crazy because UNG does not track the spot price, particularly when the front part of the curve is in Contango. I would lose money every time the near month futures contract is rolled to the next month's contract, which is, of course, true when the forward curve is in Contango. Here is a chart comparing UNG with the spot price of natural gas since the inception of the UNG ETF, normalized to show percent returns.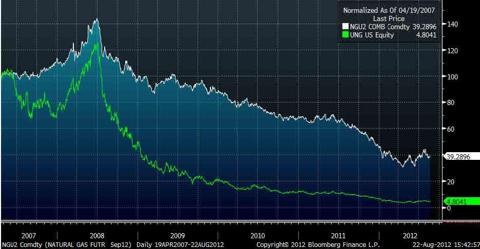 Click to enlarge
If you invested $100 in UNG at the date of inception, it would be worth $4.80 today, whereas the spot price only lost ~60% of its value.
Repeating this same exercise with the UNL ETF will produce a better result over the long-term. Spreading out the risk over 12 months of forward contracts appears to reduce some of the negative roll risk.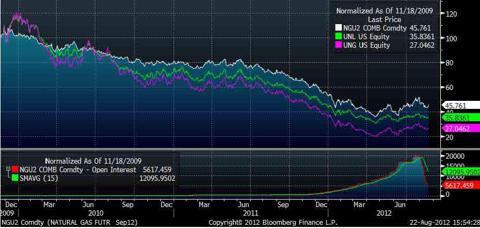 Click to enlarge
Neither of these options is very enticing, but what if you were only expecting the price to go up, and not down from these levels? Well, there was actually one sustained period of rising natural gas prices while UNG has been in existence, from mid-2007 to mid-2008. Here is how it compared to the spot price: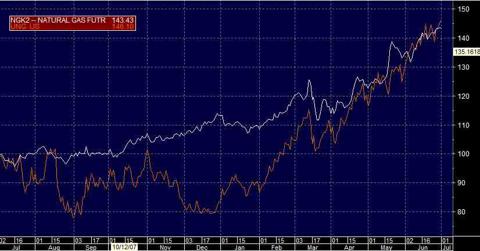 Click to enlarge
It basically boils down to a matter of expectations. If the forward curve has a steep positive slope, then the issue with rolling forward the contracts is a big one. But in this instance, if you held on for this year period, you would have actually beaten the underlying spot price appreciation.
Again, just graphing UNG vs. the spot since the 2012 low on April 28, 2012 to present, UNG has outperformed the spot price, due in part to the price of the one-month forward contract curve.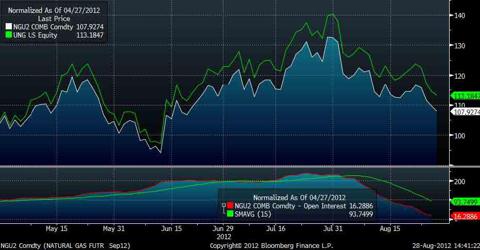 Click to enlarge
In conclusion, I do not buy the argument that the spot price is going to remain this low for some time. I believe the price can again hit $4/MMBtu this winter if the weather cooperates. We know new well drilling is slowing (click here for rig count data). The decline in rigs has been steady, settling below 500 for the time being. There are now just 486 rigs drilling natural gas wells, roughly half the number from a year ago.
Meanwhile, demand has never been higher and is expected to continue growing through 2013. Just as the industry overshot in its expansion of dry gas wells in the shale plays across the country, it will overshoot in its contraction. I believe it will just take one normal winter (this winter is my bet) for storage levels to return to the five-year average ranges. Should this actually happen, one can do quite well in options on the UNG. You could have already doubled your money by buying January 2014 calls in either April or June and selling them in late July. It won't take much for another run up to $3.50/MMBtu.
Get your pencils ready, because if the spot Henry Hub price drops below $2.50/MMBtu again in either September or October, when storage injections peak, you will want to be buying as much as you can. If it keeps dropping, keep your conviction and buy more. You will be happy you did.
Disclosure: I have no positions in any stocks mentioned, but may initiate a long position in UNG over the next 72 hours. I wrote this article myself, and it expresses my own opinions. I am not receiving compensation for it (other than from Seeking Alpha). I have no business relationship with any company whose stock is mentioned in this article.