Has Merck's (NYSE:MRK) run of good luck and share value growth ended? It sure looks like it. The stock, which had risen to over $45 a share in July, had fallen to $43.12 by the end of business on August 24. This seems to mark the end of a phenomenal run in which Merck gained almost $8 per share between June 29 and the middle of July.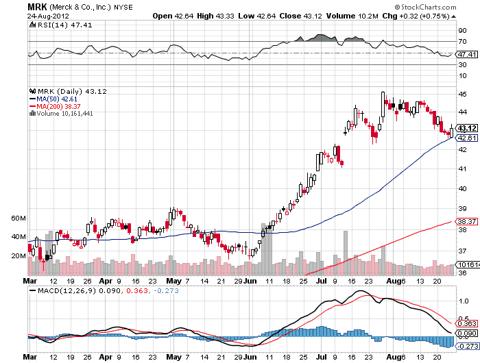 Has this high flyer crashed or will it start going up again? Most likely, Merck will start going up again soon, because it has some interesting drugs in its development pipeline. The company has announced that it plans to file for regulatory approval of two potentially profitable drugs within the year.
The first of these is vorapaxar, a blood clot preventer that can be used to treat heart attacks. Reuters reported that Merck plans to ask for regulatory approval of vorapaxar in Europe and the U.S. in 2013. But Vorapaxar may not be a big hit, because it has been linked to strokes. A safety panel found it created a bleeding danger in people with strokes in 2011.
More promising is MK-524A, or tredaptive, another heart medication which is going to be tested in England. This is designed to reduce the danger of heart attacks. Merck has some much confidence in this drug's success that it is financing a study of its effects on 20,000 patients through England's Oxford University.
Acquisitions and New Drugs
Merck is also upgrading its pharmaceutical production capabilities by acquiring Biochrom AG, a German company that manufactures equipment for cell culture media. These are devices that are used to grow a wide variety of cells and cultures in the laboratory. They're used in the production of cutting edge pharmaceuticals.
The company's executives think they are in a position to file for approval for six major drugs in the second half of 2012 and 2013. Those drugs include the sleep aide Suvorexant and the osteoporosis treatment Odnacatib.
These moves show that Merck is in a position to maintain its earnings per share of $0.58. This is in spite of the fact that the patent on its hugely successful asthma medication Singulair has run out. The appearance of generics on the market has not yet affected Singulair's sales. Merck sold $10.56 billion worth of the asthma medicine in the second quarter of 2012, up from $10.36 billion in the same period in 2011. That means that Singulair sales went up by 2%. That's good news for investors because Singulair is Merck's best-selling drug by a wide margin.
Merck has also delivered one breakthrough drug, Januvia, a treatment for symptoms of Type II diabetes. Januvia sales in the second quarter of 2012 were 36% higher than in the same period in 2011. In the second quarter of 2011, Merck sold $779 million worth of Januvia. In the second quarter of 2012, Januvia sales shot up to $1.059 billion. Januvia has a potential to be a real moneymaker because the American Diabetes Association estimates that 25.8 million Americans, or 8.3%, of the U.S. population have Type I and Type II diabetes. The majority of these people have Type II diabetes, which Januvia is designed to treat.
Merck's overall pharmaceutical sales went up by 5% in the last year. These sales and the success with drugs such as Januvia, Victrelis, Janumet, and Isentress and the vaccine Gardasil show that Merck is capable of successfully marketing new drugs.
Austerity and Generic Drugs Could Threaten Merck Future Share Price
The biggest potential threat to Merck's profits for the near future is Europe, where austerity measures might lead to cuts in national health insurance programs. Since governments are the biggest spenders on healthcare in Europe, this might impact Merck's revenue in that region at some point.
Merck might be able to make up losses in Europe and China. It reported that its sales in the Middle Kingdom increased by 27% in the second quarter of 2012. Growing prosperity in that nation and the increased consumption of candy and soda pop there might increase demand for Merck's diabetes drugs.
Merck also faces pressure from the growing popularity of cheaper generic pharmaceuticals in the United States. Pfizer (NYSE:PFE) is attempting to reverse this trend by offering discount coupons for popular drugs such as Lipitor, Plavix, and Diovan. So far, Merck and other competitors such as Bristol-Myers Squibb (NYSE:BMY), GlaxoSmithKline (NYSE:GSK), and Novartis AG (NYSE:NVS) have not followed Pfizer's lead. They might be waiting to see if Pfizer's appeal to coupon clippers actually works.
Merck's current share price seems about right. The company has been able to deliver increases in sales in a bad economy. It also seems well poised to weather both European austerity measures and the growing popularity of generic drugs. I believe the stock will stay at the $40 to $45 level for the foreseeable future. Merck is not necessarily a growth stock, but it is still a good value buy.
Disclosure: I have no positions in any stocks mentioned, and no plans to initiate any positions within the next 72 hours. I wrote this article myself, and it expresses my own opinions. I am not receiving compensation for it (other than from Seeking Alpha). I have no business relationship with any company whose stock is mentioned in this article.