The municipal bond market in the United States stood at $3.7 trillion as of 1Q12. Of the total market, individuals and mutual funds held $2.7 trillion in municipal bonds. In other words, the household sector had exposure to nearly 75% of the municipal bond market.
The chart below shows the holders of U.S. municipal bonds at the end of the first quarter of 2012:
(click images to enlarge)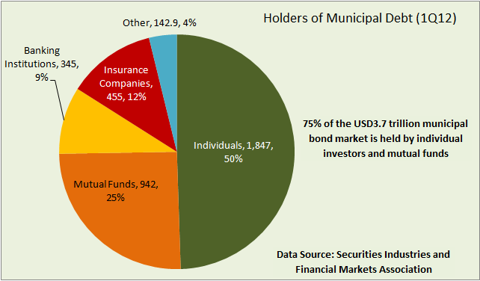 Click to enlarge
This article discusses the risk of municipal bond defaults with reference to a recent article posted on the Federal Reserve Bank of New York blog - The Untold Story of Municipal Bond Defaults.
The discussion has high relevance at a time when household exposure to municipal debt is meaningful, and the economic scenario is expected to remain sluggish for a prolonged period.
The objective of the article is not to scare investors away from municipal bonds. It is more to remind them to take a cautious approach when selecting the kind of municipal bond to consider for investment.
One of the most important things the FRB New York article highlights is the fact that default statistics provided by S&P and Moody's is only for municipal bonds these agencies rate. The actual number of defaults in the municipal bond market is much higher than the numbers provided by the rating agencies.
Hence, the actual safety of investing in municipal bonds might be lower than the perceived safety of investment.
According to the FRB New York piece:
Two large bond rating agencies, Moody's Investors Service (Moody's) and Standard and Poor's (S&P) provide annual default statistics for the municipal bonds that they rate. S&P reports that its rated municipal bonds defaulted only 47 times from 1986 to 2011. Similarly, Moody's indicates that its rated municipal bonds defaulted only 71 times from 1970 to 2011.

However, not all municipal bonds are rated and the market's rated universe only tells part of the story. We have developed a more comprehensive municipal default database by merging the default listings of three rating agencies (S&P, Moody's, and Fitch) with unrated default listings as tracked by Mergent and S&P Capital IQ. Rather than confirming Moody's 71 listed defaults from 1970 to 2011, our database shows 2,521 defaults during this same period. Similarly, our database indicates 2,366 defaults from 1986 to 2011 versus S&P's 47 defaults during this same period. In total, we find 2,527 defaults from the period beginning in the late 1950s through 2011. (We don't have complete information on the number of issues, so we can't compare default rates.)
Therefore, municipal bond default is a more common phenomenon than reported by the rating agencies. Considering this, investors need to be more cautious in allocating their funds to municipal bonds, and more importantly, when choosing the type of bond.
Elaborating on the type of bond, the issuance of revenue bonds remains high. Since the default risk related to revenue bonds is much higher than general obligation bonds, there is more reason to be concerned.
As the chart shows, nearly 60-70% of new issuances in the past have been revenue bonds.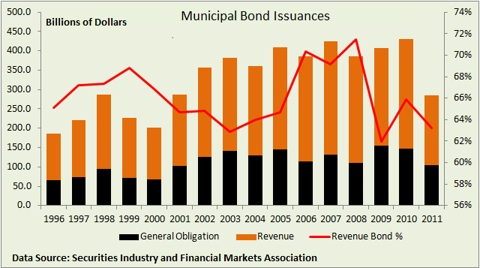 Click to enlarge
However, even among revenue bonds, the risk of default varies. It is best explained in the following paragraph from the FRB New York article:
The default risk of a revenue bond varies with the essentiality of the service provided by the enterprise. For example, water and sewer utilities provide essential services and thus have a strong ability to generate revenue. By contrast, the services offered by an alternative energy plant, pollution control facility, or other corporate-like entity may not be considered essential, because of the availability of other energy sources. Thus, these enterprises may have less potential to generate revenue. Alternative energy plants, pollution control facilities, and other corporate-like enterprises are all examples of industrial development bonds (IDBs). IDB financing projects using new technologies or projects with no historical track record tend to make up a majority of unrated IDB defaults.
The fact that 28% of municipal defaults (1958-2011) have been in industrial development bonds underscores the above point.
Having discussed the risk factors, I will list some of the attractive municipal bond ETFs investors can consider for their medium-term portfolios:
iShares S&P National Municipal Bond ETF (NYSEARCA:MUB) - The ETF seeks results that correspond generally to the price and yield performance, before fees and expenses, of the municipal bond sector of the United States as defined by the S&P National AMT-Free Municipal Bond Index. The top holdings for MUB include GO bonds from California, New York, Texas, Puerto Rico and New Jersey. The ETF gives a current yield of 3.04% and has given investors returns of 9.69% in the last one year.
Dreyfus Strategic Municipals Inc. (NYSE:LEO) - The fund invests primarily in municipal obligations of various states of the United States. The fund is an investment grade fund focused on the essentials, which are bound to do fine, even in a weak economic scenario. Further, the holdings of the fund consist of GO bonds, which make it even safer. The fund has a market yield of 6.01%, and has given a return of 12.6% in the last one year.
Disclosure: I have no positions in any stocks mentioned, and no plans to initiate any positions within the next 72 hours. I wrote this article myself, and it expresses my own opinions. I am not receiving compensation for it (other than from Seeking Alpha). I have no business relationship with any company whose stock is mentioned in this article.