I published an article on Seeking Alpha two weeks ago titled "Is Now the Perfect Time to Buy Zagg?" (NASDAQ:ZAGG). While I still fully stand by the arguments I made in that piece, the timing of it was about a week premature considering the resignation of Zagg's CEO Robert G. Pedersen II and the subsequent drop in the stock price of 15% on Monday last week. With the stock falling to the low $7's, it makes my case even stronger as I believe buying at a healthy discount is the best way for superior returns.
Before I go any further, I want to clarify a mistake I made in my previous article. The erroneous reporting of Zagg missing its second quarter earnings was not the fault of Thomson Reuters, but of its client Equity Briefing.
Robert Pedersen's Margin Call & Resignation
After the market closed on Friday August 17th, Zagg made an announcement that its CEO, Robert G. Pedersen II, had resigned. Also that day, an S-4 was filed reporting that Mr. Pedersen had sold 515,000 shares of Zagg at an average price of $8.2214 on August 14th. After the sale Mr. Pedersen still owns 3,283,815 shares. The S-4 stated that the reason for the disposition was to meet margin calls in Mr. Pedersen's personal trading account. On Monday August 20th, Zagg filed an 8-K reporting the CEO's resignation and that the current COO Randall Hales would take over as interim CEO and Cheryl Larabee would take over as Chairman of the Board. Also in the 8-K, the Board adopted a policy that insiders
...are prohibited from engaging in short-term or speculative transactions involving the Registrant's securities, such as publicly traded options, short sales, puts, and calls, hedging transactions and holding the Registrant's securities in a margin account.
Some authors have assumed this means that Mr. Pedersen was speculating on shares of Zagg. I don't think this is the case as Mr. Pedersen has not bought or sold shares of Zagg since December; although he may have been involved in some option trades such as short puts. If the trades were based on Zagg, then they were bullish positions; otherwise there would not have been a margin call. This eliminates the usual concerns about an insider selling shares.
As I said above, I don't think Mr. Pedersen was making trades based on Zagg. I think he held his Zagg shares in a margin account as collateral for other trades. He could have, for example, bought into the Facebook (NASDAQ:FB) IPO, which had lost 46% of its value as of August 14th. That, coupled with the post-earnings decline in Zagg's share price would have triggered a margin call.
At least one blogger has questioned whether Mr. Pedersen knew that he was going to resign when he sold his shares, implying Mr. Pedersen committed insider trading. There has also been at least one ambulance chasing law firm looking to capitalize on the event. This does not seem likely as a margin call is a pretty justified reason for selling stock. The sell could have also been initiated by the broker and not Mr. Pedersen.
I assumed that the most likely explanation for Mr. Pedersen's resignation is that the Board asked him to resign after his trading loss. As innocent as it probably was, it just does not look good for the CEO of a company to have to dump shares to meet a margin call. After the conference call today, it has become clear that the sole reason for Mr. Pedersen's resignation was because of his trading debacle and there was no prior intention to resign at this time. It also became clear that this was not the first time Mr. Pedersen had a margin call; he sold shares last December for the same reason. While this behavior does not affect the operations or future for Zagg as a company, it does not help investor confidence.
I want to reiterate the point here that Mr. Pedersen had a positive outlook for the company in December and still has a positive outlook for the company. He would not have sold his shares if the margin calls did not force his hand. If he bet against the company he would not have received a margin call.
Mr. Pedersen made a statement when he stepped down to the effect that managing a $250 million company is more difficult than when the company was much smaller. This appears to be a good thing for a CEO to recognize his limitations and step down. Also the Street did not seem to hold Mr. Pedersen in high regard. I would think his resignation would be a welcome event. Over the last year, Mr. Pedersen and Mr. Hales seem to have been very aware of Mr. Pedersen's future ability to lead the company as there has been a gradual transition of responsibilities to Mr. Hales this year. The margin call and resignation finalized this transition, although much sooner than either anticipated.
So the question for shareholders is what does all this mean for the future of the company? Mr. Pedersen's trading is a personal issue and will not affect the outlook or earnings for Zagg Inc. I think Mr. Pedersen's resignation is a good thing, but it would have been better to have a normal transition to new leadership. Management and the Board will now have to spend time searching for a new CEO, which is a distraction from their primary tasks. Despite this, the effects will be minor. Mr. Hales is very well qualified and will do a good job leading the company as interim CEO. He also stated today that he is a candidate in the CEO selection search.
Revenue forecasts
Zagg fell 22% to the $8 range after reporting second quarter results on August 2nd. It seems that despite beating revenue expectations and meeting earnings, the main reason it was off was because the company did not raise its revenue guidance enough. The street was expecting revenue guidance to be raised from $250 million to $260.1 million according to FactSet, but Zagg only raised it to $256 million.
Using Zagg's recent net margin of 9.4% this amounts to $385,000 of net income, which is $0.01 diluted EPS. Zagg stated in its earnings call that it expects to save $4 million in shipping costs over the next twelve months. If only $500 thousand of the $4 million in savings shows up this year, that is enough to offset the lower than expected revenues. Most likely the savings for this year will be $1-2 million.
All this does not seem to justify a 22% decline in the share price and loss of market capitalization of $72 million that occurred the day after the earnings announcement. Capitalizing that potential income loss at a 15 P/E amounts to less than $6 million in market capitalization. If Zagg was trading at a high multiple reflecting high growth rates, it would make sense for the stock to drop when not keeping up with the growth expectation. But this story does not fit with Zagg. To summarize this argument, the extra growth that analysts were hoping for was not built into Zagg's stock price, therefore if it does not meet that expectation, its price should not take a hit. Even if I am wrong on this point, $72 million in market capitalization loss seems to be a major overreaction. Add to this the extra $40 million in market capitalization lost since then and you can see how undervalued Zagg has become.
Mr. Hales made a good point about the earnings guidance and expectation that I agree was missed by the Street. On the 2011 year end conference call, management gave revenue guidance of $250 million for 2012 based on the expectation that the iPhone 5 would be released in June of this year. The current expectation is that the new iPhone will now be released in October. This confirms that all prior growth expectations for Zagg still hold, as all that demand for its products still exists. There is just a time shift of when that demand will get turned into revenues. There is some value lost with the time value of money on this, but three months in our interest rate environment makes the loss pretty minor. Considering how well Zagg has done by meeting second quarter earnings and beating revenue expectations, the market for its products is quite strong.
Other notable items from Tuesday's conference call
Mr. Hales stated that they have some new products in the works that will be announced at the next Consumer Electronics Show in January 2013. I'm not sure what these products could be, but it is good to see Zagg diversifying its product line and generating sustainable growth.
A question submitted asked "There has been a lot of chatter regarding potential accounting fraud; this is a very serious accusation which has not been adequately explained by ZAGG management, will you please comment on this?" The CFO Mr. O'Brien responded
These accusations are baseless; we use one of the top accounting firms in the world and they review our financial statements on a quarterly basis. We are very comfortable with our disclosures and our financial statements and the control environment that we have established here at ZAGG.
Most of such claims have been part of the short and distort campaign made against Zagg. I responded to the most serious of these claims here.
Trading ideas
In the last hour of trading today, Zagg shares rallied 7.3% to close at $7.63. There is still time to get in while the stock is still cheap. My price target for Zagg is the $12-13 range. But here are a couple of trading ideas depending on you risk tolerance. I will assume the stock will be at $10 by at least November.
Long Shares - Gain of 31% if bought at $7.63 and sold at $10. Up to 57% gain if stock goes to $12.
Short Puts - See table. If puts expire in the money, they can be rolled forward until the strike is cleared.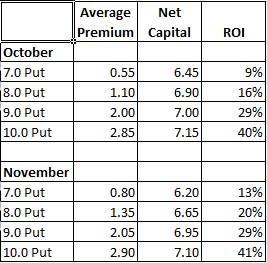 Buy Calls - See table. Assumes stock price is at $10 at expiration. This is riskier than selling puts as if the calls are out of the money at expiration they are worthless. The option to roll the position does not work so well as with puts. Timing is crucial for this strategy to be successful. Use this trade with care!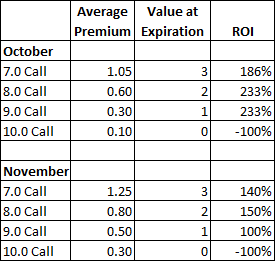 Bull Put Spread - See table. This strategy involves selling the put with the higher strike price and buying a put with a lower strike price. Both puts will have the same expiration month. Since the spread in the strike prices is $1, the most you can lose on this trade is $1, therefore that is the gross amount of capital that a broker requires. The broker will allow the net premium received to go towards the capital requirement.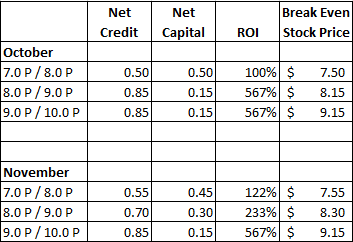 Disclosure: I am long ZAGG. I wrote this article myself, and it expresses my own opinions. I am not receiving compensation for it (other than from Seeking Alpha). I have no business relationship with any company whose stock is mentioned in this article.
Disclaimer: None of these ideas are meant to convey investment advice. Option strategies are more complex than regular stock trades. While there is the potential for impressive gains, there is also a high risk of losing all of your investment. Zagg is a volatile stock. Do not follow these trades unless you know what you are doing. You do so at your own risk.