Yesterday fellow Seeking Alpha writer Michael Terry wrote an article, Why I Am Selling Realty Income's Stock, in which he argued the high valuation of the common stock price and his "nervous" conviction that it was time to sell. Terry's argument was simply that the FFO multiples are in "nosebleed territory" and the company's price to book was "lofty".
First off, I respect Michael Terry as I consider him one of the best writer's on the Seeking Alpha site. His vast knowledge of REITs and bonds is exceptional and my article is not to refute his argument for selling but simply to provide a conjectural response related to my unbiased position regarding The Monthly Dividend Company®.
Let's Look at the Definition of Buying Cheaper
As Terry pointed out, Realty Income (NYSE:O) and many REITs have increased in value and, as a result, prices have increased and dividends have compressed. However, it is important to understand the dynamics of triple-net REITs and specifically the method in which they grow their earnings.
All triple net REITs grow earnings by utilizing spread investing. This simple formula is described as follows:
Cap Rate - Cost of Capital = Spread
Accordingly, a triple-net REIT acquires a stand-alone property at an 8 percent cap rate and then after subtracting the cost of capital (5 percent), arrives at a spread (3 percent).
The cost of capital is the "secret sauce" to investing and so it is important to examine the equity details first. To arrive at earnings yield, you must divide the PE ratio dividend into 100. For example, a PE of 20 divided by 100 is a 5 percent earnings yield. Since Wall Street charges around 6.5 percent for equity, the earnings yield after issuance costs is .935 (100 - 6.5 percent = 93.5 percent). So then the Nominal Cost of Equity (NCE) is arrived at by dividing the 5 percent earnings yield by .935 percent or 5.3 percent.
So with an 8.0 percent cap rate (on a purchase), the 5.3 percent NCE is equal to 2.7 percent. Thus, on a $100 million investment, there is $2.7 million in new profits for all shareholders. Same thing at 15X PE equals a 7.13 percent NCE that translates into around $870,000 on a $100 million acquisition. So very simply, the higher the multiple, the lower costs of capital and that translates into BIGGER MARGINS.
So, for Realty Income, the high multiple equates to being the "low cost producer" and that means higher profits and higher margins. Think of it like this and in a historical sense, the industrial model that is the low cost producer always wins. Wal-Mart (NYSE:WMT), The Hershey Company (NYSE:HSY) and Southwest Airlines (NYSE:LUV) are all repeatable business models that are differentiated by being the low cost producers.
Also, in the triple-net investment sector, a higher multiple is what you strive for since the lower cost of capital is the mantra for success - the high multiple equates to being the "low cost" provider. So the highest valuation has the cheapest cost of capital, the best margins and the best strategically flexible operating platform.
The triple-net peer group [Terry mentioned (NYSE:NNN), (NYSE:ADC), (NASDAQ:ARCT), (ARCP), (NYSE:LXP)] competes with Realty Income; however, because they have lower valuations, they have higher costs of capital. In addition, they utilize more debt (and shorter term debt), floating rate debt, and lesser credit tenants (ARCT has higher quality tenants). Accordingly, the market sees the higher capital costs and gives them lower valuations.
The triple-net marketplace is littered with cheap REITs that died as they had to compromise their balance sheets and underwriting to be competitive. REITs gone today include TriNet, US Restaurant Properties, CNL, and many others.
The Triple-Net Conundrum
So the conundrum is cheap is truly great…if it comes with a cost of capital that is competitive over the long term. Due to a cost-based advantage, Realty Income has been able to exploit all of the potential cost drivers that allow for greater efficiency in the company's overall value-add proposition. It is also, important to consider the following attributes for an intelligent investment choice:
Cost of Capital
Very Experienced Management
Discipline
Success (18 years of consistent and increased dividends)
Valuation metrics which include cheap prices
Michael Terry stated (in his article yesterday) that he bought shares at $17 and his yield on cost is 10.7 percent (well in excess of the current dividend yield of 4.3 percent). This means that (by investing over the long-term) he needs to replace the income by purchasing another investment yielding better than 11 percent (to replace the income he currently receives from Realty Income). Take a look at the snapshot below illustrating Realty Income's shareholder yield on cost.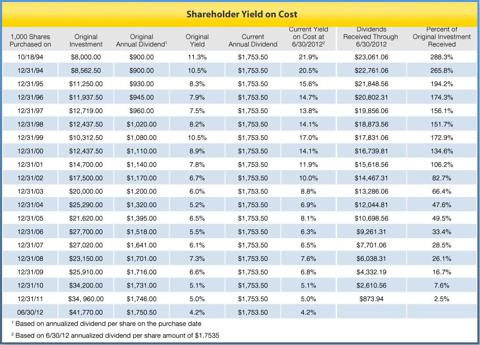 Finally, I wrote an article (Would Ben Graham Buy These REITs) earlier in the week in which I listed Realty Income as a REIT that Ben Graham would have owned. I would have loved to meet Graham as I consider his experience, wisdom, and insight an invaluable resource for my research writing, and investing. The legendary Graham's significant contribution to value investing is remarkable and I am certain that he would agree with our common belief that "one of the most persuasive tests of high-quality is an uninterrupted record of dividend payments going back over many years".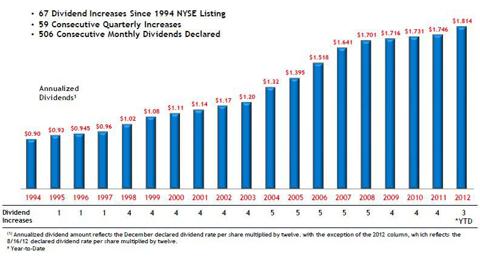 Realty Income has an undeniable "margin of safety" and I am certain that Graham would have agreed with the conundrum of triple-net REIT valuations and perhaps he would have responded by saying,
An investment operation is one which, upon thorough analysis promises safety of principal and adequate return. Operations not meeting these requirements are speculative.
Realty Income closed today at $42.96 (all time high). Market cap is $5.73 billion and current dividend yield is 4.3 percent.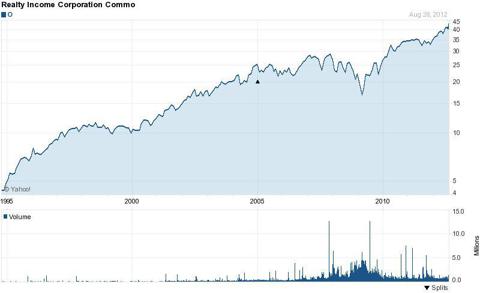 Source: Yahoo Finance, Realty Income website
Disclosure: I have no positions in any stocks mentioned, and no plans to initiate any positions within the next 72 hours. I wrote this article myself, and it expresses my own opinions. I am not receiving compensation for it (other than from Seeking Alpha). I have no business relationship with any company whose stock is mentioned in this article.