In this article, I take a look at Procter & Gamble Co. (NYSE:PG), a personal products manufacturer. We'll evaluate Procter & Gamble as an equity investment. We'll examine the industry, valuation, and financial performance and position. The price-sales and price-book value valuation ratios are near previous peaks; Procter & Gamble is overvalued.
Industry
Procter & Gamble's revenue isn't strongly correlated with the economic cycle: the firm is non-cyclical. Proctor & Gamble's competitors in the industry are Colgate-Palmolive Co. (NYSE:CL), Kimberly-Clark Corporation (NYSE:KMB), and Estee Lauder Companies Inc. (NYSE:EL). Procter & Gamble is in the consumer goods sector, which is less geared to the economic cycle.
Procter & Gamble is a mature company, which operates primarily in mature markets. However, the firm is generating sales in less developed, high-growth countries. Historically, the household and personal goods industry has created value for investors: the return on invested capital is higher than the weighted average cost of capital.
There is some threats of substitute products: Consumers sometimes trade down from premium brands to discount brands. Procter & Gamble has a well diversified product portfolio which includes brands like Dolce & Gabbana fragrances, Scope, and Old Spice. Dolce & Gabbana is my second favorite fragrance brand, after Hermes. The threat of new entrants in the industry is low, barriers to entry are high. Further, the intensity of rivalry in the industry is high. The industry is fragmented with weak pricing power.
Additionally, although the personal products industry is less geared to the economic cycle than other industries, the industry faces macroeconomic headwinds from slow global growth. However, low and stable inflation is positive for revenue, earnings and cash flow from operations. Further, the firm faces headwinds from potential decline in the U.S. population as the baby boomers age.
Procter & Gamble - SELL or Neutral
Investment Thesis
Procter & Gamble's valuation is near a recent peak. Investors may want to scale back positions in this issue. Professional investors may want to short sell shares of the firm, as the fundamentals do not support the increase in the share price.
Financial Performance and Position
Net sales declined 1.1 percent to $20.2 compared to the year-ago quarter. The gross margin declined from 48.5 to 48.1 percent. Operating income declined 3.6 percent to $3.06 billion. Operating margin declined from 15.5 to 15.2 percent. Net income from continuing operations declined 10.3 percent. Net income attributable to P&G increased 44.7 percent.
Total current assets declined 7.4 percent, compared to 2011's fourth quarter, to $21.9 billion: The decline is mostly attributable to a decline in inventory and receivables. Total assets declined 1.5 percent to $132.24 billion. Total current liabilities declined 16.4 percent to $24.9 billion. The current ratio increased from 0.79 to 0.88. Total liabilities declined 1.7 percent to $68.8 billion: The decline is most attributable to a decline in total debt. The long-term debt to equity ratio increased from 0.30 to 0.33. Debt to equity from decreased from 0.52 to 0.47. Total debt decreased from 0.25 to 0.23. The financial leverage ratio decreased from 2.09 to 2.08.
In the 12 months ending June 30, 2012, earnings were high quality. Cash from operating activities was enough to cover cash spent on capital expenditures. Cash from operating activities was enough to cover cash used in investing and financing activities. The cash used in financing went to paying dividends, repurchasing shares and retiring debt. Cash from operating activities was 2.16 times the dividend payment. Further, cash from operations was 3.35 times cash used to purchase long-term assets.
Segment Data
Sales from North America represent the largest portion of sales. However, between 2010 and 2012 sales from North America declined from 42 to 39 percent of sales. Sales from Asia increased from 15 to 18 percent of sales. Sales from Latin America represent 10 percent of total sales and Western Europe represents 19 percent of sales.
Fabric and home care sales increased as a portion of total sales from 26 to 32 percent. Grooming declined from 16 to 10 percent. Beauty increased from 22 to 24 percent.
Litigation
The firm's management did not disclose material on-going litigation.
Company v. Industry
Return on Assets: 6.89 v. 4.73
Return on Investment: 8.57 v. 6.48
Return on Equity: 13.83 v. 9.47
(The company versus industry data is courtesy of Reuters.)
Valuation
Click to enlarge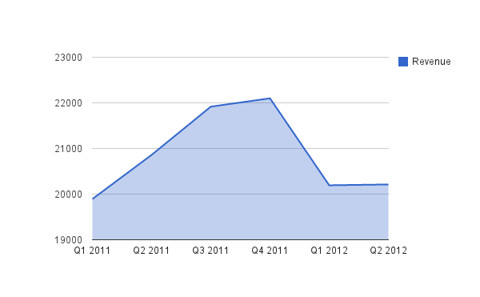 Click to enlarge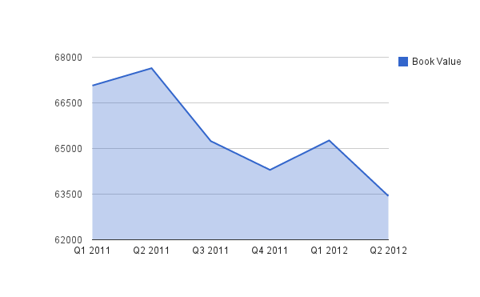 Click to enlarge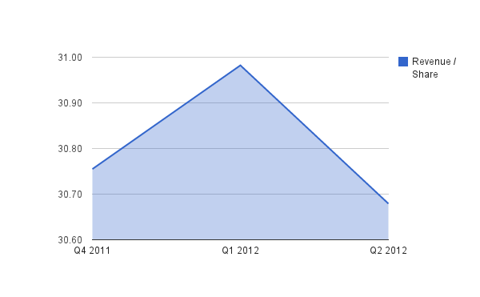 Click to enlarge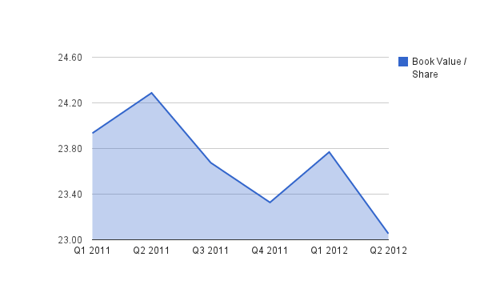 Click to enlarge
The fundamentals of the firm do not support the increasing share price. Revenue is declining and book value is declining: The indicators suggest the share price could decline.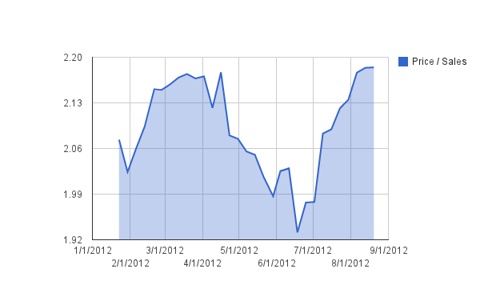 Click to enlarge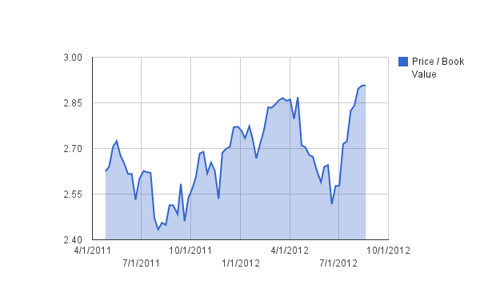 Click to enlarge
Based on the price-book value and price-sales valuation ratios, Procter & Gamble is overvalued. The increase in valuation is caused by the decline in revenue-share and book value-share and the increase in share price.

Disclosure: I have no positions in any stocks mentioned, and no plans to initiate any positions within the next 72 hours. I wrote this article myself, and it expresses my own opinions. I am not receiving compensation for it (other than from Seeking Alpha). I have no business relationship with any company whose stock is mentioned in this article.
Disclaimer: This article is not meant to establish or continue an investment advisory relationship. Before investing, readers should consult their financial advisor. Christopher Grosvenor does not know your financial situation and ability to bear risk and thus his opinions may not be suitable for all investors.