Booz Allen Hamilton (NYSE:BAH) is one of the leading providers of management and technology consulting services to the U.S. government in the areas of defense, intelligence and civil markets. Now 68%-owned by the Carlyle Group, the company went public in November 2010. Since then, BAH refinanced its debt in early 2011 and initiated a regular quarterly dividend of $0.09 per share in February 2012. In May 2012, it paid a special dividend of $1.00 per share to shareholders.
On August 1, BAH announced that it would pay another special dividend of $6.50 per share on August 31 to shareholders of record on August 15. Since the stock is trading with "due bills", anyone buying the shares up to the close of trading on August 31 can receive the special dividend. At the close of trading on the 31st, the closing price of the stock will be marked down to exclude the special dividend and the stock will resume trading ex-dividend when the market opens back up again on September 4.
Most of the dividend will be treated as a return of capital to shareholders. At the end of June, the company had $150.6 million of retained earnings. According to management's GAAP guidance of $1.40-$1.50 per share in earnings for fiscal 2013, I estimate that BAH will add another $97.4 million, net of regular dividend payments for the balance of this fiscal year. Thus, I estimate that roughly $248 million of the $1 billion (or $1.60 of the $6.50 per share) special dividend will represent income to Class A common shareholders. The actual split between income and return of capital will not be known until fiscal 2013 earnings are reported, which probably will not be until the end of May 2013. Shareholders will therefore have to estimate the income/return of capital split for tax purposes for 2012.
Despite the announcement of the special dividend, BAH's share price performance has been disappointing. The stock closed today, August 28, at $18.59. Excluding the $6.50 special dividend, which will be paid on Friday, the stock is effectively trading $12.09. well below its closing price of $14.69 on July 10, the day before the company announced that it was pursuing a billion dollar payout. The chart below plots the relative performance of BAH, both including and excluding the implied $6.50 special dividend, compared to the S&P Mid-Cap 400:
Chart 1
Relative Performance of Booz Allen Hamilton Common Stock (Regular Way and Implied Ex-Dividend) vs. the S&P Mid-Cap 400
July 2, 2012 = 100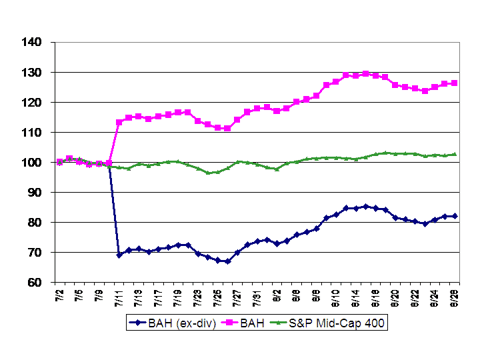 Click to enlarge
Data Sourced from StockCharts.Com
Some might consider the current stock price justified considering that roughly $5 of the special dividend will likely qualify as a return of capital. However, stock prices are forward-looking and based upon the outlook for earnings and dividends. BAH looks cheap both against the broader market and its peer group.
Table 1
Booz Allen Hamilton vs. Its Peer Group on Key Financial and Market Metrics
Stock Prices as of August 28, 2012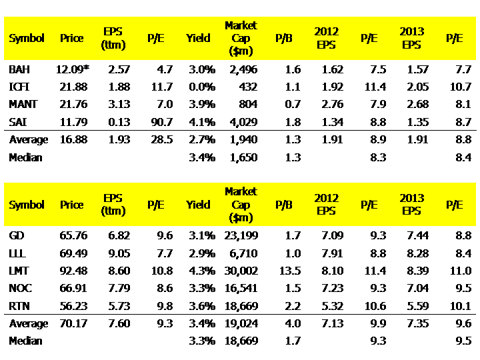 Click to enlarge
Data for this table obtained from Google Finance, Yahoo! Finance and MSN.
BAH peer group = ICFI, MANT, SAI, GD, LLL, LMT, NOC and RTN
Management has issued non-GAAP earnings guidance of $1.60-$1.70 for fiscal 2012. The current consensus estimate is $1.62, which gives the stock an implied forward multiple (excluding the special dividend) of 7.5 times, well below both the average forward multiple of its defense consultant peers of 8.9 times and its big defense contractor peers of 9.9 times. (See Table 1 below.) If BAH, ex-dividend, were valued at the 9 times peer group average, the stock would effectively be trading at $14.58 per share, which is 20% above the current implied ex-dividend price of $12.09.
It has been a rough year for all of the defense consulting firms, due to fears of cutbacks on project spending that could be mandated by the sequestration process. BAH CEO Dr. Ralph W. Shrader has compared the current contract award process to white water rafting. Obviously, all of Washington is nervous about the potential for budget cuts.
On the other hand, Dr. Shrader has also expressed his confidence in BAH's ability to adjust its business to changing market conditions. As a consulting firm, the company does not have a significant investment in property, plant and equipment. Consequently, while its primary goal is to retain talent, it can, if necessary, cut operating costs more easily to keep them in line with revenues. Thus, BAH has steadfastly maintained its adjusted (non-GAAP) earnings guidance, even though it is somewhat uncertain about the revenue outlook.
At the end of the fiscal first quarter (June 30), the company's total backlog was down 8.7% to $10.2 billion against the prior year level, but its funded backlog (i.e. the remaining value of orders for services under existing contracts for which funding has been appropriated or otherwise authorized) was up 5.1% to $2.58 billion.
Given the stock's low forward P/E multiple and the company's ability to adjust to market conditions, I think that BAH is cheap at the current price. It will continue to pay a quarterly dividend of $0.09 per share, which translates into a 3.0% yield at the current implied ex-dividend stock price. The stock has been surprisingly slow to react to recent developments. (It held between $17.00 and $17.50 for a few days after the official dividend announcement and did not approach $19 until the middle of the month.) Even so, BAH investors will undoubtedly be watching with great interest to see where the stock opens on September 4, the first day of trading after the special dividend is paid.
Disclosure: I am long BAH. I wrote this article myself, and it expresses my own opinions. I am not receiving compensation for it. I have no business relationship with any company whose stock is mentioned in this article.