Silver has enjoyed an explosive advance in recent days. After having been stuck in correction mode for most of the past year and still grinding along its downward sloping 50-day moving average for the first few weeks of August, silver suddenly shifted sharply to the upside over the last nine trading days, posting an impressive +13% gain in the process. After such a swift advance, it is reasonable to consider whether it is prudent to lock in recent gains. But when examining the historical price performance of silver, the good news is that it may have more room to run from here.
For the purposes of this analysis, I will focus on the CME silver spot price. But the principles discussed here also apply to the several silver ETFs and related products including the iShares Silver Trust (NYSEARCA:SLV), the ETFS Physical Silver Shares (NYSEARCA:SIVR), the PowerShares DB Silver ETF (NYSEARCA:DBS), the UBS E-TRACS CMCI Silver Total Return (NYSEARCA:USV), the Sprott Physical Silver Trust (NYSEARCA:PSLV) and in part the Central Fund of Canada (NYSEMKT:CEF), which consists of 45% silver.
Before going any further, it is worthwhile to reinforce that the fundamental case for owning silver remains strong. It provides hard asset protection against ongoing competitive global currency devaluation and the threat of crisis. And if either the U.S. Federal Reserve (the Fed) or the European Central Bank (ECB) opt to engage in another round of balance sheet expanding monetary stimulus in the coming weeks as many are anticipating, the price of silver stands to rise considerably if recent history is any guide. Also, if the global economy were to enter into a sustained recovery, silver should also benefit from increased industrial demand. Thus, silver represents an attractive fundamental investment under a variety of scenarios going forward.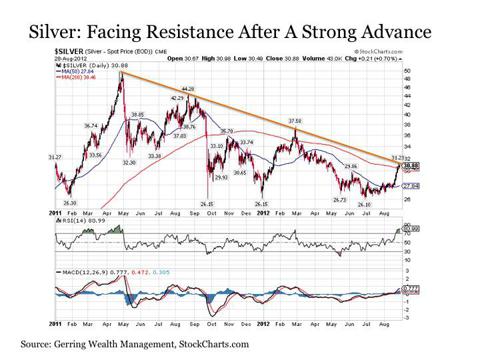 When reviewing silver's recent price performance, it is now up against some heavy technical obstacles following its strong advance. It is now battling to break out above resistance at its 200-day moving average (red line on chart). And just beyond this threshold is silver's downward sloping trendline that has been in place since its April 2011 peak (orange line on chart). Moreover, silver's Relative Strength Index now stands at a notably robust reading of 81. Thus, it may be prudent for those that recently bought silver for a short-term trade to close out positions, particularly given the potential for disappointment associated with Fed Chairman Ben Bernanke's Jackson Hole speech on Friday.
But for those investors that have a medium-term to long-term time horizon for their silver holdings, history has shown that staying the course with silver exposures may prove rewarding. This is true for several reasons.
First, while an RSI reading above 80 would typically signal heavily overbought conditions, it is not necessarily unusual for silver. This is due in part to the inherent volatility of the white metal, with an average daily price movement of 1.8%. Thus, if silver threads together a series of days with such daily price changes in the same direction, it can quickly become overbought or oversold under traditional metrics.
Second, when silver first reaches traditionally overbought levels with an RSI reading over 70, it has historically indicated that the rally is still in its early stages. For example, silver has reached traditionally overbought levels on three different occassions over the last two years. And in each instance, silver only paused briefly before continuing to advance higher. When looking back on its price performance over the last decade, silver will typically experience two or more sharp price advances back into overbought territory before a rally has fully run its course.
Lastly, silver rallies will typically peak only after momentum readings have either matched or exceeded previous levels along with the RSI returning to overbought territory.
In the current rally, silver has only made its first break into traditionally overbought territory. This implies that it is likely to make another move higher following a brief consolidation period in the near-term. Also, the fact that momentum readings are only now just barely crossing over into bullish territory suggests a fair amount of additional upside could be realized before it approaches previous peak momentum levels. All of these factors are supportive of further gains for silver in the weeks ahead.
Returning to the fundamental perspective, the direction of the silver price in the coming days will depend heavily on what actions the Fed and the ECB decide to ultimately take in regards to additional stimulus. If either bank engages in more balance sheet expanding monetary stimulus, the rally in silver may only be getting started. However, if both central banks opt to delay in providing any such stimulus, the white metal may face another period of consolidation before attempting the next move higher.
Thus, the next few weeks will explain a great deal for what we can expect from silver in the months ahead. But for those with a medium-term to long-term perspective, it likely remains worthwhile to stay the course if recent history is any guide.
This post is for information purposes only. There are risks involved with investing including loss of principal. Gerring Wealth Management (GWM) makes no explicit or implicit guarantee with respect to performance or the outcome of any investment or projections made by GWM. There is no guarantee that the goals of the strategies discussed by GWM will be met.
Disclosure: I am long CEF. I wrote this article myself, and it expresses my own opinions. I am not receiving compensation for it (other than from Seeking Alpha). I have no business relationship with any company whose stock is mentioned in this article.
Additional disclosure: I am long silver via the CEF as part of a blended precious metals strategy that includes both gold and silver and also incorporates the Central Gold Trust (NYSEMKT:GTU)