It's been a tough year for new issues as broad market indices log double digit losses and liquidity has been hard to find.  While some IPOs like Visa Inc. (NYSE:V) and Intrepid Potash, Inc. (NYSE:IPI) have scored large gains, these success stories have been more the exception than the norm.  As investors cut back on risk, new issues face an even greater challenge than their blue-chip brothers.  Since recently issued IPOs are considered more risky and have less institutional sponsorship than larger well known companies, they are often more likely to be sold as investors begin to raise cash balances.
The calendar this week is relatively light with only a few deals pricing, but there appears to be one name that will do exceptionally well.  The company is Energy Recovery, Inc. (NASDAQ:ERII) and the firm operates in two of the best performing areas of the market.  The first, obviously is energy and the second is the water treatment area.  As populations across the nation and across the globe continue to increase their use of treated water, the demand is beginning to outpace supply levels.  New water treatment plants are being built and Energy Recovery sells equipment for many of these projects.
The main product offered by the company helps water plants recover energy that is used when turning sea water to drinking water.  Typically, the process is very energy intensive, and with energy costs spiraling, ERII's products, which recapture energy from the high pressure process, experience high demand.  To get a quick overview of how the product works, take a look at the diagram below.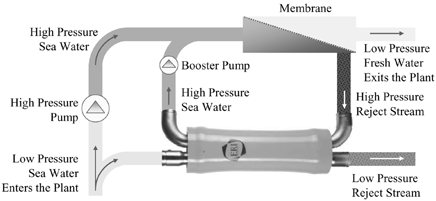 Now I'm not an engineer by any stretch of the imagination, but looking at the company's financial statements, it is clear that ERII is making good money selling the products and should continue to experience strong growth.  The balance sheet is very healthy with only a marginable amount of debt, and the company will use the additional capital for basic working capital needs.
Along with the primary shares being sold by the company, there is a sizable piece being sold by existing shareholders.  The majority of these shareholders is represented by private equity which will be exiting the from the majority of their position.  Management and board members are selling a piece as well, but at this point, insiders will keep just over 50% of the shares which gives them complete control of the company.  This is likely to work in the best interests of shareholders at least for the time being as management has an incentive to grow the company wisely with their vested interest.
The IPO transaction is likely to be priced Tuesday night for Wednesday trading.  It looks like a worthwhile buy at the current price (expected between $7.00 and 9.00) and then it will be interesting to watch after it begins trading.  Picking up shares below $10.00 should be a safe bet considering the growth and potential for this company.