Pundits and speculators/investors have begun to warm to housing. This has been a long slow process and comes after years of brutal underperformance. The uptrend is most pronounced in the financial markets. Homebuilders and associated names have been on a tear across 2012. The macro underpinnings and raw housing data do not, yet, support this enthusiasm. Some of today's excitement stems from pent up demand. Zeal originated in the very low valuations attached to several leading homebuilders, prior to the recent run-up, and excitement attached to the never ending hunt for the next big price appreciation. None of these factors are highly data sensitive. This is well evidenced by the speed and amplitude of the recent run. Yes, the S&P Case Shiller numbers have been strong for 2 months. No, we can't discern sustainability.
Pulte (PMH) is up 190%+
DR Horton (NYSE:DHI) is up 95%
Toll Brothers (NYSE:TOL) is up 100%
S&P Homebuilders Index (NYSEARCA:XHB) is up 37%
Bloomberg EMEA Builders Index up 35%
This is a market I have tracked and studied for many years. In 2006 it was time to call a top, unpopular though that was. In 2010 a reality check to a forecast snap back in home prices was equally called for. Today's call is harder to make. Nonetheless, the actual data still does not warrant recent robust forecasts. The issue here is that the macro economy, where it contours middle class life, has not adequately recovered. Real earnings, wages and salaries, adjusted for inflation, are down over the last 5 years. Thus, households have less real ability to pay for big ticket items than they did 5 years ago. House prices have fallen by about a third and interest rates are at dizzying lows. Thus, affordability measures are up, earnings and economic security are down. There is pent-up demand. However, a generation has been broken of the notion that home ownership is an unalloyed good. This is not the same story as autos. People don't have to buy and often can't.
By way of an answer to the future viability of meaningful housing rebound, I offer a tour of the numbers that should shape the debate. We start with a look at real hourly earnings. Here, there has been no meaningful improvement. We have persistently high unemployment. Reduced hours and job security with no growth in earnings make their voices heard at every major purchasing discussion. Productivity has risen as those with work are doing more for less. This leaves the average household with lower income, reduced security and the lessons of the recent past when it comes to housing. It took a long time to build confidence and ownership levels. The boom and bust of the 2008-2011 has changed the association. This will not soon be undone. The underpinnings of mass ownership and the economic capability of young people to buy show no signs of recovery.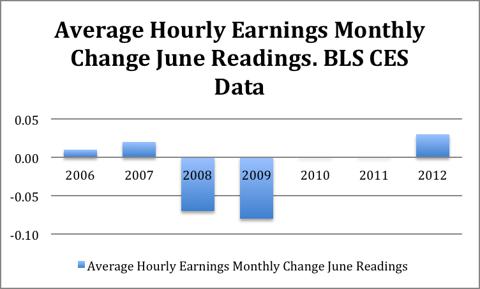 Click to enlarge
Figure 1. BLS CES Data. Real Average Hourly Earnings Monthly Change. Max Wolff
We hear much of increased construction starts and permits. There has been meaningful improvement. We do see capital, labor and interest returning to building and builders.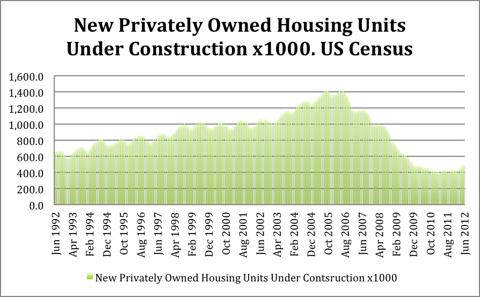 Click to enlarge
Figure 2. US Census, New Starts. New Housing Units Under Construction June 1992-June 2012
This is occurring with interest rates at a fraction of long-term norms. Trillions in support programs and record low interest rates are required to get us to the anemic recovery signals we now have. These interventions can not be maintained indefinitely.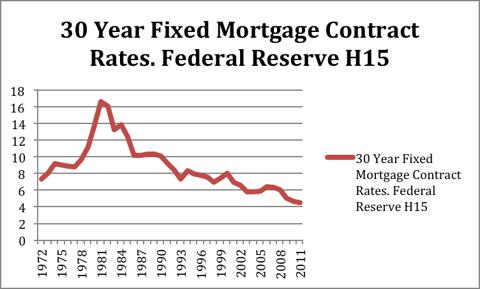 Click to enlarge
Figure 3. Federal Reserve H15 Select Interest Rates. Max Wolff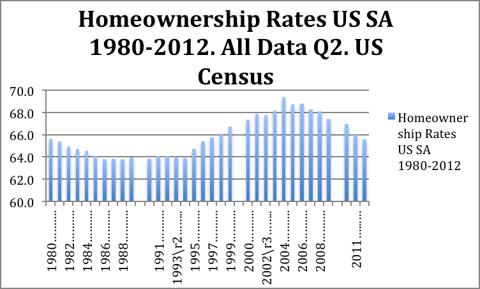 Click to enlarge
Figure 4 US Census Homeownership Table 14a. Max Wolff
Homeownership in the US has been stable since the 1980s with declines in recession and increases with lower interest rates and greater subsidy. The future will look different. Younger households face far more difficult job, wage and savings situations. Homeownership has fallen further and faster over the last few years than in previous recessions. Communities of color, black and Hispanic, have seen dramatic declines in homeownership since 2008. Likewise, younger Americans have seen a huge decline in homeownership rates, now below 40% for those under 35. This is even more pronounced given today's anomalously low interest rates. The greatest reductions in homeownership have occurred among the young. I see this as a secular trend and highly doubt it will meaningfully or consistently reverse. Renting has and continues to grow, institutional and investment buying of homes will change the market.
Mortgage debt has fallen from its heights in 2007. However, it has fallen far less than would have been required to return housing to a screaming buy. If we get a prolonged or meaningful bout of inflation, housing will do very well as an asset that holds out the hope for keeping pace. Absent this unlikely near-term shock, we are highly unlikely to see housing blaze a recovery trail. This does not preclude continued modest improvements off recent lows. We continue to be dependent on state interference in housing markets to maintain even recent modest performance. Ideological opposition to state subsidy in these markets, if it becomes policy, would create a rapid and dramatic descent into the conditions last seen in 2009.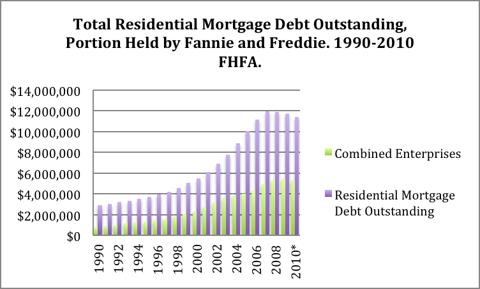 Click to enlarge
Figure Mortgage Debt and FHFA Federal Holdings of Mortgage Debt and Securities. FHFA and Max Wolff
Disclosure: I have no positions in any stocks mentioned, and no plans to initiate any positions within the next 72 hours. I wrote this article myself, and it expresses my own opinions. I am not receiving compensation for it. I have no business relationship with any company whose stock is mentioned in this article.