How should investors trade Apple's stock (NASDAQ:AAPL) after its recent legal victory? The obvious strategy is to buy the stock on any pullback. The problem, however, is that this is already a crowded trade. Another strategy is to buy Apple's suppliers like Corning (NYSE:GLW), Qualcomm (NASDAQ:QCOM), and Cirrus Logic (NASDAQ:CRUS) that make the gear that goes into iPhones and iPads.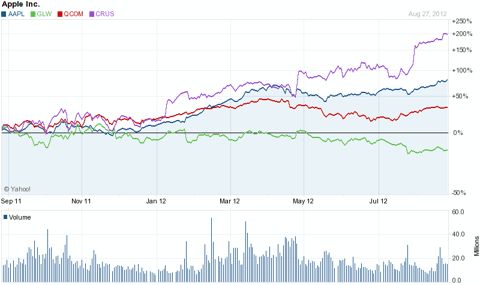 Financials of the Three Companies
| | | | |
| --- | --- | --- | --- |
| Company | Corning | Qualcomm | Cirrus |
| Forward PE | 8.22* | 15.16** | 14,27*** |
| Operating Margins | 20.32% | 31.77% | 17.45% |
| Quarterly Revenue Growth | -4.80% | 27.70% | +7.30% |
| Quarterly Earnings Growth | -38.80% | 16.60% | -24.50% |
*Dec. 31, 2013 **Sept. 25, 2013 ***March 15, 2013
Source: Yahoo.Finance.Com
Corning
Corning makes Gorilla Glass that has grown to become a necessity in touch screen devices-including devices powered by Google (NASDAQ:GOOG). This is not your everyday windowpane; this glass is made of alkali-aluminosilicate thin-sheet glass. This means that it is almost unscratchable and more than tough enough to handle the daily wear and tear. Apple uses this glass for its iPhone and iPad. Per CNBC, "Over 200 million devices with Gorilla Glass have sold and after just three years on the market it has 20% of the phone market." And as the smartphone and tablet industries further expand, Corning should reap the rewards.
A word of caution: Corning is a large company making a batch of other products that face pricing pressures, such as flat glass used in flat panel TVs, which can explain the sharp slowdown in its quarterly revenue and earnings growth.
Qualcomm
Qualcomm is an innovator and leader in CDMA-based integrated circuits and Radio Frequency (RF) and Power Management (PM) chips and system software that power mobile devices and wireless networks. The company is in a better position to ride the exploding market for mobile devices than its closest competitor, Texas Instruments (NYSE:TXN). Last quarter, the company reported that it couldn't make enough chips that go into Apple's latest products like the LTE chip-- a nice problem to have in the long run.
Cirrus
Cirrus Logic, Inc., is a developer and manufacturer of high-precision analog and mixed-signal integrated circuits (ICS) for the audio and energy industries. A number of the company's digital products like interface ICs, volume controls, and digital amplifiers are used in the consumer electronics industries, while its audio products are used in portable media players, smartphones, and tablets. Cirrus is the only supplier for audio codecs in iDevices, the 35 million iPhones and 11.8 million iPads that propel Apple's sales. Today, 70% of Cirrus' revenues come from sales to Apple-- double the 2007 level.
Disclosure: I am long AAPL, QCOM. I wrote this article myself, and it expresses my own opinions. I am not receiving compensation for it (other than from Seeking Alpha). I have no business relationship with any company whose stock is mentioned in this article.