Before I left on a brief holiday three weeks ago, the markets were seen catching a bid but still not decidedly bullish. In the time I was gone, during which I by the way thoroughly enjoyed detoxing from the market for a while, it seems as if there has been a genuine reversal. I struggle to explain why the market is showing such gleeful exuberance as the macro economic backdrop has not improved. The cause must then be found in investors' speculation about a third round of QE. The fact remains that markets are seriously overbought on the medium-term, and are likely to face a consolidation or correction soon. Such a development would provide a more interesting entry point than current price ranges.
The S&P seems to have broken out of a negative trend and is approaching previous highs for the year. The index now seems to be moving within a nice intermediate upward channel. As I said, I'm not quite sure why the market is showing such strength, but as the situation has not meaningfully improved in Europe, with Spanish 10-year bonds currently yielding 6.36%, the optimism must be due to increased speculation that Bernanke will implement another round of QE after the summer. I shudder to think how the market will react if Ben does not inject another round of easing into the veins of strung out investors.
While the ECB mulls over Spain and European politicians endlessly debate how to tackle the financial crisis in the Eurozone, Chinese GDP growth YoY in the first half of 2012 has slowed to 7.8%, down from 9.6% a year ago. The slowdown is attributed among other things to diminished growth from developed economies, commodity cost inflation and rising salaries. As such, we seem to be moving in the direction of a hard landing for China. The central bank's recent move to lower interest rates twice within a month did little to ameliorate fears of a major slowdown in the world's second economy. Meanwhile, Apple shares have risen to all-time highs, with call option volume at dangerously speculative levels according to some commentators. To my mind, the market's reaction to current events is surprising, considering the hazy macroeconomic and corporate backdrop, so let us turn to the charts for additional guidance.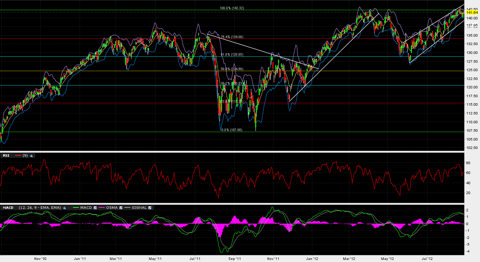 Since the low of 127.5 in June, around the 61.8 Fibonacci retracement from the $107 low, SPY (NYSEARCA:SPY) has surged to challenge support around previous highs at $142. SPY is also testing trendline resistance, and as you can see the RSI is in overbought territory. I would advise caution at the moment to those looking to invest fresh funds, and regarding SPY specifically to wait and see how the security behaves around current resistance. For me, current prices are not an attractive entry point, and in fact it would be hard to make the case that stocks are still cheap at the moment.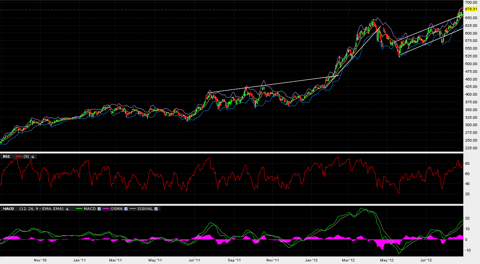 The Apple chart is another example. At the time of writing, Apple (NASDAQ:AAPL) trades just over $651. After a manic breakout and surge earlier this year, the stock faced a meaningful correction beginning in April. The stock has now rebounded all the way back to this high and is now trying to take it out. Trend resistance looms however, and the RSI is overbought.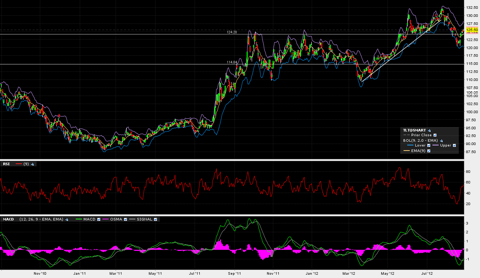 Treasuries seem to be breaking down badly as well. After hitting $123.5 recently, TLT (NYSEARCA:TLT) broke out of a rising channel and also snapped support at $124. The road to $116 now seems open, and for now I liquidated my long position in TLT. The RSI is meaningfully oversold and TLT seems ready for a relief rally.
The bottom line is that markets are looking extremely optimistic at the moment, although seemingly the only pertinent bit of good news is the speculative hope that Bernanke will unleash another round of easing on Friday. News from Europe and China has not been particularly encouraging, and still markets are trading towards the top of their range. I would be cautious in opting to open new long positions at the moment, and I believe a consolidation is on the way.
Disclosure: I am short SPY. I wrote this article myself, and it expresses my own opinions. I am not receiving compensation for it (other than from Seeking Alpha). I have no business relationship with any company whose stock is mentioned in this article.