I recently delineated my core thesis for Dell Inc. (NASDAQ:DELL) in Why Dell Is A Must-Buy: The Comprehensive Bull Thesis. The mainstream viewpoint is that Dell is a laggard in the dying PC industry; my viewpoint is that Dell's business model is misunderstood and consequently, it is inappropriate to pigeonhole it as "just another PC company." While PC makers are undoubtedly facing tough times, Dell's valuation is so low that you can view it as an enterprise solutions provider (think IBM) with a PC division thrown in for free. Many commented, requesting that I analyze Hewlett-Packard Co. (NYSE:HPQ) in the same "value investing" context, so below is that analysis.
The Collapse That Never Was
When you look at Dell and Hewlett-Packard's stock charts, it's fairly easy to assume that they're goners. Over a one-year period where the S&P 500 (SPDR S&P 500 Trust ETF: SPY) saw a solid rally, Hewlett-Packard and Dell both plunged.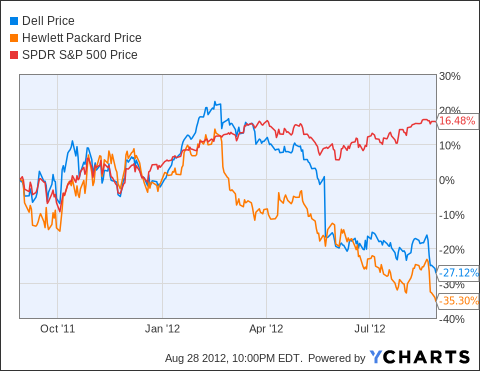 It's certainly true that both companies have reported sluggish-at-best results. However, the drawdown is hugely overdone. While both companies are supposed both "at the brink of collapse" due to the impending death of PC, the financial data tells a different story.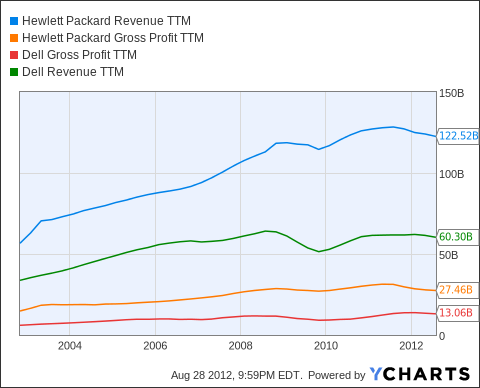 HPQ Revenue TTM data by YCharts
So let's dig into the financials and see what's really going on.
Hewlett-Packard: A Tale Of Two Companies
When looking at Hewlett-Packard's Q3 results, I immediately scrolled down to the section where financials were broken down by segment. While I certainly recommend reading the document in full (available from HP Investor Relations), here's a summary:
$29.7B total revenue for the quarter, broken down as follows:
Personal Systems Group: $8.62B
Services: $8.75B
Imaging and Printing Group: $6.02B
Enterprise Servers, Storage, and Networking: $5.14B
Software: $973M
HP Financial Services: $935M
Corporate Investments: $19M
Elimination of intersegment net revenue: ($792M)
This translated into just under $3.1B in actual earnings for the quarter, broken down as follows:
Personal Systems Group: $409M
Services: $959M
Imaging and Printing Group: $949M
Enterprise Servers, Storage, and Networking: $562M
Software: $175M
HP Financial Services: $97M
Corporate Investments: ($58M)
To me, the Personal Systems Group and Imaging and Printing Group are both representative of what I'll call "PC tech." Let's group those together. They account for a combined $14.64B in revenue and $1.358B in earnings before taxes. I'll discuss the fate of the other parts of the company (Services and ESSN) a bit later.
One of the techniques I like to use when analyzing a company as a potential value investment is to assume the bear case is right. That is, let's say I buy in, and the bears are right - totally right - more right than anyone could've imagined. In the worst-case scenario (or something close to it), what happens to the stock?
Let's jump to some undetermined point in the future when Hewlett-Packard's turnaround is finally complete and the PC is finally dead. The iPhone all but killed the PC and the printer. Let's model Hewlett-Packard's future earnings:
Since this is a bearish scenario and the current quarter was undoubtedly soft, let's assume the Future Hewlett-Packard's yearly results are equal to 4x this quarter.
Let's assume that the death of the PC results in 80% earnings declines in both PSG and IPG.
Let's further assume that the turnaround is weak at best, and earnings for the other major divisions are unchanged.
In this scenario, we now have the following yearly earnings-before-taxes by segment:
PSG: ($409M x 4) x 20% = $327M
IPG: ($949M x 4) x 20% = $759M
Services: $3.836B
ESSN: $2.248B
Software: $750M
This adds up to yearly pre-tax earnings of $7.9B for the Future Hewlett-Packard. Now we have to account for taxes. Recently, Hewlett-Packard's effective tax rate has been roughly 20%, but since we're being bearish, let's jack that up to 30%. The Future HP's after-tax earnings actually available to shareholders thus total to $5.53B.
There are currently just under 2B shares outstanding. Let's assume a little share dilution (remember, we're being bearish) and round that up to 2.25B shares outstanding. The Future Hewlett-Packard's EPS is then $2.44.
Assuming a P/E of 8, the Future Hewlett-Packard's per-share value would be $19.52.
Assuming a P/E of 10, the Future Hewlett-Packard's per-share value would be $24.40.
You'll note that both of these prices are above the current share price. And notice that we came to this share price by making extremely draconian assumptions. All that to say, even if the bear case is 100% correct (and more), Hewlett-Packard is STILL undervalued.
Turning Around The Turnaround
My analysis above obviously hinges on stable earnings from the non-PC departments - can Hewlett-Packard become a quasi-IBM? If it can, there are certainly external catalysts in place. While PCs may be facing weak demand, the exact opposite is true for enterprise cloud spending (expected to double by 2016) and more generally, IT spending as a whole. The question isn't if Hewlett-Packard has opportunities, because it certainly does. The question is if Hewlett-Packard can execute. For years, it has failed to do that.
This is, obviously, the major concern - and for what it's worth, why my recently-initiated position in Dell is larger than my recently-initiated position in Hewlett-Packard. Hewlett-Packard's history of gross mismanagement includes numerous botched acquisitions and a hatchet job on the R&D department. Hewlett-Packard is stupidly cheap assuming that the "better half" of the company survives, but previous snafus make that less than a 100% certainty.
The question, then, is if Meg Whitman is up to the job. She certainly has good credentials, and for what it's worth, a history of landing on "Best CEO" lists. For a look at what employees across the company think of her, check out this BusinessInsider article.
The Actionable Takeaway
Hewlett-Packard is undoubtedly not without troubles. However, as Tim Travis analyzed in a recent article, it's exceptionally cheap. If you have a good amount of risk tolerance and are willing to ignore the share price for half a decade, then Hewlett-Packard could yield phenomenal returns simply on multiple expansion. As I analyzed, even if half the company goes bye-bye, a P/E of merely 8 would result in a share price higher than the current market price. Several years from now, Hewlett-Packard's fate will be largely known, which should help boost the P/E. In the worst case, Hewlett-Packard's stock price should be flat to moderately good. In a better scenario - say, $3.00 EPS and a P/E of 12, AKA a $36 share price - Hewlett-Packard could double.
Throw in the dividend, and Hewlett-Packard is worth a long hard look from value investors. Due to the fact that the turnaround is still largely up in the air, I would not rush to overweight Hewlett-Packard, but a small position could yield large returns.
Disclosure: I am long HPQ, DELL. I wrote this article myself, and it expresses my own opinions. I am not receiving compensation for it (other than from Seeking Alpha). I have no business relationship with any company whose stock is mentioned in this article.