Analysis of web traffic patterns can yield interesting investing insights, especially when comparing traffic statistics of online retailers.
With this is mind, we wanted to compare the online traffic trends for Amazon.com (NASDAQ:AMZN), eBay.com (NASDAQ:EBAY) and Overstock.com (NASDAQ:OSTK) since July 2011.
We constructed three indices, each expressing a website's traffic as a multiple of a single competitor over time.
The AMZN:EBAY traffic ratio chart, not included here, stayed relatively flat over the last year, meaning that they have not taken market share away from each other.
But the AMZN:OSTK and EBAY:OSTK traffic ratios all rose significantly, signaling that Overstock.com is quickly losing ground to other big online retailers.
Here are the charts.
First, eBay's online traffic trend as a multiple of Overstock.com's traffic trend (unique visitors by month):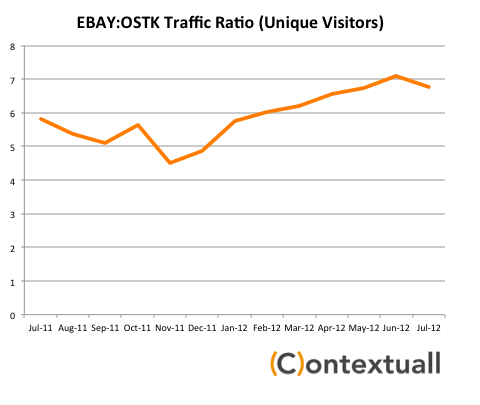 …and secondly, here is Amazon's traffic trend as a multiple of Overstock.com's unique visitors.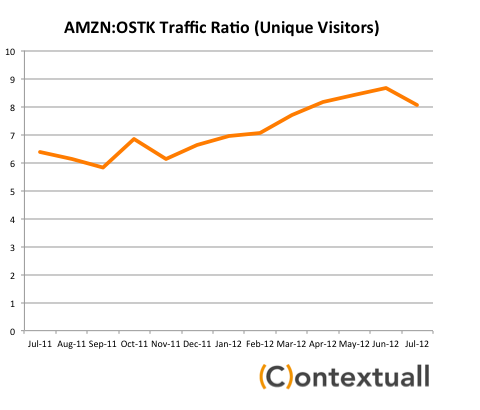 As you can see, these trends don't bode well for OSTK shareholders.
eBay's unique visitors increased from 5.82 x Overstock uniques in July 2011 to 6.78 x Overstock uniques in July 2012.
Amazon's unique visitors also increased relative to Overstock, from 6.37 x Overstock uniques in July 2011 to 8.07 x Overstock uniques in July 2012.
To use an analogy, if we were comparing two brick and mortar retailers we would be looking at foot traffic to the actual stores. Overstock.com is seeing significantly less "foot traffic" than the likes of eBay and Amazon, which creates some downside risk for the company.
Of course, the argument could be made that it's sales of their items that affect the company's numbers, not how many page views their site gets.
But if there are fewer customers coming into the store (i.e. fewer unique visitors relative to the market), it means that Overstock would have to outperform their competitors for each visitor. In other words, they would have to achieve higher conversion rates than Amazon and eBay to stay competitive.
This isn't happening, at least according to recent company filings that have shown customer orders decreasing.
The OSTK fundamental picture is also looking gloomy. The company's Altman Z Score stands at -8.74, signaling a highly distressed financial situation.
The company also has weak liquidity, which has been decreasing from a comparable period last year.
Not to mention the potential impact of a proposed online sales tax. Sure, this will affect all online retailers. But if OSTK is struggling in the months leading up to this major change, how will they be able to adapt successfully?
Overall, online traffic trends, combined with a weakening fundamental picture, paints a gloomy picture for Overstock.com's performance relative to other big online retailers.
We'll be sure to keep an eye on these online traffic stats, in case anything changes for company's outlook.
Disclosure: I have no positions in any stocks mentioned, and no plans to initiate any positions within the next 72 hours. I wrote this article myself, and it expresses my own opinions. I am not receiving compensation for it. I have no business relationship with any company whose stock is mentioned in this article.