This following article will take a look at a combination of fundamental and historical analysis to determine positions on two leading financial companies, Bank of America (NYSE:BAC) and JP Morgan (NYSE:JPM). In the article, we will look at how each company has performed from August options expiration to October options expiration to determine any seasonal patterns. In addition to that, we will look at key fundamental information to determine if the stock is trading at discounts or premiums currently. From there, we will use that information to craft positions for each company.
Daily Data: Bank of America Corporation
Bank stocks are certainly a possible play if we get another round of stimulus from the Federal Reserve. Bank of America reported and beat 2nd quarter earnings by 34.75% on August 18th (0.19 vs 0.14). Just two days later JP Morgan raised 3rd quarter estimates on large bank stocks. If you combine this information you may conclude that bank stocks are looking good to own going into the 3rd quarter. However, the data below shows that both Bank of America and JP Morgan Chase (later on in the article) do not have any bullish bias during the August to October option expiration time frame.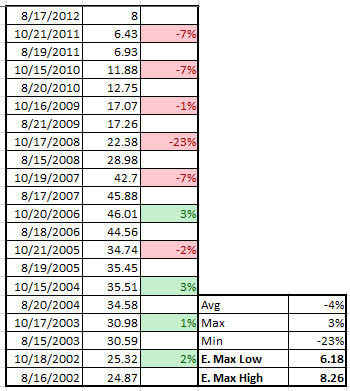 Above you can see that Bank of America has been trading mostly to the downside during the August to October time period. Additionally, if you compare the return sizes the negative performance far outweighs the positive. Given the best historical return of 3% I get a max high of $8.26. Bank Of America is already trading close to its max high right now. Given how the market is trending up right now with a possible QE3, I cannot suggest a trade at this time. Further, BAC recently broke out of a strong downtrend I need to see either the S&P close $1,400 or BAC close below $8 before I think of a bear call spread.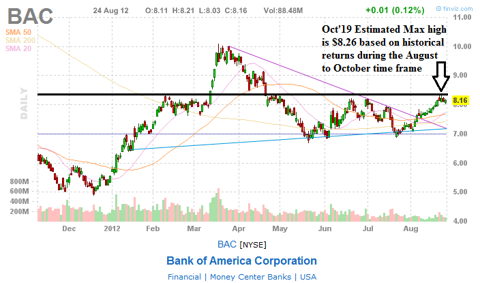 Daily Data: JPMorgan Chase & Co.
Bank of America may have beaten 2nd quarter average estimates by 34.75%, but JP Morgan Chase beat by 71.15%! Not to mention that of the past 12 quarters JPM has missed EPS estimates only once. JP Morgan is definitely a better fundamental bank stock than Bank of America; however it too does not show any spectacular gains during the August to October option expiration time period.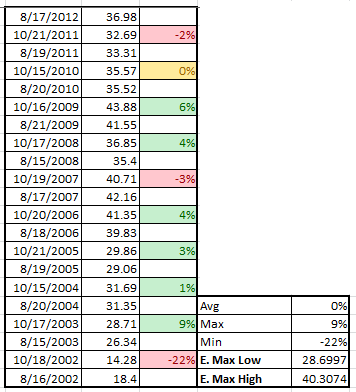 Above you can see that the returns have been relatively better for JPM than BAC since 2002. There are more positive years, however, due to one large negative the average is brought down to 0%. I'm not expecting either bank stock to rally during this August to October time period. However, again, I cannot suggest a trade at this time since JPM also recently broke out of a strong downtrend coupled with the fact that the market remains in an uptrend.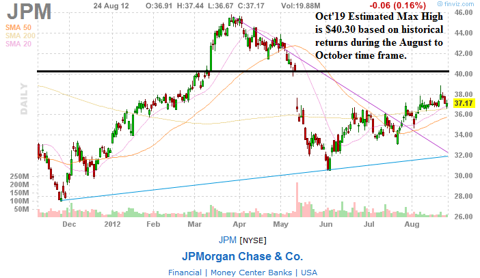 Disclosure: I have no positions in any stocks mentioned, and no plans to initiate any positions within the next 72 hours.
Business relationship disclosure: The Oxen Group is a team of analysts. This article was written by Giorgio Ferrero, one of our writers. We did not receive compensation for this article (other than from Seeking Alpha), and we have no business relationship with any company whose stock is mentioned in this article.