While the U.S. economy as a whole still has a long way to go, there is one bright spot that recently received some good news: the housing market. The latest housing numbers were just released, and experts are cautiously optimistic that the housing market is on its way back up. Home prices rose 0.5 percent over the last year, following two consecutive years of falling prices. Given the potential of a sustained rise in the housing market, one stock to keep your eye on going forward is Home Depot (HD). While there are other options for those looking to play a housing market rebound, Home Depot has a lot going for it, and I would expect its stock to do quite well should the housing market continue to improve.
Though there will always be skeptics, a rising number of people are saying these latest housing numbers mean the market really has bottomed out. Property values also increased over the past year, a welcome sign for homeowners. Douglas Yearley Jr., CEO of Toll Brothers (TOL), a luxury home manufacturer, believes demand for new homes is key.
"The housing recovery is being driven by pent-up demand, very low interest rates and attractively priced homes," he said in a conference call. "With an industry wide shortage of inventory in many markets, we are enjoying some pricing power."
Given this increased demand, Home Depot stands to benefit. As the go-to place for many people doing home renovations, as well as building brand new homes altogether, more consumers spending money on housing means more money for Home Depot. And if the recovery continues, Home Depot could be one of the biggest gainers. But Home Depot isn't the only company who stands to gain from a housing recovery; why focus on them?
For one, Home Depot has some pretty favorable numbers behind it at the moment. TheStreet recently reiterated its Buy recommendation, giving the stock a perfect rating of A+. TheStreet cited solid EPS and revenue growth, good return on equity and rising net income as some of the reasons Home Depot is a buy. Their recommendation also pointed out that shares of Home Depot rose 71 percent over the past year. Given the stock's success over the past year, when the housing market wasn't as good as it is now, it certainly looks like Home Depot is in great shape going forward.
How does Home Depot compare with its main competitor, Lowe's (LOW)? While Lowe's stands to benefit from a housing recovery going forward just as much as Home Depot does, it doesn't seem to be in quite as good of shape to capitalize. Its second quarter numbers were dismal, with revenue falling 2 percent (Home Depot's rose by 2.6 percent). As such, Home Depot looks to be the better play going forward, regardless of how substantive the housing market rebound actually is.
A comparison of HD v. LOW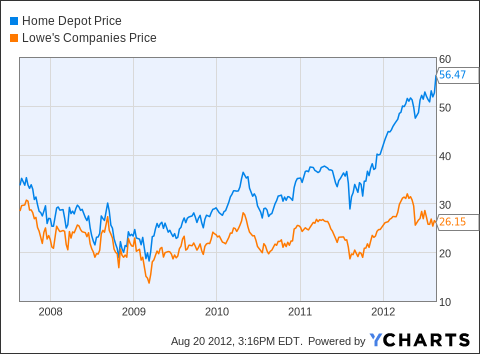 (You can see more on Lowe's poor performance on S.A. contributor Justin Weinstein's Lowe's article here).
Here's another indicator Home Depot might be sitting pretty: Director Armando M. Codina just dropped nearly $1 million of his own money on Home Depot stock. Over the last six months, Home Depot is one of only 13 companies to have "insider buying" like this. As Forbes contributor DividendChannel.com explains, investors should be paying attention to this:
"The officers and directors of a company tend to have a unique inside view of the business, so when these insiders make purchases, investors are wise to take notice. Presumably the only reason for a company insider to choose to take their hard-earned cash and use it to buy stock in the open market, is that they expect to make money - maybe they find the stock very undervalued, or maybe they see exciting progress within the company, or maybe both."
It certainly seems like things could be turning around, and investors should be vigilant of any opportunity to play a turnaround like this. As far as companies that stand to benefit, you could certainly do worse than Home Depot. Its financials are extremely solid, and all signs point to smooth sailing for the company going forward. I would find a scenario where the housing market recovers but Home Depot's stock price declines to be very unlikely, so if you're a believer in the recovery, give Home Depot a shot.
Disclosure: I have no positions in any stocks mentioned, and no plans to initiate any positions within the next 72 hours.
Business relationship disclosure: This article was written by a team member of Freedonia Freelance/Freedonia University.