European equities have posted weak returns since the European sovereign debt crisis started almost three years ago, underperforming U.S. equities and trading at a discount on a relative basis. Indeed, the pan-European Eurostoxx 50 Index is trading at a price-to-earnings ratio of 10.4x, lower than the S&P 500 index (NYSEARCA:SPY) that trades at 13.7 earnings.
This European-wide discount also led to some European-based companies, which have most of their business generated abroad, trade at an unjustified discount. Indeed, this is the case of Delhaize (DEG) and Ahold (AHONY.PK), which have most of their sales and profits derived from the U.S. market, and can be by this measure considered "American" companies, and are trading with lower multiples than American peers.
One could argue that this discount is justified by exposure to European peripheral countries. However, in Europe both companies have their business mostly exposed to the home market. In both cases, these are "core" European countries (Belgium and the Netherlands). Although Delhaize has a small exposure to Greece, Ahold doesn't have any exposure to Europe's periphery so the discount can't be justified by this.
On the following table, I compare Delhaize and Ahold on some fundamental ratios to theirs American peers, to see how much undervalued both companies are.
| | | | | | | | | | |
| --- | --- | --- | --- | --- | --- | --- | --- | --- | --- |
| Company | Market Cap ($bn) | Div. Yield | Payout Ratio | P/E Ratio | P/BV | P/Sales | EV/Sales | EV/EBITDA | EBIT Margin |
| Wal-Mart (NYSE:WMT) | 245 | 2.19% | 34% | 15.5 | 3.48 | 0.54 | 0.64 | 8.29 | 5.94% |
| Whole Foods (NASDAQ:WFM) | 17.9 | 0.58% | 22% | 38.3 | 4.91 | 1.57 | 1.51 | 16.2 | 5.91% |
| Kroger (NYSE:KR) | 12 | 2.07% | 22% | 10.8 | 2.98 | 0.14 | 0.21 | 6.73 | 1.41% |
| Safeway (NYSE:SWY) | 3.7 | 4.5% | 33% | 7.3 | 1.44 | 0.1 | 0.24 | 4.67 | 2.60% |
| Supervalu (NYSE:SVU) | 0.5 | 0% | 0% | 26.7 | 8.02 | 0.01 | 0.19 | 3.85 | 2.53% |
| Harris Teeter (NYSE:HTSI) | 1.95 | 1.42% | 27% | 19.2 | 1.88 | 0.43 | 0.44 | 6.3 | 4.22% |
| Average | - | 1.79% | 23% | 19.6 | 3.79 | 0.47 | 0.54 | 7.67 | 3.77% |
| Delhaize | 4 | 5,47% | 52% | 9.6 | 0.6 | 0.15 | 0.28 | 4.66 | 3.84% |
| Ahold | 13.2 | 4.01% | 40% | 10.1 | 1.74 | 0.34 | 0.4 | 5.68 | 4.45% |
Source: Bloomberg
On average, Delhaize is trading at a 58% discount to the sector average and Ahold's discount is 36%. Both are trading with lower ratios than the sector's average on all metrics (P/E, P/Sales, P/BV, EV/Sales and EV/EBITDA). Without considering Supervalu from the peer group, as the company appears to be in financial distress and can distort some ratios, both companies remain deeply undervalued. Moreover, both have above-average profitability and dividend yield, which adds to the undervalued argument.
Company Overview
Delhaize Group: Delhaize is a food retailer based in Belgium operating in 11 countries on 3 continents, with more than 3,400 stores. In 2011, it had approximately €21.1B ($26B) in sales. Delhaize is Belgium's second-largest retailer with a 25% market share and more than 800 stores. However, the majority of sales and the group's profit are made in the U.S., through the Food Lion and Hannaford brands.
Delhaize's sales in the U.S. are around 65% of the group's total, 23% in Belgium and 12% in Southeastern Europe & Asia. In 2011, the company bought Delta Maxi adding 500 stores in Bosnia, Serbia, Montenegro, Albania and Bulgaria. On the weak side, Delhaize's exposure to Greece represented close to 7% of sales last year. Delhaize is more profitable in the U.S. than on its other markets, being this market responsible for around 70% of EBIT.
Having seen several quarters of volume declines in the U.S., Delhaize realized it had to do something to turn around the business. The company announced last year a restructuring program for its U.S. operations (at Food Lion), which should pressure margins in the short-term and be earnings dilutive. More than half of Food Lion stores should be remodeled by the end of 2012. The stores already remodeled are showing early good signs, with comparable sales growth above 3% in the second quarter, which is better than the result for the remaining stores.
In the last five years, Delhaize's sales grew at a 2.75% compounded annual growth rate (CAGR). For the next 3 years, Delhaize's goal is group sales growth between 5-7%. To achieve this target, the company wants to ramp up new space in growth markets and expects to open around 450 stores during the years 2012-14. In the U.S., the openings will be focused mainly on new discount stores.
However, operating profit didn't follow sales performance reaching a -3.5% CAGR, during the same period. This was due to last year's fall in operating profit (-20% year-on-year), showing a huge fall in the operating margin of more than 100 bps. This weak performance is explained by the restructuring plan at Food Lion and the significant investment in price.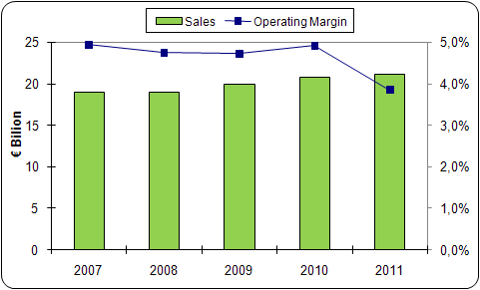 Source: Delhaize
In the first quarter of 2012, the group operating margin was down 90 bps to 3.5%, pressured by price investments due to the Food Lion repositioning. Consequently, the company issued a profit warning lowering expectations for next few months. It now forecasts operating profit to decline, in 2012, by 15% to 20%, and remaining stable next year. In the second quarter, operating margin declined even further to 3.2%, although sales growth performed better than expected.
Regarding dividends, Delhaize's yield is very attractive at 5.45% and one of the highest within the food retail sector. For a more complete analysis of Delhaize's dividend, see my previous article "3 food retailers with yields above 4%."
Ahold is a food retailer based in the Netherlands, and has more than 3,000 stores and annual sales of approximately €30B ($37B). Ahold's formats are generally supermarkets, small convenience stores and online. It enjoys a good market share in the areas where the company operates. In the U.S., it operates through Stop & Shop, Giant Landover, Giant Carlisle, Martin's and Peapod brands.
Geographically, the company last year had 59.5% of sales in the U.S., 34.7% in the Netherlands and 5.7% in the rest of Europe. In the Netherlands, its operating profitability is very high reaching margins between 6-7% over the last few years, which is a superior performance compared with European peers. On the other hand, Ahold's emerging market exposure is low and has a lower profitability than the group's average, resulting in nearly all Ahold's profit coming from developed markets.
Ahold's strategic plan for the coming years aims to boost sales by growing in the markets where it operates, as well as rolling out its business to other markets. In 2011, Ahold expanded into Belgium where it expects to open 50 supermarkets until 2016. It also expects to open a minimum of 150 convenience stores in Europe, by 2016.
After a successful turnaround plan performed until 2006, Ahold improved its performance delivering very good operating trends in the last few years. From 2007 to 2011, Ahold's sales and operating income increased, respectively, at a 5% and 5.9% CAGR. The profitability remained stable, with an operating margin around 4.5%, during those years.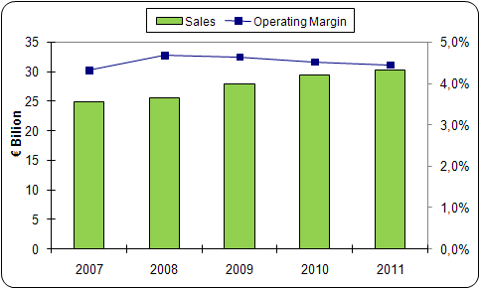 Source: Ahold
The company has a strong balance sheet and cash flow generating capacity, enabling it to become an income story since returning its dividend payments in 2007. Currently, it has a high-dividend yield of 4%. In 2011, the company announced a 38% increase in the dividend per share. The payout ratio was increased, from the previous 30-40% range, to a 40-50% range going forward, which is more in line with European peers. Additionally to dividends, Ahold has performed several share buyback programs over the last few years.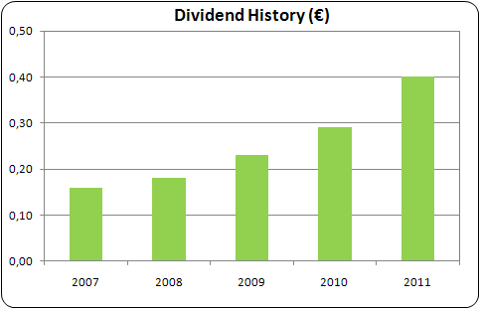 Source: Ahold
Conclusion
Ahold's and Delhaize's current valuation is undemanding, given that both are heavily exposed to the U.S. consumer but, based on fundamental valuation ratios, trade at an unjustified discount to American peers.
This is especially true for Ahold, which is even more profitable on its domestic market than in the United States. Therefore, it should trade closer to American peers or even at a premium, instead of a discount as it now trades.
Delhaize is showing good restructuring progress in the U.S. market, and although it deserves a discount due to its fundamental issues, this discount has plenty of space to narrow, if these first encouraging signs regarding its remodeling plan prove sustainable.
Disclosure: I have no positions in any stocks mentioned, and no plans to initiate any positions within the next 72 hours. I wrote this article myself, and it expresses my own opinions. I am not receiving compensation for it (other than from Seeking Alpha). I have no business relationship with any company whose stock is mentioned in this article.