Chesapeak Energy (NYSE:CHK) and Plains Exploration & Production (NYSE:PXP) Announce Haynesville JV
Anatomy of the deal:
Plains Exploration (PXP) Pays Chesapeake (CHK) $1.65 billion for 20% of CHK's Haynesville Shale (H.S.) leasehold.
This amounts to 110,000 acres of CHK's now 550,000 acre H.S. position,
On the surface this equates to $15,000 per acre,
But PXP is carrying 50% of CHK's drilling and completion costs up to an additional $1.65 billion,
This carry boosts the per acre value to $30,000 per acre.
CHK's average acreage cost so far in the H.S. has been recently estimated to be about $10,000 with recent buys landing in $20,000+ territory. 
CHesapeake goes on to point out for the mathematically challenged that this transaction establishes a value of $16.5 billion for their H.S. leasehold.
CHK's TEV as of the close (7/1) was $49.6 B. Back out the check from (PXP) of $1.65 B and that leaves Total Enterprise Value of just under $48 billion. Take out the H.S. piece and you are under $32 B. $32 billion for the most active driller and third largest gas producer in the U.S. with #2 positions in the Barnett and Fayetteville Shales, yada, yada, yada.
Nice trade Aubrey.
A Look At Their Reserve Comments:
Well spacing: 80 acres. I've been assuming 60s. This leads to a slightly smaller bump to the well inventory but the 6,875 horizontal locations is nothing to sneeze at.
EUR's of 4.5 to 8.5 Bcfe. I've been using an average of 5.5 Bcfe recoverable per well. They comment that they are comfortable with the 6.5 Bcfe for the core area which means the wells are bigger than that. 
But this is the kicker. CWC (Completed well cost) of $6.5 mm now with the assumption that costs fall 10% when they get the process down to a more routine nature.  Put that number up against the mid point of the recovery range and you've got $1/Mcfe development costs. That's world beater. IRR's should be in the high double digit range if you assume CHK's hedge levels and at the strip they would be well into the triple digits. But when you take into account the carried interest, well, the IRR just goes ballistic as F&D falls through a $1/Mcfe.
The Plan: Drill fast, drill deep.
at least 12 rigs by YE08
at least 30 rigs by YE09
up to 60 rigs by YE10
wells here take about 60 days to drill down over 10,000 feet and then across another 3 to 4,000 of lateral section implying each rig could drill up to 6 wells per year although it will probably be a hair under that in the earlier periods. The exit rate rig count for 2010 would imply over 360 wells per year, adding net reserves to CHK in excess of 1.3 Tcf (per year). 
What This Does For Other H.S. Play Valuations. The Top 15 looked at from the perspective of acreage positions valued at $30,000 per acre and divided by the outstanding share counts relative to current stock prices. At these valuations you are almost getting the rest of Petrohawk (NYSE:HK) for free! Personally I think this yard stick is overzealous but it does serve to point out another angle on the Haynesville leverage story. See Tuesday's post for a look at H.S. leverage to current reserve size.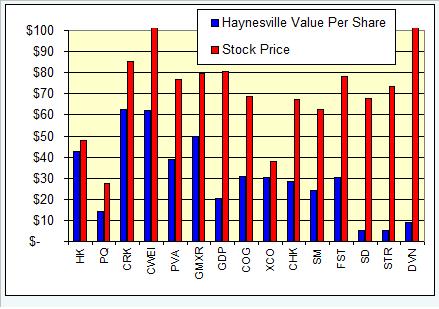 In a nutshell this deal will lead to another round of gains for the Haynesville levered and even those more speculative names like (OTC:QBIK) that we continue to hold (although this news may provide a nice exit point as that position out paces reality). CHK gets to de-lever both from a financial as well as a risk stand point and receives a source of funds obviating the need for further near term capital market transactions. We continue to hold calls and the common for (CHK) and (HK) as well as a number of related players (see the Holdings Wiki Tab for a full list).
Joint Company Conference Call: Wednesday, 9 am EST.