Although completely expected, I was somewhat surprised by the fact that I saw a dividend from Apple (NASDAQ:AAPL) post to my account in mid-August. It was nice to see extra cash flow from a stock that has rewarded me so well over the years. I then started to think about how such large companies that pay dividends can serve as defensive positions within a portfolio. Now, I know it sounds odd to put a tech company like AAPL, with such aggressive growth, into the defensive stock category, but there is some validity to doing so. I say ignore the liquor/tobacco, consumer staples, and utility stocks when padding your portfolio for a decline. Your focus should be on behemoth companies like AAPL, where size discounts are prevalent and thus will outperform on the downside.
P/B and P/E Discounts for Large Companies
Generally speaking, large-cap companies naturally command a discount to the industry average or comparable small- and mid-cap companies. For AAPL, this is due to the uncertainty that the company can maintain revenue growth over the long term. Thus, investors are less willing to pay the industry average for EPS or book values, and this pads the shares on the downside. AAPL will indeed mature in the future like Microsoft (NASDAQ:MSFT). I believe this is anticipated and is why AAPL exhibits a size discount.
To compare, I have included an overview below of 10 large companies that came to my mind when thinking "behemoth." You'll see that the average discount to the industry average for P/E and P/B is 18% and 48%, respectively. The companies I have included are AAPL, General Electric (NYSE:GE), Exxon (NYSE:XOM), Proctor & Gamble (NYSE:PG), Johnson & Johnson (NYSE:JNJ), IBM (NYSE:IBM), McDonald's (NYSE:MCD), Wal-Mart (NYSE:WMT), Boeing (NYSE:BA), and Microsoft.
Click to enlarge images.

These discounts are relevant in that it is less likely that the ratio will decline for large-cap stocks as much as index level ratios during bear markets. It is more likely that index level ratios will converge down to more stable levels exhibited by these large firms, as investors will prefer defensive cash flows during down markets. AAPL is already acting like a value stock with defensive characteristics, so it is worth considering for a portfolio hedge as sentiment will not sour as much as other stocks/indexes.
Correlation to GDP
Beyond size discounts, an important factor to look at when choosing a defensive stock is to review its correlation to real GDP. I have done so for AAPL and included a chart below with the results. Overall, AAPL's correlation to real GDP is negative at (0.013). Its rolling correlation also demonstrates some of its defensive benefits in that the correlation to GDP has primarily been negative, with a positive uptick in 2011 that has waned as of late. I do believe AAPL will become slightly more correlated as it matures, but we certainly can't dismiss the fact that the company will still be selling numerous iPads and iPhones during possible recessions in the coming years.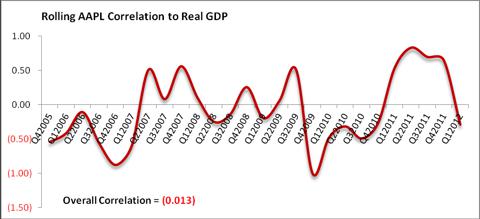 Large-Cap Sentiment Outperformance in Down Markets
I tend to believe that sentiment in stocks is what truly drives prices up or down. This can be measured on the individual stock level through P/B. Changes can, of course, be a result of earnings, news, or any other material changes that will affect the stock. I decided to look at how P/B values changed for the basket of large-cap stocks discussed above during bear markets compared to that of the S&P 500. What we find in the last three bear phases is that 66% of the time, P/B for the large-cap basket declined less than P/B for the index. The chart below shows my research.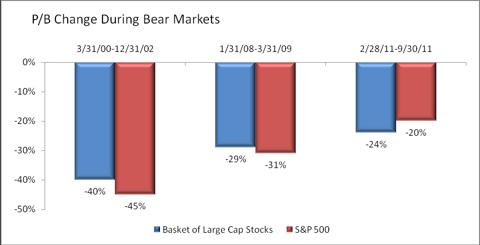 Essentially, this means that sentiment soured for the basket of large-cap stocks less than major indexes because each already had a significant discount built into its P/B ratio prior to the bear phase. This further shows that the cushion of safety is built into large-cap stocks and provides for a defensive play in down markets. It is worth noting, though, that P/B for AAPL did decline more than the S&P 500 during bear markets in early 2000 and in 2008-09.
Wrapping It Up
It is an odd feeling for me to say this, but I do believe AAPL warrants consideration as a defensive, more mature company play within a portfolio context for the next few years. This doesn't mean I don't see growth potential for the shares. I only wish it could trade at the industry average, which would value it around $960 P/E-wise. I don't foresee a P/E multiple expansion to the industry average, so that target has a very low probability of occurring in the next months. Aside from growth, it is easy to see the benefits AAPL, and other large-cap firms, provide in down markets through a low correlation to real GDP and significant ratio discounts. Their returns will likely outpace the major indexes in bear markets, and AAPL is quickly becoming a company that can be categorized in this context.
Disclosure: I am long AAPL. I wrote this article myself, and it expresses my own opinions. I am not receiving compensation for it (other than from Seeking Alpha). I have no business relationship with any company whose stock is mentioned in this article.