On June 27, I recommended trading Nokia Corp. (NYSE:NOK) from the long side. The chart below demonstrates the evolution of our trade over the past two months.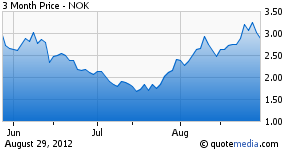 We placed a buy limit order for the shares only once the price crossed the $2.50 level upward. By doing that, we avoided a drop to the $1.60 area. Later on, we caught the trend in mid-August that lifted the shares from the $2.50 level to the $3 level.
So, what has changed in the world of Nokia? Lots of good news have been coming Nokia's way lately:
The joint venture of Microsoft (NASDAQ:MSFT) and Nokia in the mobile phone industry is beginning to show some results. It has been reported that Microsoft handset sales grew by 312% since January. Note that some believe this joint venture with Microsoft is the only way for Nokia to get out of its current mess.
Lessons to Be Learned From This Trade
I always say that any trade without a lesson is a worthless trade, regardless of whether you made money on it or not. The lessons you take with you from the trade are the ones that matter the most. Looking back on our Nokia trade, three lessons come to mind:
When in doubt whether a certain stock is a "value" or a "value trap," always remember that traders, in contrast to investors, can benefit from both directions. In our case, only two months ago Nokia was in the headlines regarding whether it would become the next giant to file for bankruptcy or an excellent turnaround play. For traders, this is enough to focus our attention on the stock and to try and make money trading it. This is one great way to select stocks that are ripe for successful trading.
Always wait patiently for the right entry price. Had we bought Nokia on the way down without waiting for an upward price confirmation at $2.50, we would have endured a pretty rough ride when the stock plummeted to the $1.60 area. Yes, we would have made money eventually, but trying to catch the whole tail of the trend is futile and costly.
Generally, you want to fade gaps rather than trade with them. By that I mean to pay attention when Nokia gapped down from $2.78 to $2.50 and realize that when an upward move will occur, this gap will close very quickly. This is indeed what happened.
Trading Instructions
Sell Nokia at $3.02 (to avoid round numbers) or better for a quick profit of 20%. Due to the high volatility of the stock, do not settle for less than this price. You will eventually get filled.
Disclosure: I am long NOK. I wrote this article myself, and it expresses my own opinions. I am not receiving compensation for it (other than from Seeking Alpha). I have no business relationship with any company whose stock is mentioned in this article.