By Steven Orlowski
Back in June we profiled several ETFs focused on the financial services sector in emerging markets. Given how vital banks and related companies are to rapidly growing economies that need to finance growth, I thought I'd review the four financials ETFs and see how they've done over summer.
A warning -- these funds are very illiquid and should only be traded by experienced investors.
The first of the financials ETFs profiled was the iShares MSCI Emerging Markets Financials Index Fund (NASDAQ:EMFN). EMFN invests in banks, insurance companies, and real estate companies among others, in China 29.05%, South Africa 11.37%, Brazil 10.20%, and India 7.09%. Other countries represented include Thailand, Indonesia, the Philippines, South Korea, and Turkey. EMFN has been averaging less than 1,000 shares per day.
The second fund profiled was the EGShares Financials GEMS ETF (FGEM. FGEM tracks the Dow Jones Emerging Markets Financials Titans 30 Index, which represents 30 of the largest emerging-market companies in the financial industry. The fund is most heavily weighted in three countries: China 44.05%, Brazil 14.28%, India 11.37% and South Africa 9.60%. FGEM has been averaging less than 2,000 shares per day.
The third and fourth financials ETFs were country-specific ETFs: the Global X China Financials ETF (NYSEARCA:CHIX) and Global X Brazil Financials ETF (NYSEARCA:BRAF). Both CHIX and BRAF also trade very infrequently, 10,000 shares per day on average for CHIX -- the highest of all the ETFs profiled, and less than 2,000 per day for BRAF.
From an asset allocation perspective it is imperative to keep track of country holdings. For EMFN and FGEM the percentages did change since last profiled, and without knowledge of the changes you could easily over-concentrate in one country unintentionally. As with other country or sector-specific ETFs, the benefit has to be diversification. Undesired concentration in a country or sector can adversely affect performance.
Graphically these ETFs seem to largely be tracking the iShares Emerging Market Index ETF (NYSEARCA:EEM).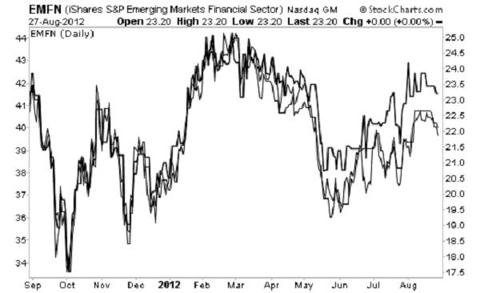 There's a bit more divergence with CHIX and BRAF compared to EEM. In the following chart CHIX is the top line, EEM the middle, and BRAF is the bottom line.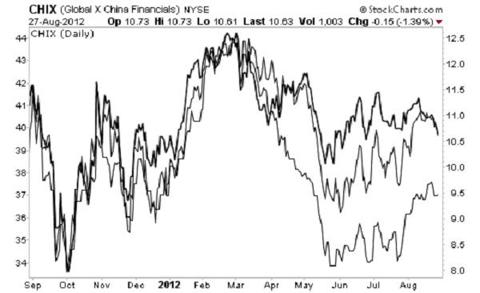 Investing in any of these financials ETFs will require a specific objective. Although the country-specific ETFs seem to be displaying less correlation, the sector itself is primarily tracking the index. Low liquidity makes these funds tricky and a little dangerous to trade.