By Jonathan Yates
The next several weeks will likely not be the best of times for the stock price and shareholders of Samsung (OTC:SSNLF) the South Korean high tech behemoth.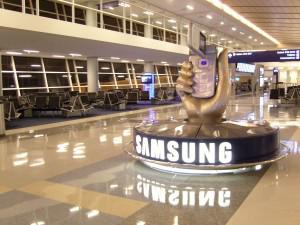 Currently the stock is down due to the court loss against Apple (NASDAQ:AAPL) for a patent claim. This puts a cloud on company operations - and also makes Samsung stock much more attractively priced.
Apple's new iPhone 5 will be unveiled on September 12, which will be huge, and is why Apple's share price has risen 15.86% for the last month of market action. Apple is now the most valuable publicly traded company in history, based on market capitalization.
This is a tremendous opportunity to accumulate Samsung shares at a lower price.
It is noteworthy that Samsung ascended to being the world's number one mobile phone manufacturer at the same time that Apple's stock was soaring. Sales of iPhones do not carve into the base of Samsung, as that development proves. Much of the growth in mobile phone sales is in feature phones, not smart phones, which plays to Samsung's advantage.
Earlier this year, Samsung floated a bond offering to take advantage of record low interest rates. There was no need for the cash, it was just shrewd financial management. The interest rate Samsung paid was lower than that for bonds from South Korea's Government. As profitable as Samsung is, that spread earned will be very rewarding.
Losing a court case is a minor matter for Samsung; the damages are less than a month's profits and can be paid from the petty cash till. The iPhone 5 release will not cut into sales of Samsung products. In reality, no one competes with Apple for those devoted to its iProducts. They will buy the new iPhone or the new iPad no matter what and no matter the price. But as proven by Samsung becoming the world's largest mobile phone manufacturer earlier this year, dips in the stock price are buying opportunities for long term profits.