What should investors do with Intel (NASDAQ:INTC) shares? With excellent gross and net margins, a solid balance sheet, and powerful cash flow used to pay a healthy 3.6% dividend and fund share buybacks, the company might appear to be a long-term investor's dream. But its tablets have yet to gain traction, its smartphone debut is more an oddity than a success, and the company seems stodgy and clubfooted compared to Apple (NASDAQ:AAPL) and other innovators. All the talk about Sandy Bridge, Ivy Bridge, optical chips, three-dimensional chips, 22 nanometer chips, and the dominance of ARMH Holdings (NASDAQ:ARMH) in the smartphone arena can drive an investor batty. Joined at the hip to Microsoft (NASDAQ:MSFT), Intel now has to worry about the arrival of Windows 8 this fall. And what can we say about cloud computing? Will Intel's server growth here offset stagnant results in PCs?
All these issues have been explored, financially and subjectively, by numerous authors this year. However, we no longer have the luxury of waiting to see how these technological dominoes will tumble; Intel shares have fallen over 12% recently, while broad indicators like SPY and DIA have recovered from their late-spring swoon. Along with SPY, QQQ has also flirted with new highs.
In this article I wish to synthesize fundamental and technical analysis of the company into a low-risk, potential high-return strategy for intermediate-term investors. I use options, along with holding the shares, to minimize (but not eliminate) risk. Substantial capital gains can still be realized. At the same time, the investor has more flexibility no matter what market scenarios unfold.
The seminal issue with Intel in recent quarters has been its need to expand into the mobile market -- dominated by ARM chips, Android and Apple phones -- and the tablet market, growing much faster than the desktop. Owen Clark over at Internet Marketing for Business makes this very clear.
Click to enlarge images.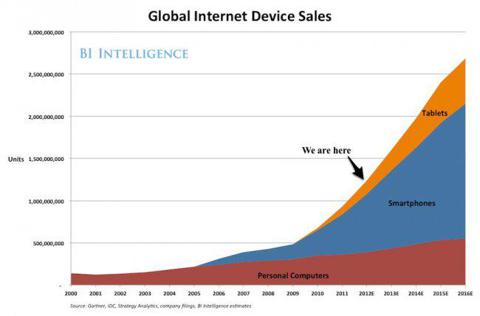 Click to enlarge
Understanding this graph is vital to assigning a proper valuation to Intel. Unless the company can expand into higher growth sectors, its P/E ratio will not expand from its current level of 10x EPS, where it has been mired for the last few years: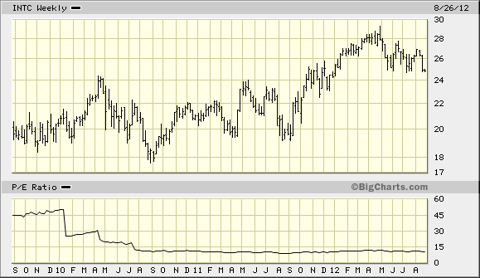 Click to enlarge
Now that it is common knowledge Intel is making a serious attempt to crack the mobile market, let's combine fundamental and technical concerns to see how that attempt is going. If Intel's moves are successful and promising, you would expect the company's shares to reflect this by way of higher prices and higher on-balance volume, as "those in the know" and other traders become convinced and start to accumulate the stock.
Unfortunately, as you can see, Intel shares have performed very poorly by these criteria lately: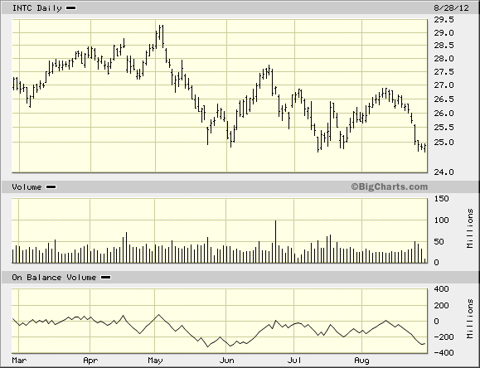 Click to enlarge
Short-term traders must be dismayed by the stock's inability to bounce off support just below $25 a share. The volume on recent declines is worrisome as well.
It would be more informative to compare the behavior of Intel with the price action of some competitors, such as ARM holdings, Qualcomm (NASDAQ:QCOM), Nvidia (NASDAQ:NVDA), or Texas Instruments (NYSE:TXN). After all, the decline in Intel might be related to weakness in the chip sector; not just specific issues with Intel.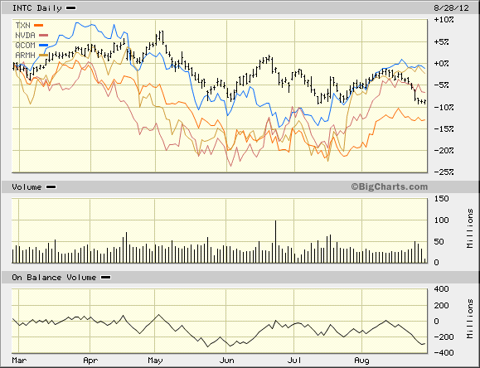 Click to enlarge
The chart shows this partly to be the case. Related to world macroeconomic concerns (slowing growth in Europe and elsewhere) all these chip stocks sold off earlier this summer. However, the others have rallied smartly off their lows; this is not the case with Intel. Thus, I conclude the jury is still out on whether CEO Paul Otellini's company is tasting success in its recent expansion into mobile and tablet computing.
With this in mind, investors should consider short-term price weakness as a buying opportunity, including the chance to lock in a very juicy 3.6% yield. At the same time, mobile success is not assured, so investors should protect themselves to the downside. Punk results on mobile expansion would easily send the shares into the low $20s, and endanger dividend growth, if not the current payment level.
Thus, I suggest an option strategy:
buy 1,000 shares of Intel at $24.78
buy 10 October 23 puts at $36 each
(Note: Prices are as of Aug. 29 open.)
This accomplishes several things for the investor. In addition to the dividend yield, you are buying shares where they have found support in recent weeks. If this support fails you have some insurance below you, being able to deliver the shares at $23 in the event of a sharp sell-off.
While this may not appear likely, keep in mind that Intel sold in the teens only two years ago. Hedging is about dealing with unforeseen events, and a spike downward if bad news continues on mobile penetration efforts is a nightmare case scenario. Here owning the put protects you. The roughly 8% loss you would suffer in this circumstance is a common threshold recommended by CANSLIM and other trading systems.
The price you are paying for this "insurance" is relatively modest. The implied volatility of Intel options (yellow line) is near its low for the year.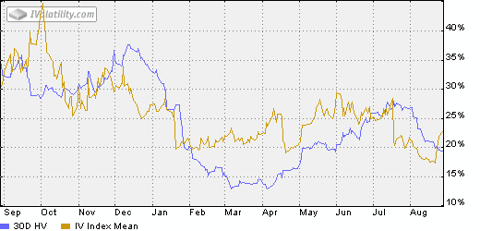 Click to enlarge
Source: ivolatility.com.
Furthermore, purchasing the October put buys the investor a precious commodity: time. Intel's next earnings report is Oct. 16; the put expires a few days later. Suppose earnings are solid and the stock rallies. You hold on to the shares at a profit, and snag the $225 dividend in early November, recouping a lot of the cost of your hedge. (Think of it as an insurance rebate for a smart investor.) You are now free to enjoy capital appreciation and adopt new strategies based on conditions after the election.
What if the stock tanks? Your pain is limited since you can exercise the put and sell your shares for a $2 loss (the current price of $25 minus the $23 strike price). With most of your capital preserved, you can seek other opportunities.
Or, if you still feel the shares will rebound, you sell the now valuable put at a profit, hold on to the shares, collect the dividend, and wait for better times. This is why option strategies are often better than simple stop losses. You have the option (thus the name) to keep the shares after all. If the stock just meanders in the middle $20s, the put expires worthless and you might have a small gain or loss; but you have those dividends coming soon while you think about the future.
Not a bad set of alternatives while holding on to a blue-chip stock.
While some might recommend writing calls on the shares to enhance income, right now I disagree with this strategy. The calls are underpriced because of the low volatility; the dividend provides enough of an income boost already, and limiting your gains makes the return side of the risk/return profile unattractive.
In the near future I will write articles about other option strategies that are appropriate for varying market conditions and volatilities. My purpose is not to turn you into a "Birdman of Alphatraz," collecting condors, butterflies, and other exotic financial species. Instead, I wish to make clear that options have a place in the toolbox of long-term, conservative investors.
Disclosure: I currently own some shares of INTC and may increase my position. I write puts and calls on INTC shares on a monthly basis to earn income. I wrote this article myself, and it expresses my own opinions. I am not receiving compensation for it (other than from Seeking Alpha). I have no business relationship with any company whose stock is mentioned in this article.